The USA is the UK's no. 1 export partner – accounting for more than a third of goods exports in 2022. In a sea of options for shipping companies UK to USA, finding a reliable and cost-effective partner can seem daunting, especially when it comes to heavy and oversized cargo.
Whether you're a small shipper or a seasoned UK freight forwarder looking for a stateside partner, there are some key factors to consider in your search.
Shipping Options From UK to USA
The UK to USA shipping route is highly trafficked and offers a wide variety of shipping options for popular commodities like spirits and beverages, car parts and heavy machinery. The accompanying chart shows the top commodities shipped from the UK to USA in 2022.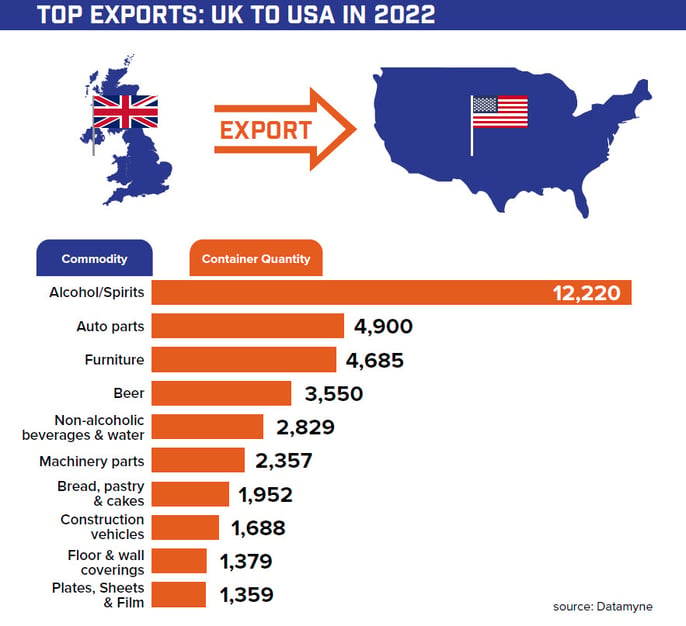 The size, value and time sensitivity of your shipment will dictate which shipping solutions you use. For larger shipments that require special handling and care, it's often beneficial to use a freight forwarding company rather than an ocean carrier, as forwarders have the expertise to handle every aspect of a door-to-door shipment.
Steamship lines and freight forwarders both play key roles when it comes to door-to-door shipping, but their responsibilities are different. Carriers handle port-to-port service, and may handle door-to-door service, depending on the agreement. An experienced international freight forwarder, on the other hand, will coordinate and manage every stage of your shipment – including ground transportation at the origin and destination, ocean transport and customs clearance.
If the forwarder is also a non-vessel operating common carrier (NVOCC), it can issue you a door-to-door bill of lading, which a non-NVOCC forwarder cannot do. Read our article on NVOCC vs. freight forwarder: What's the Difference?
Factors to Consider When Choosing Shipping Companies UK to USA
Experience: Look for shipping companies that have expertise in handling international shipping on the UK to USA lane. A company with a proven track record in this specific trade lane is more likely to understand the complexities and requirements involved, providing a smoother shipping process.
Services offered: Consider the range of services offered by the shipping company. Depending on your specific needs, you may require services such as customs clearance, documentation assistance, cargo insurance, container pick-up, transloading services or final delivery. Ensure that the shipping company for UK to USA freight can provide the necessary services to meet your requirements.
Network and coverage: A shipping company with a well-established network and coverage in both the UK and USA can offer more efficient and reliable shipping solutions. They should have reliable partners, agents or offices in both countries to handle the logistics effectively, ensuring seamless transportation and communication from origin to destination.
Flexible transportation options: Evaluate the transportation options provided by the shipping company. Depending on your cargo's nature, size, and urgency, you may need options such as rail freight or specialized trucking from the port to the consignee. The company should understand the most efficient way to get the cargo to your final destination – with consideration of all modes – and have the capability to offer flexible options.
Customs clearance: International shipping involves navigating customs regulations, documentation, and procedures. A reputable shipping company should be able to assist you in preparing the necessary documentation and ensuring compliance with customs requirements to avoid customs delays or complications.
Customer support: Good customer support is essential when it comes to global shipping. Ensure that your partner has responsive customer service representatives who can address any concerns or queries you may have throughout the shipping process. Prompt and clear communication can make a big difference in resolving issues that arise. This more personalized approach may be particularly important for smaller-volume shippers that need some hand-holding. See our Survival Guide on International Shipping for Small Businesses.
Pricing: While cost should not be the sole determining factor in choosing a shipping company for UK to USA freight, it's an important consideration. Request quotes from multiple companies and compare the services offered to ensure you're getting a fair and competitive price. (However, be cautious of extremely low prices that may indicate subpar service quality.)
Read more: Transatlantic Container Shipping Rates: Where Are They Going?
Expertise on Both Sides of the Pond
I.C.E. has offices in the U.S. and an agency office in Ipswich, UK, so you work with one contact for easy coordination.
I.C.E.'s UK agency office is headed by Mark Ling, who has 30+ years of industry experience working with UK shippers, ocean carriers and forwarders to coordinate global shipments. A key focus for Mark is reliable and cost-efficient forwarding from the UK to the U.S.
When a shipment needs to be transported from the UK to USA, there is tight coordination with I.C.E. Transport's U.S. headquarters to navigate any issues that arise, such as port congestion, chassis availability or specialized final-mile services from the port. This can be especially beneficial when it comes to heavyweight goods, which make up a large percentage of UK export commodities.
By leveraging a UK to USA freight forwarding network, you can overcome geographical barriers, navigate regulatory requirements and ensure the efficient transportation of goods across the pond with confidence. To learn more, contact the experts at I.C.E. Transport.