If you're new to international shipping, you might be confused by the various terms used for service providers that handle cargo. For example: NVOCC vs. freight forwarder. What's the difference between these two kinds of companies? What does each one do, and how do you know which one to approach when you have a shipment to arrange?

Here's a quick rundown.
Some basic definitions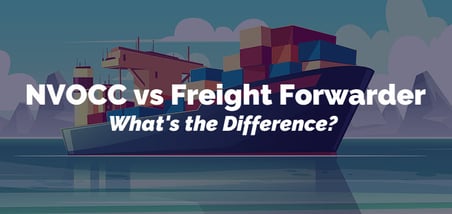 NVOCC stands for "non-vessel operating common carrier." An NVOCC is an ocean carrier, providing transportation services almost exactly like a steamship line. The main difference is that a steamship line owns vessels and shipping containers, while an NVOCC does not. Instead, an NVOCC pays steamship lines for the use of their vessels and containers and then makes those assets available to customers with cargo to ship.

A freight forwarder is not a carrier. It's an agent – a company that performs transactions on behalf of a customer, similar to a real estate agent or an insurance agent. When you have cargo to ship, it works with various service providers, such as ocean carriers, trucking companies, warehouses and customs brokers, to make the arrangements on your behalf. Those other companies perform the actual services. The freight forwarder gives them the necessary information and documentation, orchestrates their work and keeps track of their progress.


Areas of overlap
One reason people often confuse the roles of NVOCCs and freight forwarders is that there's often a lot of overlap in what they do. While NVOCCs are basically ocean carriers, they often provide freight forwarding services, too. For example, an NVOCC might arrange drayage trucking services to transport your containers to and from port. It can provide special trucking services for heavy or overweight freight. It might also help you with customs clearance agent services.

Essentially, an NVOCC can provide any service a freight forwarder can. But the similarity doesn't run both ways. NVOCCs do a couple of important things that freight forwarders can't:
1. Enter into a service contract with a steamship line
When you entrust your cargo to an NVOCC, that company books space for it on a particular sailing at a particular rate, entering into a contract with the line. Because an NVOCC ships a lot of cargo with various shipping lines, it can negotiate good rates and pass those savings on to you.

When a freight forwarder that is not also an NVOCC handles your cargo, it can't sign a contract with the steamship line. That's your job. Either you or the forwarder might negotiate with the line to establish a rate. And the forwarder will make the booking on your behalf. But ultimately, the steamship line – not the forwarder – is your transportation provider, responsible for carrying out the terms of your service contract.

2. Issue a Bill of Lading
Just like a steamship line, an NVOCC issues a Bill of Lading to the shipper. A freight forwarder doesn't do that. When you work with a freight forwarder, the steamship line issues your Bill of Lading.

Why does that matter? Before we explain, we need to define Bill of Lading. This is a legal document that a carrier issues to a shipper. It describes the cargo and serves as a contract to transport those goods safely between two specified locations, such as from Port A to Port B, or from door to door.

When an NVOCC issues your Bill of Lading, it takes responsibility for your cargo from the point of origin to the point of delivery listed on the bill – often from door to door. It can arrange any necessary ground transportation. It monitors the cargo and keeps you informed about its progress. If damage occurs along the way, the NVOCC will handle the claim with the underlying carrier. If delays occur, it may be able to find workarounds. Whatever happens, you have one point of contact.

When you work with a freight forwarder, and the steamship line issues your Bill of Lading, the line is responsible for your cargo from the origin to the destination listed on the bill. If the agreement is for port-to-port transportation, then the forwarder arranges for drayage and any other services you need outside the port. That means you deal with two different companies for different segments of the transportation, creating opportunities for error and finger pointing.

If the Bill of Lading specifies door-to-door transportation, the steamship line arranges ground transportation and other necessary services. At least, that's the theory. Unfortunately, steamship lines don't always deliver on that part of the bargain, especially in the current era of port congestion and capacity shortages. Many shippers these days are seeking alternatives to steamship lines for door-to-door cargo shipping, because the lines are leaving their containers stranded at the port or rail terminal, causing costly delays.


So – NVOCC vs. freight forwarder: how to choose?
Once you understand the difference between an NVOCC and a freight forwarder, it's not hard to choose which kind of company to call for ocean freight services. The solution is to work with an NVOCC whose portfolio includes a full range of freight forwarding services. Then you'll get the best of both worlds. You'll gain a partner that can:
look across the range of available sailings from multiple steamship lines
get you a competitive rate
issue its own bill of lading
arrange for reliable ground transportation
provide any other logistics services you require

To forge a partnership with an NVOCC that offers all the logistics services you need for a successful door-to-door shipment, contact the experts at I.C.E. Transport.