An alarming number of shippers these days are desperately searching for someone to rescue their containers. The problem? Companies contract with steamship lines for door-to-door cargo shipping, and then the lines provide terrible service. Sometimes containers even get stranded at ports or rail terminals for weeks.

How can you avoid those problems? Let's take a look.
What's going on?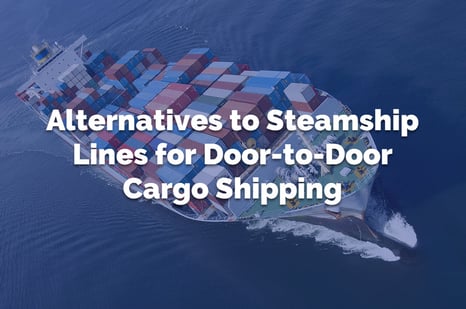 When companies ship containers, many rely on ocean carriers to manage the entire trip, including overland transportation at origin and destination. That's fine for massive shippers like Target and Home Depot, which get personalized service. When they have questions, or they need a truck or space on the rails, a dedicated account rep is ready and able to come through.

Below that top tier, though, most shippers struggle with automated phone systems, reps and clerks who have no stake in the customer's success, and tough competition for transportation capacity.

And that's in the best of times. These days – an era of super-tight transportation capacity and crippling congestion – steamship lines are far too busy making money to offer most customers anything resembling personalized service.

So shippers face problems like these:

• A customer calls a steamship line – a longtime partner – and spends an hour on hold before the system drops his call. He has to dial in again and start from scratch.
• An ocean carrier bans employees in one country from talking with customers on the phone. All contact must be by e-mail.


Oops, sorry!
Relying on an ocean carrier these days for door-to-door cargo shipping could also subject you to costly delays once your cargo is off the water. In today's chaotic transportation environment, the steamship lines often change their minds about door-to-door service. Sure, you booked that shipment all the way to Peoria. But when it gets to the rail terminal in Chicago, don't be surprised if the line suddenly decides it can't provide a truck after all. You're on your own, and if you can't arrange to retrieve your load within X number of days, you'll pay demurrage charges.

Or take the actual case of the shipper that booked a set of containers from Poland to Indiana. The shipment arrived in Halifax and traveled on the rail to Chicago. Then the steamship line was supposed to dispatch trucks to transport it to the final destination. That was in August. By late September, the containers were still sitting in Chicago. The shipper didn't have to pay storage charges – those were the ocean carrier's responsibility. But imagine what it cost the shipper to have crucial product sitting idle in a rail yard!

Could the shipper simply tell the steamship line, "Fine, if you can't get us a truck, we'll find our own?" Yes, it could. But there's a serious catch. Once the shipper takes responsibility for that final leg of the journey, it may very well also become responsible for storage charges the steamship line had accrued during those weeks when the containers sat in the terminal. That's a losing proposition if we've ever heard one.


Alternatives for door-to-door cargo shipping
Okay – so we know there are serious reasons not to book door-to-door transportation with an ocean carrier, especially these days. How else might you handle that booking?

You could do it yourself, finding a qualified service provider to handle each portion of the shipment. That includes a carrier to transport containers to the origin port, a steamship line for the ocean crossing, a customs broker to manage the entry at the destination and another carrier to transport the containers to the receiver.

That's a valid approach. It's also complex and labor intensive. First, you'll have to find all those qualified service providers, a hard task these days given the fierce competition for capacity. Then, you'll need to manage all the details of the shipment, monitoring each service provider to make sure everything proceeds as expected and nothing slips through the cracks.

Also, unless you ship a great deal of freight, you'll pay top rates with these carriers, because you can't negotiate volume discounts.

A much safer and more efficient approach is to work with an experienced international freight forwarder. Even better, choose a freight forwarding company that is also a non-vessel operating common carrier (NVOCC) – a company that performs all the services an ocean carrier does, except that it doesn't operate its own vessels.

A forwarder/NVOCC can help you plan and execute all aspects of your door-to-door shipment. Just like a steamship line, an NVOCC issues a bill of lading and takes responsibility for the safety of your load. But because it's not a steamship line, it's not married to particular schedules or routes. It can survey all available options to find a solution that meets your objectives.

Since a forwarder manages cargo for many companies, it tenders enough volume to get you good rates with ocean and landside carriers. Given today's sky-high container shipping rates, that's a crucial advantage.

At the same time, a forwarder provides the kind of service that only huge companies get from a steamship line. You'll work with a dedicated rep who cares about your success. You'll have one person to call, whether you want to book a shipment out of Hamburg, have questions about a customs declaration or need to tell your customer in Dallas when to expect your container.


Find an ally
You'll also benefit from the forwarder's ongoing relationships with service providers, including truckers, warehouses, customs brokers and more. When you make a freight forwarder your partner, those companies become your partners, too. With shippers everywhere vying for limited capacity, those ties become hugely important.

As you look for an alternative to steamship lines for door-to-door transportation, don't go it alone. Find out more about the power you can gain through an alliance with an expert in ocean transport and NVOCC services. Start the conversation with a call to I.C.E. Transport.