Freight forwarders play a crucial role in global trade. But what is freight forwarding? Even if you've worked with this kind of partner in the past, you might not realize all that this service includes, or how much value you gain from the relationship.

Here's the full story.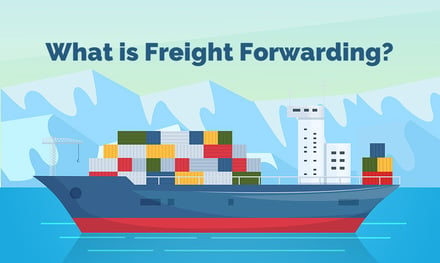 A freight forwarder is a specialist that executes all aspects of an international shipment, door to door. When you work with a forwarder, you don't worry about the complexities of transportation – negotiating rates, booking capacity, trucking cargo to the sea port or airport, submitting customs declarations or any of the rest. Your forwarder handles the details, keeps you informed and, if anything deviates from the plan, provides solutions.

When you're shipping freight, why not just call a carrier?
You might wonder why you'd need a middleman like a freight forwarder. Why not just call a steamship line, or an air cargo carrier, and book directly?

Air cargo carriers don't work directly with shippers at all: they always deal with freight forwarders. And steamship lines generally sign service contracts only with companies that tender them a good deal of cargo – either larger shippers, or third-party service providers.

Even if the carrier wants to do business with you, there are several reasons to work with a freight forwarder instead. These factors are especially important if you run a small or mid-sized company. For example:
Lower rates.

Unless you tender many hundreds of shipments per year, you have little bargaining clout with steamship lines, airlines or drayage carriers. They'll charge you top dollar. Freight forwarders ship enough volume to get much lower prices than you can, and then pass those savings on to you. Given today's astronomical freight rates, that's a crucial point.

More options.

A freight forwarder looks across multiple transportation modes, carriers and routes to find the transportation solution that best meets your needs.

Better service.

Say you book a container directly with a steamship line and also rely on that carrier for sourcing dray capacity. When capacity is tight, the line gives whatever trucks it can find to its highest-volume customers. Your one or two containers could languish at the terminal for days, racking up storage charges. A good freight forwarder does its best to keep your freight moving.

One stop shopping.

If you book cargo with a steamship line or airline and then make your own arrangements with other service providers – trucking companies at origin and destination, a customs broker, etc. – you'll have to manage a relationship with each of those companies. That disjointed approach creates many opportunities for error and finger pointing. A freight forwarder, by contrast, orchestrates all aspects of your shipment. If you have a question or a problem, you know exactly who to call.

Why not book freight moves through an online marketplace?
Can a do-it-yourself digital platform find you drayage capacity? Will it coordinate pickups and drop-offs so everything happens smoothly and on time? Can an online marketplace help with special needs such as transload services or out-of-gauge cargo? Does it offer creative solutions to mitigate high container shipping rates?

A digital marketplace might help you find competitive rates, but it won't provide personalized customer service. An experienced forwarder can help you sort out the options for a complex move and suggest alternatives to save time or money. It can also guide you through the subtleties of customs declarations and regulatory compliance, steering you away from costly pitfalls.

What to look for in a freight forwarding service
A rich network of truckers. It often takes more than one or two calls to find a motor carrier to transport a load to the seaport or airport, or to pick up inbound freight. In fact, in the current market, it could easily take more than six or seven calls. You need a forwarder with a deep pool of qualified transportation partners.

Strong relationships with service companies such as a reliable customs broker, transloading services and bonded warehouses. Through those ties, a well-connected forwarder offers integrated services to meet a wide variety of needs.

It's also an NVOCC. A non-vessel operating common carrier (NVOCC) performs all the services an ocean carrier does, except that it doesn't operate any vessels. An NVOCC issues its own bill of lading, making it responsible for the safety of your load. A forwarder that is also an NVOCC has thorough knowledge of the ocean transportation process. When you ship by ocean, and your forwarder is also an NVOCC, whatever issues might arise with your freight, you deal with the same team of experts to resolve them.

A long track record, especially in the lanes you use. You can evaluate the quality of that experience by calling some references.

An on-the-ground presence in countries where you do business. If you ship a lot of cargo from Poland to the US, for example, a US-based forwarder that owns an office in Poland will provide the best service. You can also get excellent service overseas if your US forwarder has a long, close relationship with an agent in the country of interest.

We've answered the question "What is freight forwarding?" Now, what benefits does a forwarder provide?
We've already mentioned that a freight forwarder can save you money by getting you lower rates than you could get on your own. In addition, a freight forwarder can:
Get freight moving when capacity is tight.

Thanks to its network of relationships with carriers, a forwarder can usually find you space when and where you need it.

Identify profitable alternatives.

A forwarder can suggest creative transportation strategies to help you control costs, save time, mitigate risk or all three.

Keep you out of trouble.

With so many details to manage – customs declarations, government regulations, weight and height limits, carrier management – it's easy to let something slip, with costly consequences. A freight forwarder has your back, double-checking to make sure you've attended to all the details.
The freight forwarder's real role
Ultimately, a freight forwarder's job is to produce a successful shipment, transporting your cargo from Point A to Point B in a way that meets your specific goals. Based on deep expertise and its network of business relationships, it takes the worry out of international shipping, freeing you to focus on your core business.

Take the first step toward more efficient, cost-effective international shipping. Contact the freight forwarding experts at I.C.E. Transport.