There's no getting around it: cargo that doesn't fit in a container costs more to ship than cargo that does. Transporting out of gauge cargo globally is also a more complicated process than shipping a steel box.
But if you do things right, you can control the cost of shipping oversized cargo, and also avoid some significant headaches.
What's different about oversized cargo?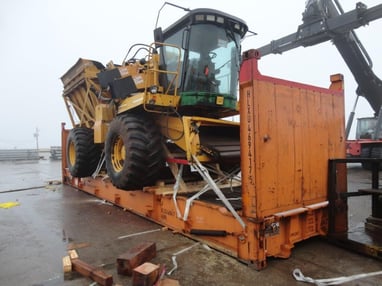 We call cargo oversized, or out of gauge, when it's too tall or wide to fit in a closed shipping container. Big construction machines often fall into this category, as do many other loads. Extremely large panes of glass, bridge beams, and propellers for wind turbines are just a few examples.
Several kinds of equipment are used to ship oversized cargo on the ocean. The most common are the open top container (like a standard container, but open at the top), the flat rack (with walls at the front and back but open on the sides) and the platform (a flat bed with no walls).
Carriers use cranes to move open containers, flat racks and platforms on and off container ships, exactly as they do with regular containers.
Some self-propelled or towable machinery, such as construction equipment, might travel on a roll-on/roll-off (RORO) ship instead of a container ship.
Why does out of gauge cargo cost more?
Ocean carriers charge more to ship oversized cargo because it takes up more than one slot on a container vessel. If a load sticks out two feet on either side of a flat rack, the shipping line can't fit a container immediately to the left or right. If the load extends several feet above the walls of an open container, the line can't stack another box on top.
At least, that's what they tell you. Most oversized cargo actually travels in the top layer of containers, where stacking isn't an issue, or else it travels under deck. Oversized freight might not take up any extra slots at all, depending on where it's stowed, but the line will still charge a premium to ship it.
You'll also pay more to transport this cargo over the road. In the U.S., loads that exceed standard height or weight restrictions need special permits, which come with a fee and certain conditions. Depending on the dimensions of your freight, you might have to conduct a route survey before a state issues the necessary permits. You might also have to hire an escort vehicle. Size restrictions and permit requirements vary from state to state and city to city, so various legs of the trip might need different arrangements.
The trucker will keep height restrictions in mind when planning a route. Avoiding overpasses, wires and other obstructions that are too low for your freight could add extra miles to the trip—and that, of course, translates into extra cost.
Best practices for shipping oversized loads
To avoid problems when shipping out of gauge cargo, and to keep the costs as low as possible, here are some practices to follow:


Make the load smaller.
If you can reconfigure your freight so that it fits into a container for basic heavy freight shipping, that's the best solution of all. If not, you can still save money by restricting its dimensions. For example, in most of the U.S., you need a wide load permit only if your freight measures more than 102 inches from side to side. That's slightly more than the width of a container. If your freight doesn't fit in a container, but you can arrange to keep its width to 102 inches, you avoid the trouble and expense of getting a permit for width. You'll also have an easier time finding a trucker who will agree to haul your load.
The trucking company may have to provide a special chassis—a step deck or lowboy—to make your oversized freight ride lower. If this brings the total height below a state's maximum, you won't need a height permit to travel through that state.


Don't let the cargo obstruct the corners.
Remember, the cranes that lift your oversized cargo on and off the ship need to attach to the corners of your open top container, flat rack or platform. Make sure those corners are free and clear.
Give your logistics partner accurate information.
Say you've told your third-party logistics provider (3PL) that your load is 120 inches tall and 110 inches wide. But when the trucker arrives to pick it up, he finds that it's actually 128 inches tall and 120 inches wide. You might need to redo your permits, delaying the delivery and costing you extra money. This happens more often than you'd think! To ensure accuracy, measure carefully, and give your 3PL or trucking company photos or technical drawings of the load.


Leave the conveyance at the port.
Unless the final destination is close to the port, arrange to transfer your cargo from its open container, flat rack or platform to a truck chassis. Otherwise, the trucker will charge you for returning the empty conveyance to the port.


It pays to know the ins and outs of oversized shipping
When you ship oversized cargo, experience counts. Shippers who know their options for loading and routing freight can sometimes make significant cuts to their transportation costs. Your best bet is to work with an expert in oversized shipping that handles all the details for you, including permitting and documentation.
For more ideas about how to save money on shipping out of gauge cargo, contact I.C.E. Transport.