Maybe you've bought a used excavator from a dealer in another country. Or you've made the winning bid on equipment from a recently-closed factory thousands of miles away. There are many reasons for shipping machinery overseas, many decisions to make along the way and many opportunities to ensure trouble-free, cost effective transit – if you have the necessary capabilities.


Much of the machinery that companies ship overseas is large, heavy and high in value. Its door-to-door transportation may demand special equipment and handling.

Here are some issues that often come up in this kind of shipment, with advice on how to manage them.


What's the best transportation mode?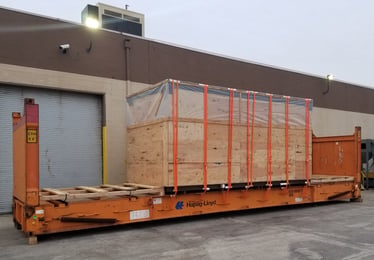 When you ship earth moving equipment or other large machines that can be driven, the lowest-cost transportation option might be a roll-on, roll-off (RO-RO) vessel. But sometimes you'll do better with container service, loading the machine on a flat rack container. An experienced logistics partner can help you determine whether flat rack or RO-RO is the best choice.
With the RO-RO method, you will want to make sure that the ship can handle the equipment you intend to transport. The same goes for the destination port, as some ports are unable to handle certain types of ships or products. As a general rule, however, most larger ports will have no problem handling your machinery shipping projects.

If you're transporting static machines, with no wheels or tracks, then your cargo may ship via RO-RO on a MAFI trailer, or else you'll need container service. The best cargo container type – a standard container, flat rack or open top – depends on the size and shape of the freight and your loading capabilities.

Getting the shipment on the road
Loading oversize, heavy machinery in any kind of container often takes special equipment, such as a large forklift or an overhead crane. If that equipment isn't available on site, you might rent it, or hire a rigging company to bring and operate it for you. Of course, if you're moving a machine with wheels or tracks, you might drive it up a ramp into a container, or drive it onto a flatbed tow truck and then transfer it from there to a container. The right choice depends on the machine's size and configuration.

Securing and protecting heavy machinery
Whatever container you use, if the machinery doesn't fully fill it, the load might shift and suffer damage in transit. You can use lumber to fill the empty space, plus straps, and maybe chains, to keep the cargo in place. An experienced logistics partner can advise you on the best way to secure the load.

If you use a flat rack container, you must be extra careful about preparing the load for the voyage. Oversize cargo on a flat rack must pass an inspection at the port to make sure it's blocked and braced according to standards set by the National Cargo Bureau (NCB). Fail inspection, and you'll have to pay someone to rework the cargo before the steamship line will load it on the vessel.

If your company doesn't have the skills to secure the load, you could arrange for a trucker to take the machinery to a warehouse near the port. There, experts will load it in a container, block and brace it, and deliver it to the steamship line.

You should also empty all fluids from the machine (e.g., oil and fuel) and take steps to protect machinery against the elements during shipping. Construction equipment can stand up to salt water and spray. But machinery that includes control panels or other exposed electronics requires extra shipping safeguards – a desiccant to absorb moisture and shrink wrap to cover the machine.
Some machinery shipping projects will include rust-proofing the equipment for further protection. This may involve painting the machinery or galvanizing it with a zinc and steel coating.
How to reduce transportation costs
When machinery is too big to fit in a standard, closed container, you'll pay higher rates on both land and water. But a few strategies can help you save money:
Reconfigure the machine.

If you can disassemble a large machine or detach its accessories, you might be able to fit the parts in a closed container, or within the dimensions of a flat rack or open top container, reducing your ocean and trucking rates and eliminating the need for an oversize permit on the road.

Gain savings through

heavy cargo shipping

. Depending on the states your shipment crosses in the US, you might be allowed to load 54,000 lbs or more in a container, as long as your trucker has the necessary overweight permit. If you ship machinery in several containers, loading each box to full capacity could let you ship fewer boxes, reducing your total cost.
Maximize miles on the water. Since ocean rates are lower than trucking rates, it pays to make as much of the trip on water as possible. For example, if you transport machinery from Europe to Atlanta, it's better to ship through the Port of Charleston or Savannah than New York.

Other concerns when shipping machinery overseas
Safety Certification. Construction equipment, electronic and electrical devices and other products that comply with US safety standards carry a mark denoting UL certification. Other countries follow different safety standards. For example, products that meet the requirements of the European Union carry the CE mark. When you bring machinery into any country, to avoid possible trouble, make sure it meets local standards and carries a mark to prove it.
Customs regulations. Whether you're shipping machinery or any other type of product internationally, you will need the products to clear customs. This typically requires the completion of customs forms at the point of origin and at the destination. It also involves an assortment of customs clearance fees that you will need to pay in addition to the machinery shipping costs.
Insurance. When you load a container with $500,000 worth of machinery, and then that load gets damaged in transit, the last thing you want to hear is that the carrier will pay only $500 for the loss. Rates vary with the type of machinery being shipped, but the more your load is worth, the smarter it becomes to purchase your own marine cargo insurance.

Don't have the skills? Call in the pros.
Shipping machinery overseas can be especially hard for smaller shippers. If you're not part of a large organization, and you don't ship this kind of equipment all the time, then you probably don't have employees who know how to:
secure and protect the load
find truckers that specialize in overweight and/or oversize loads
classify the machinery correctly to clear Customs
arrange for transportation in another country, especially if no one in your company speaks the local language
No matter the size of your business, you can gain all this know-how if you team up with a specialist. A company that has spent many years transporting overweight and out of gauge cargo can help you ship machinery at a reasonable price and avoid the pitfalls. A global freight forwarder with offices or agents in the countries where you do business can help your shipment go smoothly every step of the way.

Need to arrange an international machinery shipment? Get started by contacting I.C.E. Transport.