If you ship heavy cargo via ocean, you could be paying 20% or more than needed. And the reason might be your steamship line.
We're not talking about rates here. We're talking about the guidance given by many steamship lines that containers need to be 44,000 pounds or less to stay within "legal" limits. The problem for heavy cargo shippers is that most dense freight won't fill a container at that weight.
For details, download our eBook: The Six-Figure Savings Opportunity for Heavyweight Ocean Freight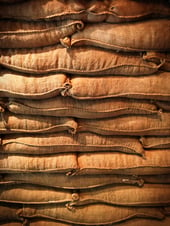 The idea that heavy cargo shippers – of commodities like stone, metal, forgings and castings – must ship partial container loads to stay legal is simply false. The actual limit on ocean container weight is the maximum gross cargo weight listed on the container door – typically 10,000 pounds or more above 44,000. So, the problem isn't the container's weight on the water. The problem is the container's weight on the road.
To perform heavy freight shipping internationally – from door to door without the need for transloading – you need OTR carriers that can safely and legally haul loads that are above local DOT weight limits.
Steamship lines' door-to-door solutions are primarily designed for consumer goods, not heavy cargo shipping, so most don't have an extensive network of carriers with overweight permits. Because of that, steamship lines guide shippers to limit container weight so they can easily arrange the road transportation using their standard carriers. Either that, or they might accept the heavier container but terminate service at the port, leaving you to arrange the final mile.
Tea Importer Saves $126,000
By maximizing container payload on all ocean shipments, shippers of heavy freight could see six-figure savings, depending on volume. The key is forging relationships with properly permitted carriers who can haul your heavy containers to and from ports, or you could align with a freight forwarder that is a heavy freight shipping specialist.
Here's a short case study on a tea importer that changed its heavy cargo shipping strategy and saved $126,000 per year as a result.
Situation
A tea importer was shipping 40' containers at a container-yard-to-door rate of $2,990 per container with the steamship line. The company was limited to a maximum payload of 19,400 kg per container, so the shipping cost was $154.12 per metric ton.
Solution
Working with a freight forwarder that was a heavy freight specialist, the company increased its max payload to 24,493 kg per container by using its own door delivery solution from the port. And while its CY-to-door cost increased from $2,990 to $3,425 (due to higher U.S. trucking charge), it actually reduced per ton costs $14.32 per metric ton by shipping more cargo per container.
Results
Based on the company's typical volume of 30 x 40' per month, and payloads around 24,500 kg, the tea importer's savings equals approximately $10,500 per month, or $126,080 per year.
Specialized Trucking is Key to Ocean Freight Savings
The irony behind the cost-saving opportunity in moving heavy ocean freight is that the savings depends on what happens off the water. The overweight trucking piece is the key.
Heavy cargo shipping doesn't have to come with a heavy price tag for ocean freight. By maximizing your container payload, you save big through more efficient shipping.
To tap into the savings potential, look for a freight broker that specializes in managing heavy and over-sized freight moves and has a network of trucking partners across North America that can enable global, door-to-door moves – without transloading.