The term "project cargo" refers to a shipment that is crucial to a mission. Often oversize, overweight and/or high value, this shipment is likely to need several containers or other conveyances.
When you ship project cargo overseas, you can't trust it to just any freight forwarder. The demands of project cargo require special expertise.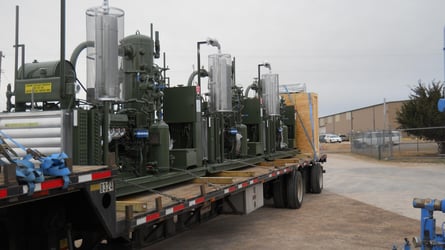 Think of the equipment that falls under the heading of project cargo. It could be production machinery for a factory. Huge tanks for storing bulk chemicals. Drilling equipment for oil or gas exploration. Blades for wind turbines. Those are just a few examples.
They all have two things in common: they're complicated to ship, and if they don't arrive on time, the delay could cause some very expensive problems.
Challenges that come with project cargo
Because a shipment of project cargo often involves multiple loads, it takes a lot of coordination. Say you're shipping machinery to a factory that's under construction overseas. You might need three flat rack containers to move the oversize pieces. You might also have enough smaller components to fill four regular containers. And to meet the construction schedule, the recipient needs all seven loads to arrive at once.
For all containers to catch the intended vessel, and to avoid storage charges at the seaport, you can't hire one truck to drive back and forth, transporting one container at a time. You need two or more trucks to ensure that all the containers get to port before the vessel cut-off. If one trucking company can't provide enough drivers, you might have to work with multiple carriers. And you have to make sure those truckers have the specialized chassis and rigging your load requires.
You need special permits to transport the oversize equipment on the road. You might also need overweight permits for some of the containers.
In addition, you might face a scheduling challenge. Say you rent a crane to load the large equipment on the flat racks. Since a crane can load only one container at a time, you'll have to space out the arrival of your truckers, and hope that a traffic jam, port congestion or a flat tire doesn't throw everything off schedule.
Financial risks
Because project cargo tends to be large, valuable and time-critical, when something goes wrong with this kind of shipment, the consequences can be costly. For example:
One of your truckers doesn't show up. It takes so long to hunt down another trucker, one of your containers misses the sailing and arrives at the destination late. That delay could shut a production line, leave a highly-paid installation crew twiddling its thumbs or force you or your customer to rent a crane at the project site for longer than expected.
One of your permits is incorrect. If an inspector at a weigh station finds that the figures on a permit don't match the load's weight or dimensions, that infraction puts the truck out of service. Then the trucker has to scramble to secure a new permit or re-work the load, all while invoicing you for driver layover costs. And you hope the load will still make its sailing.
A trucker damages your cargo. For instance, the driver might arrive with the wrong kind of chassis, making your oversize load six inches too high. When it hits an overpass, insurance will pay for the damage. But it won't pay for time lost while you repair or replace that urgently-needed equipment.
How expert project cargo freight forwarders can help
The best way to ensure a trouble-free transaction is to work with a freight forwarder that has managed project cargo for many years and can avoid the common mistakes of project cargo shipments. Here's what you should look for in a project cargo freight forwarder:
Close relationships with a broad network of truckers. Project cargo freight forwarders know which truckers are the best fit for your shipment: who has the specialized equipment you need; who's always looking for work in specific lanes; who offers the most competitive prices in certain lanes. Whatever your needs, they know who to call.
Strong relationships with shipping lines. A forwarder who ships project cargo on the ocean all the time is in a good position to negotiate attractive rates on your behalf.
An eye for economies of scale. When you ship multiple containers of project cargo, an experienced freight forwarder can grab the opportunity to negotiate a volume discount.
The right questions. What's the gross weight for each of your container loads? Where is the center of gravity on each big piece? Can you disassemble a large machine to fit it into a container so it doesn't need an oversize permit? A forwarder with knowledge and long experience has your back, asking about details you might not realize are important. This information could save you trouble and money.
The inside scoop on port conditions. Say you're shipping 15 containers. A forwarder with its ear to the ground will warn you if there's a lot of congestion at the port of origin, or if it's especially hard to get trucks at the destination. In either case, that savvy forwarder might help you avoid delays and storage charges, for instance, by suggesting that you split the shipment between two vessels.
The ability to provide special services. For example, what if the receiving company can't take all of the 15 containers you're sending at once, but wants to spread the delivery over several days? Will you be stuck paying high storage charges at the destination port? Or can your forwarder pre-pull some of those containers and park them in a secured storage facility, where storage rates are much more reasonable?
Local offices in cities where you do business. When your forwarder relies on its own employees to find you trucks overseas and handle services such as Customs clearance, those people have your interests at heart. An agent who represents many companies might provide decent service, but your own freight forwarder will always go the extra mile.
Take the risk out of project cargo
Of course, no one wants to gamble with the speed, cost or safety of any shipment. But with project cargo the stakes are so high, you'll want to make every effort to keep all aspects of the transaction trouble-free.
Those efforts start when you forge a partnership with an experienced project cargo freight forwarder. To start the conversation, contact the project cargo specialists at I.C.E. Transport.