It takes special expertise to ship heavyweight or oversized cargo. And when that cargo is crucial to a project—when it absolutely must be in the right place at the right time—that takes even more know-how and attention to detail.
Here's a quick guide to project cargo services, with advice about how to avoid mistakes that can sabotage a project and cost you big money.
What is project cargo?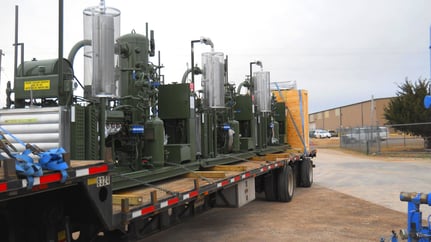 Project cargo is heavy, oversized, high-value freight that is crucial to a mission, such as constructing a factory or equipping a power station.
Examples of project cargo include: blades for wind turbines; very large storage tanks; mobile electrical substations; oil and gas drilling equipment; rockets for space launches; factory production equipment; and extremely large earth-moving machines used in mines or quarries.
If project cargo arrives late, the consequences can be dire. Miss a deadline, and you could leave a whole construction crew standing idle while collecting wages. You could force your customer to pay extra rent on a construction crane. You could keep a factory or power plant from going on line, causing tens of thousands of dollars in losses.
What does it take to ship project cargo?
Consider a wind turbine blade. At approximately 129' long, this blade clearly doesn't fit in a 40' ocean container. Instead, it will probably travel on a container ship fastened to three or four platforms, placed end-to-end. The shipping line loads those platforms above its topmost row of containers, uses a crane to lower the blade onto them, and then fastens the blade down. In some cases, the blade might travel on a roll-on/roll-off (RORO) vessel.


On the highway, the blade rides on a special adjustable-length chassis. The trucking company secures the permits needed to transport a load of this size and weight, and the trucker obeys local time-of-day and day-of-the-week restrictions for heavyweight and oversized freight shipping.
Clearly, it helps to work with a freight shipping partner that knows project cargo.


Using project cargo services? Don't make these five mistakes:

1. Providing the wrong information on dimensions and weight.
Detailed specifications for your load are crucial at two points in the shipping process. The first is when you ask for a quote. Truckers who are willing and able to haul project cargo are few and far between. And they're picky. The trucker who says yes to a 129' load might back out when he discovers that the length is actually 131'. The carrier also needs this data to obtain permits. When he arrives to pick up, if the numbers on the permits don't match the actual dimensions and weight, your trucker might have to tear up those permits and file for new ones, delaying the load and costing you money.


2. Forgetting to supply technical drawings or handling instructions.
Crews that lift project cargo on and off a ship or truck can't just guess where to connect their equipment. You need to direct them to the correct lift points and indicate the center of gravity. Otherwise, your load might tip, or make a piece of equipment tip, causing a dangerous, expensive accident. That's why you should give your transportation partner technical drawings, with lift points and center of gravity clearly marked, plus handling instructions. If your company isn't the manufacturer of the item you're shipping, ask the manufacturer for technical drawings.


3. Skimping on insurance coverage.
Marine cargo insurance on a high-value item isn't cheap. But the cost of a premium doesn't come anywhere near the amount you'd pay to replace a damaged product. If your insurance policy doesn't already include door-to-door coverage on project cargo, your logistics partner should be able to provide what you need for a specific move.


4. Giving vague instructions about necessary equipment.
When a trucker arrives to pick up or drop off a shipment, you get one or two hours to load or unload before overtime charges kick in. If you're shipping a container, that's no big deal: you might pay $100 for an extra hour. But for project cargo, the hourly charge will be more like $400 or $500. So be very clear with everyone concerned about the equipment you need to load or unload your project cargo. And make sure that equipment arrives on time. Then employees can get right to work as soon as the truck shows up.


5. Automatically choosing the cheapest route.
Freight rates are like air fares: trips with more stopovers usually cost less. But every time you transfer a piece of project cargo from ship to ship, or between ship and truck, you increase the risk of damage. What's worse—spending a little more on transportation, or being liable for damage to a million-dollar piece of equipment? Consult with your logistics partner to strike the right balance between cost and risk.
Find a partner who can sweat the details
When you ship project cargo, there's a lot at stake, and a lot that can go wrong if you don't know what you're doing. You need to plan every detail of your shipment correctly, find qualified carriers and monitor the load each step of the way. Don't risk making costly mistakes. Trust an expert in project cargo services to get your mission-critical load where it needs to go, on time and damage-free.
To learn more about how to ship project cargo, contact I.C.E. Transport.