As a rule, the less you handle cargo, the better. But when you move heavy cargo internationally, sometimes it pays to transload. The extra handling adds a bit of risk, but if the numbers work out and your service partners do the job right, transloading can sometimes save you money.
When transloading is a good idea
Transloading makes sense in two situations:
1. When you ship multiple heavy containers through a state with a low truck weight limit.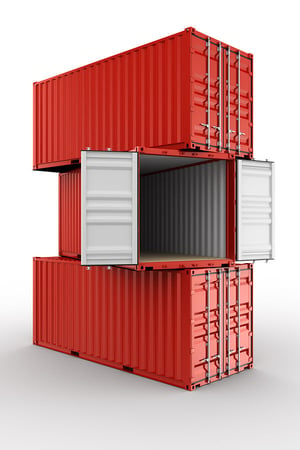 The more weight you put in each container, the fewer containers you need to ship, and so the less you pay for the ocean crossing. Despite what the steamship lines tell you, the only limit on the weight you can put in an ocean container is the maximum gross cargo weight listed on the container door. And when that container travels on land, the maximum weight you can put in a container is set by the states through which you truck that load to or from the port or rail terminal.
For example, DOT regulations in many states in the US let you transport 55,000 pounds or more in a 40' ocean container, as long as you use a specialized truck with an overweight permit. But in a few states, such as California, the maximum weight in a 40' container is limited to 47,000 pounds, with most truckers not willing to move more than 45,000 pounds.
So, say you're in Las Vegas and you need to ship 282,000 pounds of palletized cargo in one shot through the Port of Long Beach. To stay within the legal limits, you'll need six flatbed trucks to each haul 47,000 pounds of cargo from Las Vegas to Long Beach. But in the port area, you can have a service provider transload the product from the six trailers into five 40' containers, putting 56,400 pounds in each. You've just cut the cost of your ocean crossing by one container and, depending on your ocean freight costs, this method may yield an overall savings on transportation.
2. When a facility can't load or unload an ocean container.
Say you're shipping to a customer that doesn't have a loading dock. A container would cause a problem. But if you transload the cargo to a flatbed trailer, then the customer can use a forklift to unload product from the sides.
Or, say you're exporting and you don't want to be responsible for loading your cargo into a container and securing it properly. You might rather send that shipment on a flatbed or in a conventional trailer to a warehouse near the port or rail terminal, where an experienced provider of transload services will transfer the product to an ocean container.


When transloading is not the best choice
As we've mentioned, many states let trucks haul containers loaded with 55,000 pounds or more. If those are the only states your cargo will cross, you're in luck. You can enjoy the savings that come from heavy freight shipping on the ocean, and leave that cargo in containers for the landside trip as well.
Also, if you're shipping just one or two containers, transloading is usually a bad idea. Say you're shipping a container loaded with 55,000 pounds to Phoenix through the Port of Long Beach, but the California state weight limit allows up to 47,000 pounds. By transloading, you can build one load within that limit. But what will you do with the extra 8,000 pounds—pay full price for a second truck to haul it? If possible, you're better off shipping just 47,000 pounds of product now and including the rest with another shipment in the future.


Who's the best partner for transload services?
Before giving your freight to a shipping partner for transloading, make sure that partner can demonstrate the following:
Expertise and experience - Your transload services company should know how to unload a container, or load it and secure the cargo correctly. The best companies have done this kind of work for many years and will keep your load damage-free.
Product knowledge - The service provider should have experience transloading many different commodities—from palletized cartons to heavy machinery and everything in-between. At the very least, it should know how to transload products like the ones you ship. Ask for details on the cargoes it handles regularly.
Insurance - The company should carry enough insurance to cover the value of your particular cargo.
---
Poor transloading forces a do-over
A company was exporting a large industrial machine from the US to Europe. The shipper wasn't able to load this equipment into a container, so it asked a service provider to send a truck with a flatbed to pick up the machine, haul it to a warehouse near the port, transfer it to a flat rack ocean container and take the flat rack from the warehouse to the port.
At the marine terminal, a National Cargo Bureau (NCB) inspection was conducted to make sure the cargo was secured correctly, to avoid damage during the crossing. The container failed inspection. Clearly, the service provider didn't have the right expertise for the job. Before the port would load the container on the ship, another provider had to secure the load correctly. Of course, that extra step cost delayed the shipment and added to the cost.
---
Enlist an expert
Should you transload your cargo? That's a question you'll have to answer on a case by case basis.
An experienced freight broker for heavy and oversized cargo will understand the subtle ins and outs of transloading services and will help you do the math. If the numbers show that the answer is yes, this partner will connect you with experienced service providers to ensure a smooth, safe, economical move.
Can transloading give you more value for your dollar? To find out, talk with the specialists at I.C.E. Transport.