There is a very costly misconception regarding ocean shipping that may lead global shippers of heavy freight to pay far more than needed. Specifically, steamship lines promote the idea that container weights must be limited to 44,000 pounds or less to stay within "legal" limits. Knowing the actual truck weight limits by state (see the chart further on in this article) can easily lead to six-figure savings for large-volume shippers of heavy freight.

The actual limit on ocean container weight is the max gross cargo weight listed on the container door – usually 10,000 or more beyond 44,000 pounds. The reason some steamship lines and forwarders advise against shipping "overweight" containers is that, once containers hit the port and are being transported inland, any extra weight could bring the total truck weight beyond the DOT's 80,000-pound weight restriction for over-the-road (OTR) moves.
But if you study the actual truck weight limits by state, you'll find that almost all states allow carriers with designated permits to handle containers that are 10,000–15,000 pounds heavier than the 44,000-pound "limit."
When performing heavy freight shipping, you should aim to maximize ocean container payload in order to reduce freight costs per ton. But in order to do that, you'll need to build relationships with trucking companies that have the blanket or single-trip permits to move containers direct from the port to the consignee with no need for transloading.
You may also want to consider working with a freight forwarder that specializes in global, door-to-door moves of heavy freight and can manage every aspect of the move, from pick-up to final delivery.
Such providers have built a network of heavy haul trucking companies at every US port to help you minimize ocean freight costs while remaining "street legal" on OTR moves.
Below is a chart showing truck weight limits by state.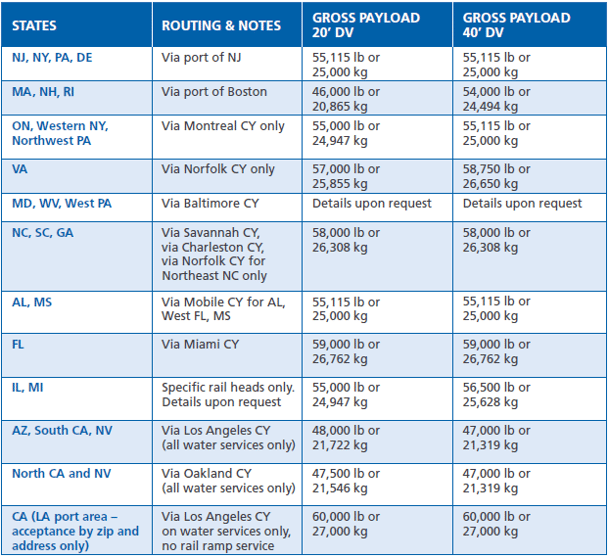 Knowing DOT truck weight limits by state can drive dramatic savings for heavy cargo shippers
If you ship large volumes of heavy freight via ocean, it pays to develop your network of specialized drayage partners with the permits required to move heavy containers from the port to the consignee, with no need for transloading. Or, better yet, partner with a heavy freight specialist like I.C.E. Transport, that can seamlessly handle your door-to-door container shipments.