Over the past year, we've seen container rates plunge more than 75% due to slackening demand for capacity. If you're a global shipper – large or small – you're likely already reaping the benefits as ocean carriers and freight forwarders slash their prices to match market rates. But how do you know if you're getting the best deal?
Finding that out is easy when buying gas for your car. Most drivers get their gas from the same station each week. But when oil prices drop, it's easy to see if you're paying more than others by checking signs at other gas stations around town.
With international shipping, it's not quite so simple. In order to get the best deal from your freight forwarder, you have to do a bit more homework to calculate a benchmark ocean freight container rate – and use that information to your advantage.
What Is Container Rate Benchmarking? How Does It Work?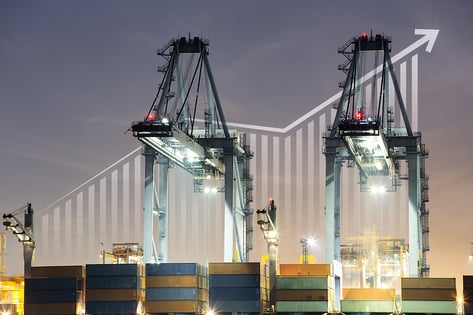 A benchmark ocean freight container rate is used for comparing and evaluating prices offered by different carriers and service providers. It involves gathering data on container rates for specific trade lanes, routes and services and analyzing this information to determine the most favorable pricing options.
The goal of benchmarking is to identify cost-saving opportunities, negotiate better rates and make informed decisions when selecting shipping partners.
Here's how it works:
DATA COLLECTION: The first step in benchmarking container rates is to collect data from various sources like freight indexes, industry publications, freight forwarders, shipping line websites and market reports. The data should cover rates for different container sizes (20-foot, 40-foot, etc.), trade lanes and specific routes relevant to your shipping needs.
RATE COMPARISON: Once you have collected the necessary data, compare the rates offered by different carriers and service providers. Look for providers that operate on the same trade lanes and routes, and compare their rates for similar container types and shipment volumes.
ANALYZING OTHER FACTORS: Benchmarking goes beyond comparing rates alone. Other factors can include fuel surcharges, transit times, vessel capacity, service reliability, additional fees and the overall reputation of the shipping line or service provider. Analyzing these factors alongside the rates will help determine the true value of each option.
HISTORICAL DATA ANALYSIS: To gain deeper insights, analyze historical data on container rates for the same trade lanes and routes over different time periods. Look for patterns, seasonal variations and trends in rate fluctuations. Historical analysis can help you identify peak seasons, periods of rate volatility and potential opportunities for negotiation.
Read more: How to Save on Container Shipping for Transatlantic Lanes
Benchmarking Benefits
Better Negotiate Freight Rates
Use the benchmarked freight rates as a reference point to negotiate better terms, volume discounts, contract durations or additional services. Negotiating from an informed position enables you to secure favorable rates and contractual terms, resulting in cost savings for your business.
Gain Valuable Insights
Once you start benchmarking your freight rates over time, you can build a thorough analysis of both spot rates, as well as long-term contracts. A comprehensive view gives you a deeper understanding of how competitive your current forwarder's rates are vs. actual market rates.
Become More Competitive
Securing the most competitive ocean shipping rates obviously gives you the ability to reduce the price of your products without jeopardizing profit. In more of a commodity market, even small price differences can make a difference in winning or losing bids.
How to Calculate a Benchmark Ocean Freight Container Rate
Calculating a benchmark ocean freight container rate will vary based on the trade lane, route, container type and market conditions. To get started, here are the general steps:
Identify trade lane and route

: This could be a specific origin and destination pair, such as New York to Felixstowe.
Container size and type

: Select the container size and type that aligns with your shipment requirements – e.g. 20-foot (TEU) or 40-foot (FEU). The container type may be standard, refrigerated (reefer), open-top or flat rack, depending on the nature of your cargo.
Research market rates

: Gather information on current market rates for your trade lane, route, container size and type. You can check free resources like Drewry's World Container Index and Freightos Data Terminal, as well as regional freight forwarders and shipping line websites.
Consider additional factors

: Look at fuel surcharges, currency exchange rates, port charges, documentation fees, customs duties and any other applicable fees or surcharges. Take into account any specific requirements or additional services you may need, such as door-to-door delivery or ocean cargo insurance.
Calculate total costs

: With the base rate and additional factors in mind, calculate the total cost of transportation for your specific shipment. Add up the base rate and any applicable surcharges or fees to obtain the comprehensive freight cost. It's important to make sure you're comparing rates on a similar basis, accounting for any variations in service levels or inclusions.
Compare and benchmark

: Compare the calculated benchmark rate with the rates obtained from different carriers and service providers. Assess the competitiveness of the benchmark rate, and use it as a reference point to negotiate better terms or select the most cost-effective option for your shipping needs.
Don't Assume Your Current Container Rate is the Best You Can Get
This benchmarking exercise takes time, and you're busy. We get it. But some forwarders bank on your busy schedule to pocket some added profit during bear market periods when rates are low.
If you have a small team or are feeling overwhelmed, consider talking with a trusted freight forwarder to help you benchmark your ocean freight container rate and determine if you are overpaying. They have access to comprehensive market data and insights that you may not.
To learn more and compare your rates, contact the international shipping experts at I.C.E. Transport.