A backhoe, or backhoe loader, isn't just any piece of equipment; it's a significant investment that often costs well into the six figures. Backhoes are essential in the ever-growing global construction industry. As international projects become increasingly common, so does the need to ship these valuable machines overseas. This comprehensive guide focuses on container shipping, prepping your backhoe for international transit, and optimizing the entire shipping process for efficient and cost-effective backhoe shipping.
Container Selection: Your Guide to Making the Right Choice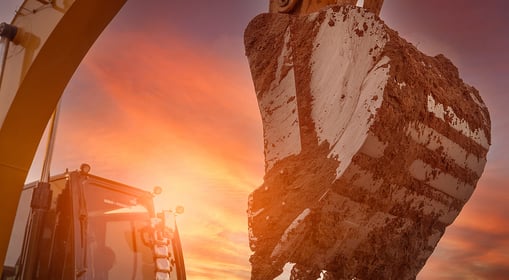 Choosing the ideal container for international backhoe shipping will depend upon multiple factors, including the container size, type, and the most suitable service for your shipping requirements. Here's what you need to know:
Standard Shipping Containers
Containers come in various lengths, including 20 feet, 40 feet, and 45 feet. While these dimensions suit a wide range of goods, it's vital to note that large and heavy equipment like backhoes simply won't fit in a standard container.
Alternative Containers for Oversized Freight
Flat Racks - collapsible walls offer flexibility for loading oversized items.

Open Tops - similar to standard containers but lack a solid top, providing an opening to load machinery from above via crane.
See the container specifications section of this I.C.E. Transport resources page for specs on all container types.
Roll-On, Roll-Off (RO-RO) Service
The RO-RO service provides a more economical solution for equipment on wheels. However, ensuring that both the shipping vessel and the destination port can accommodate your machinery is crucial. RO-RO vessels typically sail less frequently than standard vessels, so keep that in mind.
Factors Influencing Your Choice
Schedule - Availability and shipping times can impact your decision.

Budget - Costs can vary significantly depending on the type of container and service you choose.

Equipment Dimensions - Knowing your backhoe's exact size and weight is critical for selecting the appropriate container.

Weight - This affects your choice of container and the overall shipping cost.
Shipping earth-moving equipment presents options between RO-RO and flat rack container service. Some ports cannot handle certain types of machinery, making your choice of shipping method all the more critical.
Can the Backhoe Ship in a Standard Container?
When you are shipping a backhoe in an ocean container, going with oversized options is not always necessary. Disassembling parts of the backhoe provides greater flexibility by transforming an oversized load into a containerized load. This is particularly appealing if you are looking to cut costs, as this process results in the lowest shipping cost. However, it does involve both disassembly and reassembly time, which might require specialized labor at both ends. Companies specializing in machinery disassembling and reassembling at ports are akin to a pit crew for your equipment. These experts ensure efficient packaging, compliance, and safety requirements, minimizing the risk of shipping delays.
Cost-Benefit Analysis
Consider the savings from using a standard container versus the costs of disassembly and reassembly. Manual labor expenses may outweigh shipping savings for some, but often the savings on ocean costs warrant the extra steps. Your specific situation will guide you to the most cost-effective choice.
Expert logistics partners like I.C.E. Transport provide door-to-door services that include not only oversight of a disassembly process but also all landside transportation, permit management, and real-time status updates, making overseas backhoe shipping hassle-free.
Loading and Securing Your Backhoe
Proper loading and securing are imperative for the safety of your equipment and everyone involved in its transport. Failing to load and secure your backhoe correctly can cause in-transit damage to your equipment and other cargo, leading to financial setbacks and project delays.
Flat rack containers have specific guidelines the National Cargo Bureau sets, including checks for equipment suitability and cargo dimensions. In addition, they evaluate the effectiveness of blocking, bracing, and bedding to ensure optimal weight distribution and cargo security. This rigorous approach ensures your backhoe is secured according to the Code of Safe Practice for Cargo Stowage and Securing (CSS Code), providing peace of mind for each stage of its journey.
Leveraging companies with extensive knowledge in shipping heavy and oversized freight and regulatory requirements helps to ensure your equipment reaches its destination intact.
Insurance: Safeguarding Your Backhoe for the Long Haul
It's important to understand your options for insuring your backhoe during international shipping. It's wise to tailor your coverage to the specific circumstances of your shipment.
Balancing Value and Risk
The type of coverage you choose should reflect the value of your backhoe and the risks associated with its journey overseas. Assess the potential repercussions if something were to go wrong and weigh them against the costs of different insurance coverage.
Many people assume that the shipping line's liability coverage will cover damage or loss. Not so. Being well-informed about your ocean cargo insurance options can lead you to the right choice and ultimately provide peace of mind throughout the shipping process.
Ensuring a Smooth Backhoe Shipping Experience with I.C.E. Transport
Specialized logistics companies with a proven track record in handling heavyweight and oversized freight, like I.C.E. Transport, offer the expertise necessary for such complex projects.
For example, a Polish company that purchased construction equipment at a U.S. auction event relied on I.C.E. Transport to handle the shipping from start to finish. The company managed the pick-up at the auction site in the Midwest, trucking to a warehouse, container loading, shipping to Poland, and final delivery—showcasing I.C.E.'s comprehensive, door-to-door service.
Our team has the experience and skills to handle complex project freight, including customs clearance. Choosing a specialized partner ensures expertise and care for your valuable equipment.
If you are shipping a backhoe internationally, choosing an experienced partner like I.C.E. Transport provides a blend of specialized expertise, global scale and personalized service. We can act as your expert guide throughout the process, ensuring your backhoe arrives safely and on time. This peace of mind only comes from working with specialists who know and sweat the details on your behalf. Contact our team of experts at I.C.E. Transport today to learn more about international backhoe shipping.