Container shipping rates were bad enough at the start of 2021, but today they're even steeper. As of May, transporting a container from Europe to the US costs $2,000 to $3,000 more than it did in January.

In the current market, there's no room to negotiate with ocean carriers. But with the right strategy, it's still possible to reduce your shipping costs.
What's driving prices up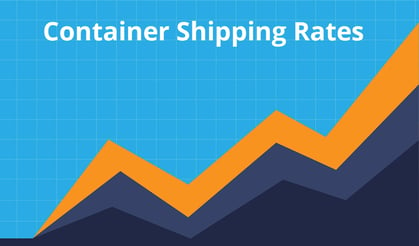 Ocean freight rates are high these days due to a combination of factors, mostly tracing back to the COVID-19 pandemic. Steamship lines have cut back on sailings, although demand for capacity is high. A global imbalance between supply and demand has produced a container shortage in many markets. And the lines have been adding surcharges to their basic rates.

In wealthier countries, as COVID vaccines allow a return to something like normal life, demand for consumer products is surging, intensifying pressure on transportation networks and driving prices even higher.

Whatever the cause, the sad truth is that high ocean rates are taking a serious bite out of companies' profits. This is forcing some business owners to rethink their sourcing strategies or wonder if certain markets or lines of business are worth pursuing at all.

For some companies, however, there is a way to at least mitigate the current market's exorbitant container shipping costs.

Load more, pay less
The key to that savings strategy is to load more weight into a container.

Most steamship lines tell shippers they can load no more than 44,000 lbs in a 40-ft container. But the real limit on an ocean container's capacity is the maximum gross cargo weight listed on the door. In essence, the weight you can load in a container is the weight allowed by any state that container will cross when it travels over the road. With the proper equipment and permits, many state DOT truck weight limits allow for a maximum gross weight of about 55,000 lbs.

Whether you plan to ship multiple containers at once, or ship a steady stream of containers throughout the year, loading those containers to their maximum allowable weight can cut your per-container cost by 15-20%. At today's rates, that's a significant saving.

You save that money by fitting the contents of five standard weight containers into four heavyweight containers. Since shipping lines charge by the container, with no regard to how much you've loaded inside, the fewer containers it takes to ship your product, the more you save.

You'll pay a bit extra to dray each of those heavy containers from the port to the final destination. But the math still works very much in your favor. As you'll see in the inset graph, a company that ships 200 standard weight containers in a year would save 16% on transportation by loading that cargo into 160 heavyweight containers. In this example, based on today's high ocean rates, those savings come to more than a quarter of a million dollars.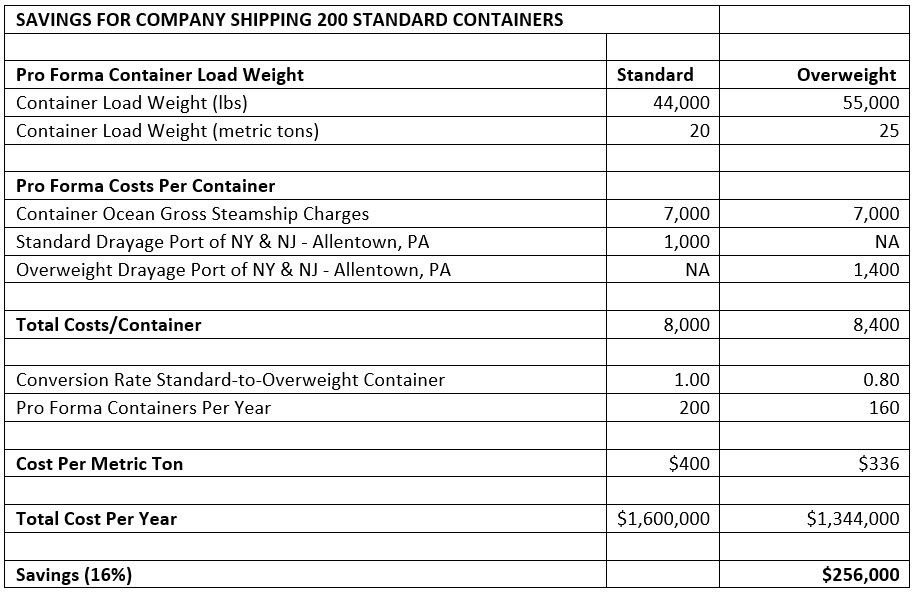 What it takes to achieve these savings
Can your business use this strategy to reduce your container shipping rates? That depends on what you're shipping and how smart you get about loading.

The best commodities for heavy loading are made of dense materials and can be packed in tightly. Examples include plywood and other lumber, knocked-down furniture packed in flat boxes, metal forgings or castings, sheet metals, and foods packed in cans or jars.

To fit more weight, you might need to improve your container loading strategies. That could, for example, mean packing the product into taller or longer cartons, to make better use of the available space. You might also decide to place larger, less frequent orders for product, so you'll have enough to load your containers with the maximum weight.

Find an ally in the fight against soaring container shipping rates
If you've never shipped heavy, it might sound like a lot of extra work. You need to figure out how to fit more product into a container. You also need to find a trucker that can transport heavy loads safely and legally – not an easy job at a time when capacity is so tight.

So how do you get started? The best first step is to contact an experienced freight forwarder that specializes in heavyweight shipments.

That forwarder already has access to a network of truckers that transport heavy containers every day. It also offers invaluable expertise. A company expert can coach you about how to rework your packaging to fit more product in a container. You can rely on the forwarder's stow planning software to develop a loading strategy. And you can get advice about how to secure the heavier load, so your product arrives without damage.

To learn more about how to cut the cost of container shipping, contact the heavyweight specialists at I.C.E. Transport.