If you're managing ocean shipments to a consignee or from a shipper, door-to-door international shipping service is often the most convenient and hassle-free option. But plenty can go wrong during the journey, so you want to align with the right partner. Most often, that will be a freight forwarder, but some shippers may book door-to-door service direct with the steamship line. That can lead to problems.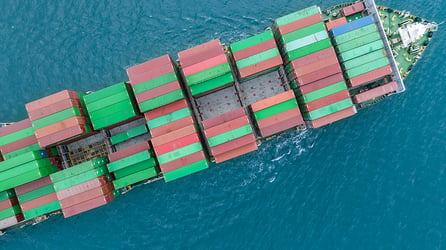 Each stage from pickup to delivery comes with a slew of chances for something to go wrong. For example:
No one tells the drayage carrier

that your supplier can load a container only from 10 a.m. to 2 p.m. When the driver arrives with the container at 3 p.m., he's told to come back tomorrow, wasting time and creating extra costs.

A document required for customs clearance hasn't arrived

by the time your vessel reaches port. Your load sits in the terminal while you, your supplier, and the customs broker hunt for the missing paperwork.

Your cargo arrives 10 days late

, creating costly problems for your supply chain. Someone owes you an explanation. But everyone you call – your supplier, the overseas trucking company, the steamship line, the customs broker, etc. – points a finger at someone else.
One of the best ways to eliminate these potential pain points is to, well, eliminate the points. That is, put one service provider in charge of the shipment from start to finish. This is particularly helpful for smaller companies that lack internal resources to manage global shipping.
Read Our International Shipping for Small Businesses Survival Guide
The Difference Between Carriers and Freight Forwarders
Carriers and freight forwarders both play key roles when it comes to door-to-door shipping, but their responsibilities are different. Carriers handle port-to-port service, and may handle door-to-door service depending on the agreement. Let's look at the pros and cons of working with forwarders and carriers for door-to-door international shipping.
An experienced international freight forwarder will coordinate and manage every stage of your shipment – including ground transportation at the origin and destination, ocean transport and customs clearance. If the forwarder is also an NVOCC, it can issue you a door-to-door Bill of Lading, which a forwarder cannot do.
Pros of freight forwarders for door-to-door international shipping:
Breadth of services: Freight forwarders offer a range of services beyond transportation – including customs clearance, insurance and warehousing. This can make the shipping process more convenient for you.

Cost-savings: Freight forwarders may be able to negotiate better rates with carriers due to their volume of business with the carrier across many shippers.

Expertise: Freight forwarders have experience-based know-how on the shipping process and the various shipping options that exist. They can provide valuable advice and guidance.
Cons:
Dependence on carriers: Freight forwarders are often dependent on carriers for the actual transportation of goods, which means that they may need to rely on carriers' schedules and routes, or to resolve any issues that may arise.
Some ocean carriers will also manage door-to-door shipping, but tend to favor top-tier shippers like Walmart or Home Depot. Small to mid-sized businesses may struggle to get the attention they deserve.
Pros of carriers for door-to-door international shipping:
Direct control over the shipping process: As carriers are the ones physically transporting the goods, they have direct control over the shipping process and can ensure that the goods are handled safely and efficiently.

Clear accountability: If there are any issues or delays during the shipping process, carriers are accountable and responsible for resolving them.
Cons:
Limited services: Carriers often have limited services beyond transportation, which means that shippers may need to find additional providers for services such as customs clearance and warehousing.

Poor service: Below that top tier of large-volume importers, most shippers struggle to get the attention of the carrier should problems or questions arise, particularly with the overland trucking service that steamship lines contract out. It's hard to get a live person on the phone or, if you do, it's a lower-level clerk with little knowledge of your business.

Higher costs: Smaller-volume shippers may not get the best rates from carriers.
Overall, both carriers and freight forwarders have advantages and disadvantages when it comes to door-to-door shipping, but unless you are a very large volume shipper, a freight forwarder will be your best option.
Choosing the right freight forwarder for door-to-door international shipping
Not all freight forwarders are qualified to manage international door-to-door shipping. When selecting a provider, keep these key factors in mind:
Experience:

Look for a freight forwarder with experience handling your product type on your freight lane.
Network and resources:

A freight forwarder with a strong network of carriers, agents and partners can provide more options and flexibility when it comes to shipping routes, modes of transport, and pricing.
Customer service:

A good forwarder will provide clear communication throughout the shipping process, respond quickly to inquiries and issues, and offer personalized solutions to meet your specific needs.
Compliance and regulations:

International shipping involves complex regulations and compliance requirements that vary by country and region. You'll want to choose a freight forwarder that is familiar with these regulations and can ensure that all necessary documentation and permits are in place.
Cost:

Compare pricing from different freight forwarders, keeping in mind that the lowest price may not always be the best option. Remember to consider the overall value of the services provided, including reliability, speed and quality of service.
To help vet freight forwarders, here are a few good questions to ask:
Do you have customs clearance services and expertise in-house?

Do you have offices and local experts in the markets to which I am shipping? (For example, I.C.E. Transport – headquartered in New Jersey – has offices in Poland and Lithuania to provide expertise in shipping between the U.S. and Eastern Europe.)

Do you have strong relationships with air, ocean and ground carriers to secure freight capacity at good rates when I need that capacity?

Can you provide warehousing, transloading, packaging and other value- added services, if needed?

Can you handle oversized cargo shipping?

Will I have a dedicated logistics specialist working with me every step of the way?
It's certainly possible to manage door-to-door international shipments by working with carriers alone, but ask yourself: Do you have the time, staff and know-how to take that on?
The safer, more cost-effective way to manage international cargo is to put one trusted source in charge of the shipment – from point A to Z. For more on the advantages of this kind of partnership, contact the international shipping experts at I.C.E. Transport.