The voyage of a cargo ship from Europe to the U.S. East Coast covers an impressive 4,000+ miles. Yet, it's in the crucial transition from ship to door where the true test lies. Delays at any stage of this journey can trigger detention and demurrage fees that not only thin margins but can also set off a cascade of operational challenges, disrupting your entire supply chain.
Port-to-door shipping demands dependable trucking partnerships capable of maintaining an uninterrupted supply chain. It helps to have a freight forwarder adept at managing all landside requirements — from customs clearance to last-mile delivery. This article aims to shed light on the subtleties of port-to-door shipping and provide readers with tips to streamline this process.
Port-to-Door Shipping: A Linchpin of Container Shipping
The path from port to door is fraught with financial pitfalls such as detention and demurrage charges, stringent rules on container movement, and the unique demands of oversized or heavyweight container shipping. Shippers must select partners wisely, looking for those with a proven track record and the necessary expertise to avoid costly errors and delays.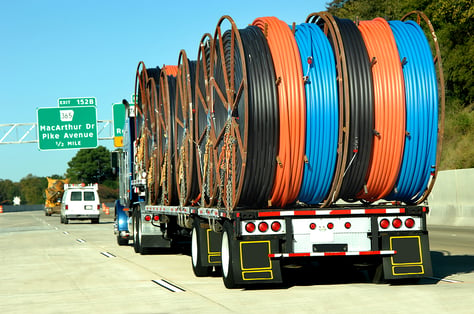 The task is made more challenging if you're not shipping standard containers that are within DOT standard weight limits. Overweight containers will require a trucker with specialized equipment and permits. Oversized loads may require specialized flatbed vehicles and the know-how to ship out-of-gauge cargo.
While steamship lines can offer port to door shipping, they contract this service out. Unless you are a large-volume importer, it will be hard to get the attention of the carrier should questions arise after the container hits the port. It's tough to get a real person on the phone and, if you do, it will likely be a lower-level clerk with little knowledge of your business.
It's possible to manage port to door shipping on your own, but the time and effort required may not be worth it. A freight forwarder that is also an NVOCC can be your single-source partner for ocean shipping, customs brokerage, insurance, warehousing (if needed), and final delivery. Even if your ocean cargo has special shipping and handling requirements after it hits the port, there are freight forwarders that specialize in shipping oversized loads and overweight loads.
Three Elements for Effective Port-to-Door Shipping
Once cargo hits the port, there are several steps that combine to ensure that the passage from port to final delivery is smooth. These include customs clearance, warehousing/transloading and final-mile transport.
Customs Clearance
A good customs broker is critical to securing ISF and customs clearance bonds and ensuring the timely transmission of detailed customs documentation. This precision, combined with the arrangement of necessary customs payments, can be streamlined through digital platforms, reducing errors and expediting the entire customs process. Such proactive measures are vital in averting delays and ensuring cargo moves swiftly from port to door.
Look for a freight forwarder that offers customs clearance agent services as part of an integrated door to door container shipping solution.
Warehousing and Transloading
As a rule, the less you handle cargo the better. So a straight delivery from the port to the consignee is preferred. But in some circumstances, your cargo may require transload services near the port. In these cases, it helps to work with a freight forwarder that has relationships with warehousing companies near the port of entry.
When might you need transload services?
When you ship multiple containers through a state with a low maximum truck weight limit. In most cases, transloading to reduce the weight of a container won't be necessary since special permits enable you to exceed standard DOT weight limits. But in a few states, like California, with exceptionally low max weight limits you may need to offload some cargo to be "street legal."
When the receiving facility lacks dock doors and can't unload an ocean container. This may require transloading the cargo to a flatbed trailer so the consignee can use a forklift to unload from the sides.
Final Delivery
When container cargo hits U.S. shores, especially under C.F.R. or C.I.F. Incoterms, the importer's responsibilities kick in, making it essential to have a solid solution for transporting these goods from the port to the final destination. Here, relationships with reliable trucking partners become critical to avoiding additional costs and steering clear of delays.
A seasoned forwarder offers a breadth of knowledge to mitigate costly detention and demurrage penalties and can navigate details on your behalf. For example, dealing with rail terminal constraints requires a partner who can maneuver around the two-day free time window, weekends included.
When you have more complex needs, such as oversized or overweight shipments, the right forwarder brings an array of specialty services. They have the expertise and connections for heavy hauling and navigating legal highway limits with specialized equipment.
For businesses importing into multiple U.S. ports, the efficiency gains of working with one forwarder for services across multiple ports are significant. It simplifies the administrative load and saves you from having to juggle multiple relationships with last-mile partners at each port.
Transport Port-to-Door with Ease by Leveraging Experts
In many ways, the ocean transport leg of a door-to-door container shipping solution is the easiest part. You need a reliable landside solution to avoid the delays and related penalties that can occur, particularly for non-standard container cargo.
Don't let port to door shipping be the Achilles heel of your global container shipping solution. By choosing I.C.E. Transport as your single-source partner, you're not just choosing efficiency and reliability; you're selecting a team equipped to handle your landside shipping requirements at every major U.S. port. Get in touch for a customized quote and a full discussion of your requirements.