As of June 2019, the spot rate for shipping ocean cargo from Europe to North America was $2,044 per 40-foot equivalent unit (FEU). That's 42 percent higher than the rate one year ago. Even on less expensive lanes, you certainly don't want to pay more for shipping than you need to.
So how can you keep ocean freight costs as low as possible?
There's nothing you can do about the market forces that drive up ocean rates, such as capacity levels or the strength of the US dollar. Nor can you control extras such as the "Trade Imbalance Surcharge" that some steamship lines recently said they would impose on shipments in the Northern Europe-to-US lane.
To save money on ocean shipments, your best strategies are to load as much cargo as you can into a container, and find ways to remove cost from other legs of the door-to-door journey. Here are some steps you can take.


Optimize container loading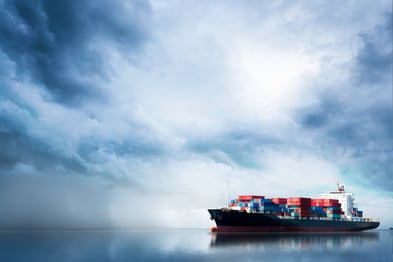 As you probably know, a steamship line charges the same rate to ship a container that's half full as one that's stuffed to capacity. The more you fit in the box, the less you pay per unit or per pound.
So, whenever you can, try to consolidate and improve container loading. If the product you plan to put on the water this week fills only one-third of a container, and you'll be shipping a similar order next week, can you wait a few days and ship them together? This won't work for time-sensitive shipments, of course. But, if your schedule makes it feasible to move one container instead of two, that will reduce your costs.
Can you make a strategic change in your manufacturing schedule? Can you coordinate better with suppliers or customers? If so, you might be able to optimize your loading to save money on a regular basis.
For heavy freight shipping, remember you can put as much as 55,000 pounds in one container, as long as the trucker handling the landside transportation has the necessary equipment and permits to move overweight loads over the road.


Route freight for the lowest total cost
Compared with ocean and rail, a truck is the most expensive way to move a container. But it's also the fastest. Every time you route a shipment, you strike a balance between how soon you need the commodity to arrive and what you're willing to pay. If there's no big hurry, you might find opportunities to save.

Say you're shipping a container from southern Poland to the US. Here are four options for the initial land transportation on the Europe side, from fastest/costliest, to slowest/cheapest:
Truck the container to the Port of Hamburg or Bremerhaven, Germany for loading onto a ship.
Truck the container a shorter distance, to the Port of Gdynia in Poland, for transportation by water to Hamburg or Bremerhaven.
Truck the container to a rail terminal in southern Poland and let a train take it to the Port of Hamburg or Bremerhaven.
Send the container by rail to the Port of Gdynia for transportation by water to Hamburg or Bremerhaven.


Find a partner that enjoys economies of scale
If you work for a small or medium-sized company, you might pay top dollar for ocean freight transportation. You just don't ship enough to win volume discounts. You might even have trouble getting the steamship lines to return your calls when you want a quote. Those carriers are so busy serving the Walmarts of the world, you don't register on their radar.
The same goes for land transportation. When capacity gets tight and rates for trucking or rail service increase, small companies are at a disadvantage.
The solution? Form a relationship with an international freight forwarder that moves hundreds or thousands of containers a year for its customers. A forwarder gets discounts on ocean freight rates, as well as rail and trucking rates. Even with the forwarder's markup, you'll pay less for transportation than you would if you dealt with the carriers directly.
That said, if your company is small, it pays to work with a medium-sized forwarder—not one of the giants. You'll get a lot more personal attention that way.


Door-to-door service = lower ocean freight costs
Shipping is one domain where two heads—or three, or four—are not better than one. Every service provider who manages your transportation by vessel, rail or truck adds a handling fee to the carrier's rate. That's only to be expected. Service companies make their profit based on the value they add when they work on your behalf.
If you work with three logistics partners—say, one for land transportation in the US, one for the ocean crossing and one for transportation in Europe—you'll pay three handling charges. If you work with one partner for the whole door-to-door ocean freight move, you'll pay just one markup, and it's bound to be less than the sum of three separate charges.
Also, if you work with one partner, there's never any doubt about where to call if something goes wrong, or you need to make last-minute changes.


Creative solutions to save you money
As we noted above, there's only so much you can do about the cost to move a container on the water. But with a little flexibility, plus help from a knowledgeable partner, you can find ways to reduce your total ocean freight costs.
To learn more, have a talk with the experts at I.C.E. Transport.