For decades, steamship lines have had an unspoken pact with shippers: If you're willing to wait many weeks to have your cargo delivered, we'll transport it thousands of miles for you, and do it for cheap. Even with relatively affordable rates, the lines made oodles of money by piling containers – as many as 24,000 TEUs on the latest ships – onto a single vessel.

All that changed with the pandemic as the lines cut capacity to address greatly decreased demand. As factories re-opened and as consumers starting shopping again, demand for container space soared – but vessel capacity did not.

As a result, you're paying a whole lot more than you used to for global shipping (that darned supply and demand thing).

Not surprisingly, the pressure to reduce this cost burden has led you to a blog titled "how to reduce ocean freight costs."

We feel your pain. Let's see if we can help.


Ocean Freight Rates and Shipping Strategy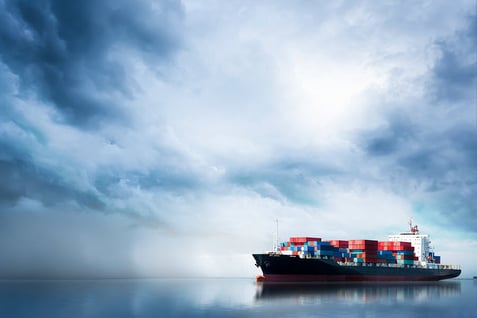 If you want to reduce what you pay for ocean shipping, you need to look at the rate you pay and the strategies you deploy to move your cargo.

There's not a lot you can do to change the rates steamship lines charge, which are determined by global factors like supply and demand, the price of fuel, the availability of containers (can you say "Container Retention Surcharge?") and many other factors.

However, you can change the rate you pay.

One way is to work directly with a freight forwarder that ships a large volume of freight in your most frequent shipping lanes. These forwarders work with many small and medium-sized ocean freight shippers and aggregate the volumes from these shippers to negotiate rates far less than you would pay if you booked directly.

But in your zeal to reduce the cost of ocean shipping, be careful not to sacrifice customer service in search of the lowest forwarder-negotiated rate. The largest global forwarders are structured to serve the largest shippers of container freight, like mass retailers. They may take your freight, but good luck getting someone's attention if you need it. Read our article: How to choose a freight forwarder: does size matter?

There are plenty of forwarders out there who can give you the best of both worlds. A forwarder like I.C.E. Transport, for instance, manages large volumes of freight between the US and Poland and other parts of Eastern Europe. Find the right partner for your business and you'll reduce your ocean freight costs, but still get your emails and phone calls returned.

Another factor that could impact the rate you pay is how flexible you are about your sailing date. The more flexible you can be, the more sailing options you'll have and the better your chances of shipping at a price that fits your budget. Here again is where the right freight forwarder can be instrumental since they use many different steamship lines.

They work a little like an online travel marketplace. Plug your depart/return dates into Expedia and you'll get dozens of flight options with different airlines. You can do the same with freight forwarders for ocean shipping. If carrier A can't provide the right solution, your forwarder can arrange shipment with carrier B, C, D, E or F. The more flexible your departure dates, the more options and price points you'll be able to access.

Of course, similar marketplaces exist for ocean freight, which profess to "cut out the middleman" (freight forwarders) and digitize the process of booking and managing ocean shipments. That self-service model could work well for your freight. But shipping cargo thousands of miles to different countries is a nuanced process involving multiple carriers and customs agencies. The shortest route – in time and money – is not always self-evident or capable of being determined by an algorithm. Check out our article on freight forwarders versus freight marketplaces.

OK, so those are a few things you can do to pay a lower ocean shipping rate. But your biggest opportunity to reduce total ocean shipping costs will be to change your shipping strategy.

Let's dive in.


Strategies to Reduce the Cost of Ocean Shipping
The following strategies can take a big bite out of your ocean freight costs, with savings well into six figures on an annual basis. Not all will suit your freight, but some will.


Put more stuff into the container
A steamship line charges the same rate to ship a container that's half full as one that's stuffed to capacity. The more you fit in the box, the less you pay per unit or per pound.

So, whenever you can, try to consolidate and improve container loading. If the product you plan to put on the water this week fills only half of a container, and you'll be shipping a similar order next week, can you wait a few days and ship them together? This won't work for time-sensitive shipments, of course. But if your schedule makes it feasible to move one container instead of two, that will reduce your costs.

Can you make a strategic change in your manufacturing schedule? Can you coordinate better with suppliers or customers? If so, you might be able to optimize your loading to save money on a regular basis.


Route freight for the lowest total cost
Compared with ocean and rail, a truck is the most expensive way to move a container. But it's also the fastest. Every time you route a shipment, you strike a balance between how soon you need the commodity to arrive and what you're willing to pay. If there's no big hurry, you might find opportunities to save.

Say you're shipping a container from southern Poland to the US. Here are four options for the initial land transportation on the Europe side, from fastest/costliest, to slowest/cheapest:
Truck the container to the Port of Hamburg or Bremerhaven, Germany for loading onto a ship.
Truck the container a shorter distance, to the Port of Gdynia in Poland, for transportation by water to Hamburg or Bremerhaven.
Truck the container to a rail terminal in Poland and let a train take it to the Port of Hamburg or Bremerhaven.
Send the container by rail to the Port of Gdynia for transportation by water to Hamburg or Bremerhaven.
A good freight forwarder will present you with all these options.


Get door-to-door service for lower ocean freight costs
Shipping is one domain where two heads—or three, or four—are not better than one. Every service provider who manages your transportation by vessel, rail or truck adds a handling fee to the carrier's rate. That's to be expected. Service companies make their profit based on the value they add when they work on your behalf.

If you work with three logistics partners—say, one for land transportation in the US, one for the ocean crossing and one for transportation in Europe—you'll pay three handling charges. If you work with one partner for the whole door-to-door ocean freight move, you'll pay just one markup, and it's bound to be less than the sum of three separate charges.

Added bonus: if you work with one partner, there's never any doubt about who to call if something goes wrong.


Ignore Steamship line guidance and maximize container payload
This strategy applies mainly to shippers of dense freight like knock-down furniture or steel rods or cases of water. Many steamship lines say containers need to be 44,000 pounds or less to stay within "legal" limits. That creates problems for heavy cargo shippers since most dense freight won't fill a container at that weight limit. The actual limit on ocean container weight is the maximum gross cargo weight listed on the container door – typically 10,000 pounds or more above 44,000. The cost-effective solution for door-to-door international shipments is to maximize container capacity, then find trucking partners with the proper permits to safely and legally haul loads that are above local DOT weight limits. You can reduce ocean freight costs as much as 20% annually using this strategy. Check out our Heavy Freight Shipping Calculator to see how much you could save.

You'll pay a bit extra to dray each of those heavy containers from the port to the final destination. But the math still works very much in your favor. As you'll see in the following table, a company that ships 200 standard weight containers in a year would save 16% – $372,000 annually – on transportation by loading that cargo into 160 heavyweight containers.


Adjust your packaging
To reduce the cost of ocean shipping, consider whether you can make your cases longer, taller or wider. If so, you might be able to get more product into each case and fit that increased volume into a single container. How about pallets? If you make them a few inches narrower, that can free up room in the container. Example: one of I.C.E. Transport's customers was shipping metal castings in cases that were loaded onto pallets that were so wide the shipper could load only one row of them in a container. The supplier could not provide narrower pallets, so I.C.E. brought the pallets into a warehouse to cut a few inches from each one before shipping. That let the shipper fit two rows of loaded pallets in a container, rather than one—reducing the cost per unit for each shipment by 50 percent.


Squeeze the air out
Do whatever you can to minimize "air" in containers. For instance, you wouldn't ship inflated basketballs, you'd ship them flat and inflate them further downstream in the supply chain. Similarly, for heavy products like kitchen cabinets, you'll get more of them in a container if they ship as "ready-to-assemble" or "knock-down" furniture, which ships in dense, flat boxes.



Ocean Freight Costs are Higher Than Ever Before, but Still the Cheapest Option
Despite the steep rise in the cost of ocean shipping since the pandemic hit, it's still the best value among the global shipping options. Heck, just one container can hold 10,000 bottles of water. That's why 90% of the world's cargo continues to move via ocean freight.

Consider some of the strategies we've suggested to minimize your ocean shipping cots. Better yet, align with a provider of NVOCC services that caters to small and mid-sized shippers of ocean cargo and that has strong relationships with carriers that service your prime shipping lanes. Such freight forwarding partners will explore every available strategy to find the savings you need, without sacrificing service.

Looking for an answer to the high cost of ocean shipping? Contact the Poland and Eastern Europe shipping specialists at I.C.E. Transport to start a discussion.