Freight marketplaces for ocean freight are gaining in popularity. But does this online booking option really align with your needs as a shipper? Here's an overview of things to consider when examining the freight forwarder vs freight marketplace choice.
Simply put, a marketplace for ocean shipping is an online service that enables shippers to obtain rate quotes from multiple carriers and arrange various types of shipping services with the click of a series of buttons. Marketplace operators boast that their digital platforms save time and money – the latter thanks to fewer people these marketplaces would view as "middlemen."
A freight forwarder, on the other hand, is proudly your middleman (or woman), functioning as a shippers' personal agent and advocate. A forwarder takes a proactive hand to manage the many details involved in global shipping, handling any obstacles that come up along the way.
Popularity and practicality
Advances in digital technology have spawned heightened interest in freight marketplaces – including from venture capital firms betting that this "new model" for managing transactional freight will disintermediate forwarders for a portion of global container moves.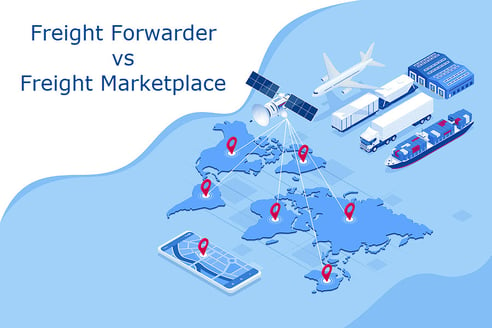 But news of the death of freight forwarders has been greatly exaggerated.
First, online marketplaces do not have a monopoly on digital workflows. Freight forwarders fully utilize technology for freight tracking and rate quoting, as well, to drive more automated processes. And, let's face it, shipping cargo thousands of miles to different countries is a nuanced process involving multiple carriers and customs agencies. The shortest route – in time and money – is not always self-evident or capable of being determined by an algorithm.
The role of freight forwarders vs. freight marketplaces is to serve as your guide for international shipping.
Managing complexities
Smart freight forwarders hire experienced employees because the staff's specialized knowledge is vital to the success of the business. As an example, I.C.E Transport, because of our significant business shipping between Poland and the US, has freight specialists with literally decades of experience managing cargo moves in this lane. This kind of experience allows many forwarders to offer something marketplaces can't: customized advice.
Digitized platforms for, say, home delivery of household goods have proven their worth through their ease of use and performance. But shippers responsible for moving global cargo utilizing multiple transport modes are faced with many challenges and decisions along the way. Freight forwarders effectively function as the supervisor of this entire process and serve as an extension of your shipping department.
How do you save money?
Competent freight forwarders have a discussion with you – not a limited "check the box" internet exchange – about cost and service-level requirements. Multiple routings are available, for example. Are you open to a longer transit time? If so, how long? Are you open to a different trans-shipment arrangement instead of direct service? Answers will guide the forwarder's recommendation.
Freight marketplaces don't really look at multiple shipping options to determine the best price/service mix. They assume you've done all the analysis, made the decision, and are looking for a specific time and place for booking. If you haven't, significant cost savings or details can be overlooked.
The Personal Touch
When managing an important international cargo shipment, sometimes you need to talk to someone. This will be more difficult when booking through a freight marketplace. You are likely to either get an automated response or hear back from a quoting center representative unfamiliar with the requirements of your shipment.
Freight forwarders, on the other hand, depend on one-on-one interaction to learn the exact nature of the freight you are shipping, and what your flexibility may be. The more detail they can gather, the greater their ability to arrange the best, most cost-efficient shipping option.
Follow up throughout the journey
When deciding between a freight forwarder vs. freight marketplace, both will seek to provide you with the lowest rate possible. But "lowest rate" doesn't mean much if disruptions en route are not dealt with quickly and properly. What happens, for instance, if a carrier rolls your container to a future sailing? Forwarders will inform you immediately and suggest alternatives, if necessary. They have relationships with numerous carriers and can negotiate on your behalf to make a switch.
In such frequently occurring cases, having a "middleman" who sorts through the solutions and proactively recommends solutions can make all the difference – especially during these turbulent times in global freight shipping.
Freight forwarders are full-service providers
In the end, perhaps the most important distinguishing characteristic of freight forwarders vs. freight marketplaces is the level of service provided. Shipping consists of more than checking multiple boxes. There are documents to be prepared, bookings to be made, customs declarations to be filed, and shipments to be tracked.
Freight marketplaces are essentially DIY platforms, and they could be an excellent choice for shippers that have the on-staff resources and knowledge to choose the right shipping method and monitor shipments from origin to destination.
But the vast majority of shipments are by companies with lean transportation staffs that need outside partners to handle the time-consuming details of international shipping and trade compliance. For small business global shipping , freight forwarders help to prepare your documents, handle bookings with ships and trucking companies, and ensure all goes smoothly.
Freight forwarder vs freight marketplace
In the end, a decision to rely more on freight marketplaces for ocean shipments will depend on your individual needs and how predictable and transactional your shipments are. Ultimately, a freight forwarder's value is in its shipping expertise, its network of business relationships and its ability to relieve you of the tasks and worries of international shipping.
If you need efficient, informed and personalized management of global shipping requirements, talk to an I.C.E. freight specialist.