Outsourcing to a freight forwarder for small business international shipments can save you a lot of trouble and money. A good forwarder has the expertise, and the access to capacity, to keep your shipments cost-effective and trouble-free. That's especially important when your own company has a lean staff and doesn't have much experience with global trade.

Imagine this scenario:

A small manufacturer in Eastern Ohio gets an order from Estonia. This company has never shipped anything to Europe before, but the order is too good to pass up. So the owner calls a well-known steamship line and asks for a quote.

Instead of a quote, the carrier's sales representative offers a simple instruction: Get a freight forwarder.

Why you need a freight forwarding service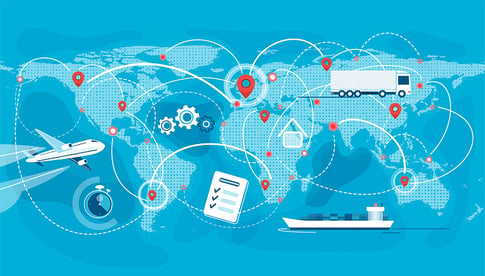 A steamship line can sign a service contract directly with a shipper, but even if a line would do business directly with you, as a smaller company you lack the clout to negotiate any sort of discount from an ocean carrier. You'd be paying top dollar.

The carriers' insistence that you use a freight forwarder is actually a blessing in disguise. In today's environment – with astronomical freight rates, scarce capacity, massive congestion and frequent schedule changes – you're probably already struggling with one logistics crisis after another. Outsourcing to a freight forwarder could vastly reduce your pain.

If you plan to ship mainly by ocean and your freight forwarder is also a non-vessel operating common carrier (NVOCC), that's even better. An NVOCC already has contracts in place with the steamship lines. When it manages your shipments, you gain the benefit of those contracts, including their advantageous rates.

A freight forwarder will also walk you through the complexities of global trade, explaining things like Incoterms, the customs clearance process and government regulations in language you can understand. Your representative will ask questions to make sure you're clear on all the requirements for your shipment. Might the product include hazardous materials or harbor an invasive insect? How will you secure the load to avoid damage in transit? Is the buyer or the seller responsible for the customs declaration?

Low-volume shippers also use air freight. Check out our small shippers guide to air freight shipping.

How to work with a freight forwarder
When you book a load with a forwarder, your biggest responsibility is to provide complete information. What kind of product will you ship? How many pieces does the shipment contain, and what are their dimensions and weight? Do you know what size container you'll need? You'll also give addresses and contact information for the pickup and delivery locations. And you'll provide certain documentation, including the commercial invoice (with details on the sales transaction between buyer and seller) and a packing list.

Based on this information, the forwarder: books your shipment with carriers (such as a steamship line, and with truckers that deliver freight to and from the ports); prepares other documents, such as the Bill of Lading; and arranges for customs brokerage services. To ensure a smooth trip, the information you provide should be accurate and complete.

Throughout the planning process, your forwarder will make sure you're completing all the necessary steps. The forwarder will also monitor your freight as it moves toward the destination. If problems arise along the way, your forwarder will find solutions.
5 tips for smooth shipments
Here are some best practices to follow when you outsource small business global shipping services to a freight forwarder:

1. Be specific about geography. It's not enough to say, "I want to ship a container from Poland to the US." Will the shipment originate five miles from the Port of Gdynia or way down in Krakow? Where is the receiver – in Miami? Chicago? Downtown Denver, or 50 miles south of that city? Details about origin and destination determine how to route the shipment, what it will cost and how long it will take.

2. Pay attention to dimensions and weight. If the shipment contains 20 boxes, what are their dimensions, and what does each one weigh? Details like that help to determine how your shipment travels and the total transportation cost.

3. Avoid surprises. Say, for example, you tell the forwarder that your load's total weight is 44,000 lbs., but when the trucker arrives to pick it up, workers on the dock tell him that it's actually 55,000 lbs. Heavier freight requires a special heavy-haul trucker with state permits for over-the-road transport. Your shipment will come to a halt until you've changed the arrangements to fit the actual load. When you give your forwarder information, first double-check for accuracy.

4. Understand all terms of the sale. Some international sales agreements require the seller to get the shipment cleared through customs and pay any duties that apply. Other agreements give that responsibility to the buyer. Make sure you understand the terms before the shipment gets started. Otherwise, someone could be in for a rude shock, and that's not a problem your forwarder can solve.

5. Provide lots of lead time. The news these days is full of stories about bottlenecks in global trade. Even at the best of times, you can't call a forwarder today and expect to fill a container tomorrow for a sailing three days later. Give your forwarder as much time as possible to plan and execute your shipment.

Find the right freight forwarder for small business shipping
Once you've worked with a freight forwarder, it's not hard to tell whether you've formed a solid relationship. If your freight moves without excessive delays, if you don't incur unreasonable costs, if your forwarder understands and accommodates your needs, if your rep at the company returns calls and e-mails promptly, then you've probably found a reliable partner for the long haul.

Are you looking for that kind of partner for international shipments? Contact the experts at I.C.E. Transport.