Air freight shipping is often the mode of choice for urgent deliveries, high-value cargo or sensitive product that can't survive a lengthy trip at sea. In 2021, as ocean shippers deal with long delays and soaring rates, air freight has become a smart choice in a wider range of situations.

For small shippers, here's a quick introduction to air cargo.


When should you use air?
When you compare air and ocean transportation, two facts remain constant: air costs more, and it's faster.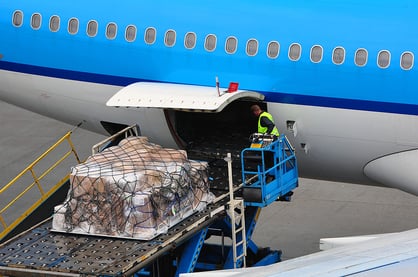 That price difference between air and ocean remains true today, although greater demand and tight capacity in the COVID-19 era have pushed costs on both sides unusually high.

In early August, for instance, Reuters reported that the spot rate to ship a container from China to the U.S. East Coast was 500% more than a year ago. At about the same time, according to Air Cargo News, the Baltic Air Exchange Index showed that the average rate to fly cargo from Hong Kong to North America had risen from $3.44 per kg in July 2019 to $7.90 per kg in July 2020.

If speed, not price, is your biggest concern, however, air might look more attractive today than ever. Increased demand makes it hard to find capacity with any transportation mode. But some modes are harder than others. If you call today to book an air shipment, you can probably get your cargo on a plane in seven to ten days. It might take a month to get that cargo on an ocean vessel. And then, of course, the actual transit by ocean takes a good deal longer.

That's probably why air cargo carriers are seeing strong demand for their services. According to a report by the International Air Transport Association (IATA), the industry's cargo volume, measured in ton-kilometers, was 9.9% higher in June 2021 than in the pre-pandemic days of June 2019.

Transportation cost vs. true cost
As you weigh the cost of air vs. ocean, it's important to consider not just the freight rate, but also the money you could lose if your transit takes too long. Could you shut down a factory for lack of components? Might you lose sales to competitors when you run out of inventory? Will customers hit you with fines when you miss delivery dates? If the consequences are dire enough, air freight could become an attractive option, whatever the rates.

Air freight costs and the smaller shipper
When transportation rates run high, the power to negotiate better deals becomes extremely important. Unfortunately, smaller shippers have next to no leverage with air carriers. Check out our small business global shipping guide.

Ask an airline what it would cost to fly a load from, say, Prague to New York, and the person on the phone will quote the full retail rate. That's kind of like a hotel's rack rate – the high price no one ever pays if they can help it.

Big shippers don't pay full retail. Airlines that want a piece of their substantial cargo volume are happy to offer discounts.

So how does a small shipper avoid paying full retail? The key is to work with a logistics partner that offers air freight services. Because it gives business to the airlines on a regular basis, a freight forwarder can usually get you a better freight rate than you can find on your own.

Which air cargo service will you use?
When we talk about air cargo, we're actually referring to two kinds of service. Some carriers use planes that transport only cargo. Others load cargo into the bellies of their planes. Passenger airlines charge less than cargo-only carriers do, and passenger airlines serve more airports, giving you more routing options.

Given those advantages, why would you ever choose a cargo-only airline? Sometimes you don't have a choice. If your cargo is more than 1.6 meters high, it won't fit through the door of a passenger plane. If you're shipping hazardous cargo, a passenger airline can't allow it onboard. And if your company isn't enrolled in the US Transportation Security Administration's Known Shipper program, a cargo airline is your only choice as well.

Air freight shipping mistakes to avoid
Like any form of transportation, air freight presents potential hazards that could cost you extra money or delay your shipment.

Hazardous goods: proceed with caution
Some of the biggest pitfalls apply only to air freight shipping of hazardous goods. Any time you ship freight that federal or international regulators deem hazardous, you need to follow a specific set of regulations on packaging, labeling and documentation.

The first mistake a shipper might make is to assume that a product isn't hazardous. Many ordinary products that we think of as harmless actually fall under regulations for hazardous goods. Hand sanitizer, for example, is flammable. The lithium batteries in cell phones sometimes catch fire or explode. It's important to do your homework before you arrange a shipment.

If the goods you ship are hazardous, you must submit a dangerous goods declaration (DGD) with all the required information. That includes the correct hazmat classification, based on a nine-category list produced by the United Nations. Also, keep in mind that airlines and ocean carriers use different versions of the DGD.

If you submit the ocean DGD for an air shipment, or misclassify hazardous cargo, or package or label the product incorrectly, the airline will turn your shipment away. Then your trucker will have to bring it back to you. You'll pay for that return trip and lose time while you correct the problem.

Packaging pitfalls
While shippers of hazardous goods must follow stringent packaging guidelines, all shippers should pay attention to how they package freight for loading on an aircraft. You might think you've securely loaded your cartons of high-end electronics onto their pallet. But if you don't properly shrink wrap the entire load, those cartons might come loose and spend three hours skidding around the plane's floor while in flight.

Don't forget the trucker
Not every trucking company offers service to and from airports. Some truckers simply don't want to bother with the special demands of air cargo.

So don't assume you'll find over-the-road transportation when you need it with just a phone call or two. Start searching the web and calling prospective carriers early. Or else collaborate with an international forwarder that offers air freight services. That forwarder works with truckers that make airport runs every day. Its staff knows exactly where to call to find you a reliable carrier at a reasonable rate.

Make every dollar count
Despite its higher cost, air transport can provide a solid return on investment, even for a smaller shipper. But you won't reap that reward if you get stuck with the highest rates, or if you make an error that delays your shipment for so long, you might has well have put it on the ocean.

To gain the greatest benefit from air freight, a small company needs a bigger partner with the right capabilities. A company that offers international freight forwarding services can help you determine the best transportation mode – whether that's air or something else – and then plan and execute a successful shipment.

For expert help with air cargo transportation, get in touch with I.C.E. Transport.