While most trade between the US and Poland is import trade into the US, the volume of exports to Poland is on the rise. If you export goods to Poland, it helps to work with a cargo forwarder who has "been there, done that." Andrew Rozek, President of I.C.E. Transport, has decades of experience managing transportation in this trade lane. We chatted with him recently to better understand the challenges of cargo shipping from US to Poland.
Q: What's getting exported?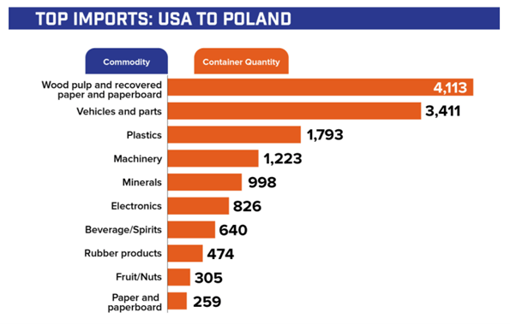 Based on export reports, we know that the largest commodity types shipped are pulp and paper products, vehicles and parts, and many industrial commodities. We ship a wide range of goods to Poland, including heavy machinery and a lot of roofing material needed for the building trade there.
Q: So it's cargo that's most likely to ship via an ocean container.
That's right. Not a lot of pharmaceutical or high-tech or fast fashion goods that might ship air freight.
Q: How much does it cost to ship from the US to Poland?
These days, ocean shipping prices are so volatile that it's hard to talk about specific rates. But the good news is exporters to Poland will pay as much as 60% less than companies importing from Poland into the US. That's because there's more stuff coming in than going out. Steamship lines are anxious to get their empty containers back to Europe.
You'll do a little better, price wise, working with an NVOCC that manages a good volume of shipments in this lane since they'll offer a rate advantage over going direct to the steamship line.
Q: How about export paperwork – is it complicated?
The process and paperwork may differ depending on the type of cargo and where it's being shipped, but most cargo requires standard forms and the process is relatively simple. You can handle paperwork yourself, or it can be done by a freight forwarder with power of attorney privileges. There are common documents required.
The Commercial Invoice describes the product, the sale price and the cost of insurance and freight. All will be used to determine import duty at the destination country.
The Certificate of Origin, or CO, verifies the country in which a good was manufactured. It's required by many treaty agreements for cross-border trade and can help determine whether certain goods are eligible for import, or whether goods are subject to duties.
The Verified Gross Mass (VGM) documentation establishes the weight of the cargo, including dunnage and bracing and the weight of the container. The International Martime Organization requires shippers to provide VGM as part of the shipping instruction or in a separate communication, before vessel loading.
Finally, the Shipper's Export Declaration, which is filed electronically through the government's Automated Export System, provides information on the type, value, and quantity of exports. This information is used by the government to compile foreign trade information.
Q: What are some key issues related to shipping to Poland?
Right now the key issues related to ocean shipping from the US to Poland are the same issues plaguing shipments to just about anywhere – unpredictable disruptions. It makes planning extremely difficult. These days we might get 15–20 booking amendments from a steamship line on a single sailing. Pre-pandemic, we might have gotten one or two at the most. Each amendment – like a departure date change, an arrival date change, or a vessel change – has a domino effect. For instance, container pick-ups that were booked with a trucker must be cancelled and rescheduled. The steamship line booking might also need to be changed based on the new timeframe. This type of disruption is hugely time-consuming for the exporter. It's another argument for working with a freight forwarder that understands the alternate options for local and international transportation and can coordinate the necessary changes. That kind of help is particularly important for small businesses who ship internationally.
Q: How long does it take for cargo shipping from the US to Poland?
The average ocean freight transit time from US East Coast to Poland, port to port, is 25 days. Then, based on your final ship-to destination, you'll have to add the trucking time for a true door-to-door transit time. There is no direct ocean freight service into Poland, so your cargo will likely ship to Hamburg, Bremerhaven or Antwerp for the Trans-Atlantic leg. From there, the shipping line transloads the container to a smaller "feeder" vessel for the trip across the Baltic Sea to the Port of Gdansk or Gdynia. With any indirect shipping solution, there is a risk that the arrival and departure times of the applicable vessels won't sync and you'll experience delays.
Q: Are there any other options to ship the cargo into Poland once it arrives in Western Europe?
A 100% sea freight solution, port to port, will be your cheapest option – but also your slowest. There are a couple of alternate methods.
You can transport the container by truck from the initial arrival port in Western Europe to your final destination. That's the fastest and most expensive option.
Or, you can transport the container by rail to a rail yard nearest your final destination and arrange last-mile trucking from there. That's faster and pricier than using the feeder vessel, but slower and cheaper than the Sea+Road option.
Q: Is customs clearance a challenge in Poland?
As far as customs procedures, there is nothing different about exporting to Poland vs. other European countries. Since Poland joined the European Union in 2004, cargo shipping from the US to Poland has grown much simpler.
Q: For companies exporting from the US to Poland, are there advantages to working with a freight forwarder that specializes in this lane?
From a coordination point of view, it's nice to have a single-source solution for both shipping and customs paperwork from door to door. A forwarder, like I.C.E. Transport, that is focused on this trade lane will likely have offices in both the US and Poland. If you're shipping under DAP terms out of the US – which means you're responsible for delivering the goods to an agreed destination in Poland – it helps to have freight experts on the ground in Poland who can handle all the post-sailing details involved in international door-to-door shipping.
Q: Can you give us some examples?
They'll know where to source empty containers.
They may have solid relationships with staff at marine terminals and that might help you get a container in at the last minute, or help you get it out of the port quickly.
A good knowledge of the local customs clearance process can help your cargo move in or out of Europe without unnecessary delays.
Good relationships with trucking companies and freight rail carriers in Poland can ensure you get capacity when you need it, at a good price.
Q: So that's interesting, a forwarding partner here in the US can help reduce local transport costs in Poland? How can they do that?
It's all about having an office there. Let's say that, after goods arrive in Poland, you need to move the container from the Port of Gdynia in the north to Krakow in the south – a 6-hour trip. A US-based company like I.C.E. Transport, which has an office in Gdynia, will be able to get a favorable rate from a trucking company. We handle so much container volume moving to and from Poland seaports that we can use that trucker's backhaul to bring that same container back – filled with another customer's goods – from Krakow to the port. Or, we'll drop the container off at a nearby container depot and the trucker will haul another container outbound from that general area. Either way, you're not paying a round-trip trucking rate.
Q: How about having native Polish speakers on the Poland side? Does that help with cargo shipping from US to Poland?
It does. While much of Poland can conduct business in English, some people there prefer to use their own language. A forwarder with a bilingual staff – on both sides of the ocean – will make sure that communications flow freely, without any costly misunderstandings.
--------
Need help with cargo shipping from the US to Poland?
I.C.E. Transport was a pioneer in the US–Poland shipping lane as the first American NVOCC to offer a freight collect bill of lading. To review your needs in detail, contact us to start a discussion.