Say you need to move the machines from three shuttered US factories into a facility overseas. Or you're providing several huge components needed to build an offshore oil rig. When you transport those items, that shipment is called heavy lift project cargo.
Project cargo might require multiple containers, it's often heavier and bigger than the average ocean shipment, and it poses some special challenges:
Timing and coordination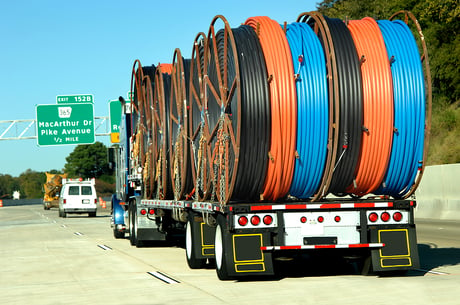 Let's think about that production machinery. First, you'll have to arrange for truckers to transport the cargo from each of the three factories to the port. If some of the equipment is oversize, you might need special conveyances – flat racks or open top containers – and special permits for over-the-road transportation. If this is heavy lift project cargo, your trucking company must arrange for overweight permits as well.
You might need to rent a crane at each location to help with loading. Since the per-hour rate adds up fast, you'll want to make sure those cranes arrive right when they're needed, and no sooner. And you'll want to complete the loading as fast as possible, so you can send the cranes back.
Then you'll need to orchestrate the shipment. The owner(s) of the factories selling the machinery might set deadlines for getting that equipment off their premises. Your truckers will have to comply with that schedule.
Some receivers want all the containers in a project cargo shipment to sail on one vessel, maybe due to a requirement to clear the whole shipment through Customs at once. If that's the case, you'll have to make sure the containers from all three factories reach the port roughly at once, before the steamship line's cutoff time.
The receiver might also require you to deliver all the containers within a certain range of dates. Miss that window, and you'll pay a fine.
Or else, the receiver might tell you to space out the deliveries – for instance, bringing certain pieces of machinery on September 15, some on October 1 and the rest on October 8. If that's the case, you might need to store some of the cargo—with or without the containers—in a warehouse until the receiver is ready to take it.
Clearly, a project cargo shipment involves a lot of moving parts, complex timing and careful attention to detail.
Weight and size limits for heavy lift project cargo
To ship heavy project cargo, you must also understand the rules for weight and size.
Limitations on how much you can load into an ocean container don't involve regulations about the ocean voyage itself. Rather, they pertain to land side transportation.
In general, the standard maximum gross vehicle weight for a commercial truck in the US is 80,000 lbs. That lets you load about 44,000 lbs. into a container. But if your trucking company specializes in heavy cargo shipping, you can load more, as long as the trucker has an overweight permit for each state on the route from origin to port.
The actual maximum depends on the truck weight limits in the relevant states. In Massachusetts, New Hampshire and Rhode Island, for instance, the upper limit is 54,000 lbs. in a 40-ft. container. In Florida, it's 59,000 lbs. in either a 20-ft. or 40-ft. container.
The limits on the length, width and height of the load you can transport also vary from state to state. In addition to those requirements, you must also be aware of a federal rule called the Bridge Gross Weight Formula. This dictates the length of the chassis you need to transport a particular load, and the number of axles the chassis must have, based on how much the load weighs.
The details of truck weight limits for oversize shipments are especially complicated. It takes expert advice to keep a shipment of heavy weight project cargo compliant with state and federal laws.
Local contacts give you a leg up
Local truckers usually know the most efficient ways to transport heavy and oversize loads through the states where they operate, while staying compliant with federal and state regulations. Since a project cargo shipment with numerous containers could involve several trucking carriers, and maybe a warehouse and a rigging company as well, it helps to have a 3PL specialist in heavy freight shipping coordinate this kind of transportation. When a freight forwarder has close relationships with local truckers and other service providers, you gain the benefit of the inside knowledge those providers bring to the transaction.
The right forwarder can also find extra capacity when you need it. In project cargo shipments, it's not unusual to load ten containers and then find you still have enough product on the dock to fill three more. When your shipment is mission-critical, you a need partner that can quickly locate additional capacity, whether that means more trucks or extra vessel space.
To arrange an efficient, cost-effective shipment of heavy lift project cargo, contact I.C.E. Transport.