Oversize freight often crosses the ocean in specialized containers, especially on flat racks. But for some cargo, break bulk shipping is a better option. Here's a look at what can make break bulk a good choice for oversize freight, with some advice about how to ship break bulk successfully.
When should you choose break bulk?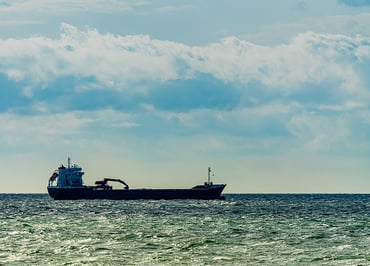 "Break bulk" refers to any cargo that doesn't travel in an intermodal container or bulk tank. This includes product held in bags, drums, crates or other smaller containers; product secured on pallets or skids; large items secured on MAFI trailers; and self-propelled machines such as excavators.

You might ship oversize freight as break bulk when:
It's too wide to sit on a flat rack container. For instance, if the left and right wheels on a construction machine are too far apart, you can't secure that machine on a flat rack according to standards set by the National Cargo Bureau (NCB). Freight on a flat rack that fails an NCB inspection at the port won't be allowed on a vessel.
It's so long and wide, it would obstruct one or more of a flat rack's four corner fittings. Then the terminal's cranes won't be able to lift the container on or off a ship.
Break bulk shipping works better for your schedule or budget. Oversize break bulk shipments are transported on RO-RO (roll-on, roll off) vessels. Whether flat rack or RO-RO is a better choice for a particular load depends on several factors, such as the destination, your time constraints, the dimensions and weight of the load and the handling required at the port. You need to understand those factors and weigh the pros and cons to make the best choice.

Transporting oversize break bulk over the road
When you don't use a container, the trucker that transports your oversize freight to or from the port provides a specialized trailer, usually a low-boy or step deck. The trailer needed depends on the load's size and shape.

One advantage of break bulk has to do with securing the oversize load for transport. When you use a flat rack container, you, the shipper, must secure the load according to NCB standards. If you don't, the container will fail inspection at the port and you'll have to pay someone to rework the freight before the steamship line allows it on board. To avoid problems, a shipper might pay a third-party expert to secure the load.

But when you ship an oversize load as break bulk cargo, the trucker is responsible for securing the load for over-the-road transportation. And since there's no flat rack container, there's no NCB inspection.

With some oversize break bulk loads, truckers have to get especially creative. That was the case when I.C.E. Transport managed the shipment of 132-foot steel rails from the UK to Connecticut. For the trip from the Port of New York and New Jersey to the final destination, the trucking carrier mounted the rails on top of two empty shipping containers riding on two low-boy trailers. Special supports at the front and rear ensured that the rails would have no more than 12 feet of overhang at any point, to prevent bending.

Of course, you and your trucking carrier must also follow all state regulations for oversize shipping on the route to or from the port. That includes obtaining the necessary permits for oversize and overweight freight, and possibly arranging for a route survey and escort vehicle.

Oversize break bulk shipping at the port
When you ship a large machine that can travel under its own power, loading it on or off a RO-RO vessel is easy: a worker simply drives it. But static cargo needs help from one or more MAFI trailers. At the port of origin, depending on the cargo's size, workers use one or more forklifts, or a crane, to lift the cargo onto one or more MAFIs. Then they secure the load, and a power unit pulls everything onto the ship. At the destination port, workers reverse that process to transfer the oversize load to an over-the-road trailer.

To prepare the 132-foot steel rails to cross the Atlantic, workers laid them across a series of bolsters that were stacked on a MAFI trailer.

Ship break bulk without breaking a sweat
Like any out of gauge load, an oversize break bulk shipment takes careful planning. Before anything else, you need to determine whether break bulk or containerized shipping best meets your goals for efficiency and cost. Since the answer isn't always obvious, it pays to explore both options.

Then you need to find a trucker with the experience and equipment to transport oversize freight. Finally, when executing the shipment, you must get all the details right. For instance, you need to provide accurate specifications for the load, ideally with drawings, so the trucker can secure it correctly for the over-the-road trip and put the right data on the permits. Get any step in the process wrong, and you could be in for a rude shock – maybe damage to your freight, or a costly delay when a state DOT inspector finds an error on a permit.

A freight forwarder that's been managing out of gauge cargo shipping for many years can help you choose the right strategy for your oversize freight and complete the move as fast and cost-effectively as the market allows. Start planning your next shipment with a call to I.C.E. Transport.