In 2019 (pre-COVID), Walmart imported close to 900,000 ocean containers worth of cargo (20-foot equivalent units) into the US.

We're guessing you shipped fewer than that.

Size matters in ocean shipping, and the big shippers leverage volumes to command better rates and better access to capacity. And better service – they may actually get their calls returned, while your calls to carriers and large forwarders go unanswered for days.

But there are things you can do to ship containers smarter and faster – even if you only move dozens of containers a year. We write about it in our eBook, International Shipping for Small Businesses. Here are 7 small business shipping tips for ocean cargo.
1. Borrow Negotiating Power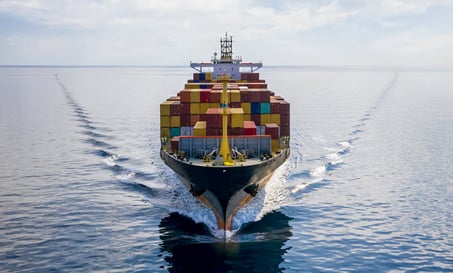 When you buy more of something – just about anything – you'll pay less. Ocean shipping is no different. By booking your ocean cargo through a non-vessel-operating common carrier (NVOCC), you ship under that company's contracts with steamship lines and benefit from the lower rates they enjoy because of their aggregate freight volume across many shippers.
2. Right-Size Your Freight Forwarder
When choosing a freight forwarder to gain cost benefits from volume shipping, be careful not to prioritize volume and price at the expense of personal service. Very large forwarders will offer the best rates, but you can bet they'll direct available resources to keeping their biggest customers happy. They may take your freight, but don't expect a quick response to an urgent freight request. You want a partner that's big enough to offer good pricing from carriers, but small enough that your business will matter to them.
3. Maximize Container Payload
Our next small business shipping tip for ocean freight is about shipping as much cargo as you can in the fewest number of containers. Steamship lines will charge you the same amount, whether your container is stuffed to the brim or just half full. Therefore, it makes sense to pack as much as you possibly can into the container, within weight restrictions.

Let's say you ship 10,000 cases a year at 100 units per container. That's 100 containers a year. If you can fit an extra 12 cases into each container through smart container loading, you'll need just 89 containers.

What are you paying these days for an ocean container shipment? How much would you save if you shipped 11 fewer containers a year? It's a nice savings for a small or mid-sized shipper.
4. Ship LCL
Instead of maximizing payload on your own container shipment, sometimes it's better to combine your cargo with other shippers to save as much as 60% versus shipping a partial load. This less-than-container-load service (LCL), moves through a container freight station where a consolidator loads it with other smaller shipments going to ports along the same route.

An experienced NVOCC can help you determine when and if LCL is the right option for you.
5. Be Flexible with Sailing Dates
As an air traveler, you know that airline rates change based on the day you want to travel. Our next small business shipping tip is to be flexible with your container's travel dates.

A rigid sailing and target arrival date will yield limited options in terms of carrier schedules. The more flexible you are with sailing dates, the more options you'll have with carriers and price points. Shipping flexibility is a product of good supply chain planning. Poor planning may mean more of your shipments are urgent and, therefore, must move as soon as possible.
6. Choose a Partner with Volume and Experience in Your Key Lanes
Chances are you ship most of your ocean cargo in a small number of lanes. In such cases, it helps to work with a freight forwarder that is experienced in those lanes. Benefits include:
Access to capacity.

Freight forwarders that ship frequently along a lane will have strong relationships with carriers that service this lane.

Better rates.

More volume in a lane translates into better carrier rates.

Customized advice.

Freight forwarders that are very familiar with a lane will understand the nuances of customs clearance in a particular country; they will have relationships with carriers for landside transportation; and they will be familiar with different routing options to save time and money.

ICE Transport, for instance, works with many companies shipping between the US and Poland, as well as Eastern Europe.
7. Work with a Single Partner to Arrange Multiple Services
Door-to-door ocean shipping involves a range of different steps and services, including first-mile transportation, consolidation, customs paperwork, ocean shipping, customs brokerage, deconsolidation, and last-mile transportation. It's a lot to manage for small-volume shippers with limited resources. You'll need help, for sure. But remember that the more service partners you engage during the door-to-door journey, the more handling charges you'll pay and the more likely it is that you'll have an important detail slip through the cracks.

The right freight forwarder can be your one-source solution for global, door-to-door shipping – shipment booking and monitoring, landside transportation, customs paperwork and brokerage. In short, the forwarder can act as your expert freight department, handling all the specialized and time-consuming details and allowing you to focus on more strategic issues.

Punch Above Your Weight
Just because you ship a lower volume of ocean freight doesn't mean you have to pay the highest rates for the worst service. Leverage our small business shipping tips to punch above your weight in global ocean shipping.

If you're looking for a specialized freight forwarder that provides comprehensive global shipping services to small and mid-sized businesses, contact ICE Transport and let's start a discussion.