The Port of New York and New Jersey is the third-busiest port in the US, and the busiest on the East Coast. When you ship through a facility of that size, access to local knowledge and connections could save you time and money.
What do you gain when you work with a New Jersey-based freight forwarder?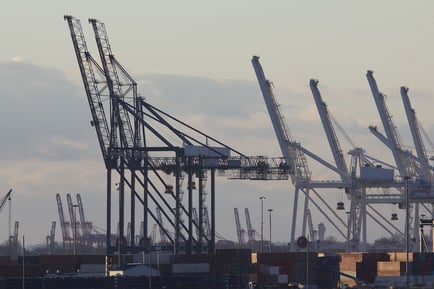 A company's position on the map isn't as crucial as it used to be. For instance, since most transactions have gone electronic, you don't need to hand deliver paperwork to the port or Customs office. An experienced freight forwarder can manage your shipments effectively, door to door, between any two locations on the globe.
That said, when you ship cargo through one of New Jersey's marine terminals, working with a freight forwarding partner in that state does give you some extra advantages:
Close relationships with truckers
Freight forwarding companies in New Jersey do business with local truckers day after day. Your forwarder knows many of the owners and drivers, with personal relationships that go back years. Sometimes those relationships translate into favors. When capacity grows tight, and you need a truck in a hurry, a local forwarder will know exactly whom to call.
That forwarder also knows which truckers prefer local moves, who's always looking for a load to Pittsburgh, who mainly makes runs to South Jersey or who doesn't mind crossing the Hudson. A partner with that inside knowledge can find you better rates.
An "in" with local warehouses
Say you're importing several containerloads of pipe in bundles, and once it gets to New Jersey you want to transload it into domestic containers. The warehouse your forwarder uses for transloading stopped handling bundled tubing several years ago. But your forwarder gives that warehouse a lot of business, and the owners are old friends. So management at the warehouse makes an exception, and you get expert service at a competitive rate.
A local warehouse might also find a way to squeeze in your cargo even when the facility is busy or short on space—thanks to its close relationship with a freight forwarder in New Jersey.
In-person extras
Even in a world of e-mail, internet portals and electronic data interchange (EDI), physical proximity sometimes lets your forwarder offer a special service. Say you're expecting a shipment of out-of-gauge cargo at Port Newark, and you're concerned about damage. A freight forwarding company in New Jersey can send someone from its office to inspect the cargo in person, take pictures and send them to you before the product goes onto a truck.
A local forwarder also offers an advantage when you ship a motor vehicle overseas. That's probably the only time when you need to clear Customs on the export side, and one of the few cases when you might need to present physical paperwork. A forwarder in New Jersey can send an employee to hand-deliver your export clearance documents, making sure you present those papers before the deadline set by your shipping line. A forwarder in another region will probably use a courier to make the delivery. That's perfectly fine. But when a freight forwarding company in New Jersey personally delivers your documents, you gain additional peace of mind.
---
New Jersey forwarder helps with oversized shipment
When I.C.E. Transport helped a buyer in Poland transport a CNC (computer numerical control) machine from the seller's location in Maine, no single carrier could handle the complex move. I.C.E. Transport found a rigging company to retrieve and crate the machine. But it was not feasible to move the machine over the road on the flat rack container that would be needed to load the cargo on the ship.
Thanks to a long-standing relationship with a warehouse in New Jersey, I.C.E. Transport was able to piece together the perfect combination of services. The rigging company transported the CNC machine from Maine on a step deck trailer. At the warehouse, employees transferred the load to a flat rack, blocked and braced the crate, and had it trucked the short distance to the port. With just one phone call, the Polish customer found an efficient and cost-effective solution.
---
The real scoop on local terminals
It's hard to predict when congestion will become a problem at a particular ocean terminal. But if you stumble into congestion unaware, you could be in for a major headache. To make up for time the driver loses sitting in line, a trucker might add $150 or $175 to its basic rate. Some truckers might refuse to take loads to that terminal altogether until things clear up.
Doing business with the ports day after day, a local freight forwarder stays aware of conditions at each terminal. When it comes time to book your load, that forwarder's advice can save you time and money. For example, if the APM Terminal facility is unusually crowded, it might be smarter to book your cargo with a carrier that calls Maher Terminal.
With so many freight forwarding companies in New Jersey, how do you choose the right one?
Conduct all your usual due diligence. And then on top of that, look for longevity. If a service provider has worked in this market for many years, it's had time to cultivate a rich network of local partners, close relationships and the expertise of a true insider.
I.C.E. Transport has operated from an office in New Jersey since 1987. To discuss how we can assist you with our full range of services, in New Jersey or anywhere else, get in touch with one of our experts.