Sometimes the volume of your ocean shipment easily makes up a full containerload (FCL). Sometimes the shipment is small enough to make less-than-containerload (LCL) service the best option. But the choice between FCL vs LCL shipping isn't always clear cut. What to do then?

Here are some factors to keep in mind as you decide which service to use.



How FCL and LCL work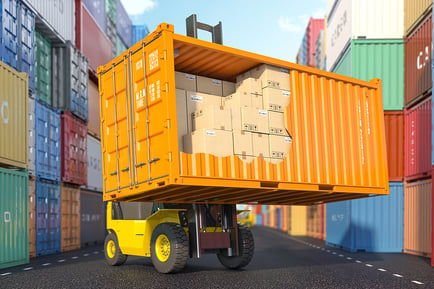 When you ship FCL, your service provider delivers a 20-foot or 40-foot container to be loaded with your cargo. Only your cargo goes into that container. A drayage carrier delivers the container to the port for loading onto a ship. At the destination, another drayage carrier delivers it to the receiver.

When you ship LCL, your service provider transports your cargo to a special warehouse called a Container Freight Station (CFS), run by a consolidator. The consolidator loads your cargo into a container with cargo from other shippers. Your shipment might share the container with freight going to receivers in several other states (if the shipment is going to the US) or countries (if the shipment is going, for example, to Europe).

Is there a rule of thumb for choosing FCL or LCL?
There is a general rule that often can help you decide between FCL and LCL. When you ship enough volume to fill more than half of a 20-foot container, then FCL is probably your best bet. When you ship less than that, you should probably go with LCL. A 20-foot container typically holds about 10 pallets, or 20 pallets if you can fit a second layer on top of the first.

But note that word "probably." The truth is, nothing is simple in the current era of tight capacity and congested ports. Container shipping rates are volatile. If you plan to ship enough volume to fill about half of a 20-foot container – or a bit more, or a bit less – don't make assumptions. Ask your service provider to quote rates for both FCL and LCL.

A closer look at how FCL and LCL compare on cost
FCL: An ocean carrier charges a flat rate to transport a container. The more cargo you fit in the box, the lower your per-unit cost. The total cost of an FCL shipment also includes charges for drayage.

LCL: When you book LCL freight, the consolidator runs two calculations on your cargo, one based on volume (price per cubic meter) and one based on weight (price per 1,000 kilograms). Whichever rate is higher is the one you'll pay. You'll also pay for drayage to the CFS in the origin country and, at the other end, from a deconsolidation warehouse to the final destination. And there are usually other fees, for services such as documentation, handling, unloading and release.

The bottom line: It's apples and oranges.
You can't directly compare the costs of FCL and LCL in the abstract. You need to look at the details of a particular shipment. That's why it often pays to get a quote for door-to-door transportation using each option.
The question of speed
Of course, cost might not be your only concern. You might also have your eye on the calendar. How do FCL and LCL compare on transit time?

Once a container gets onto a vessel, it makes no difference whether the product inside belongs to one shipper or to several. The port-to-port transit time is the same for every container on the ship. But a couple of other factors affect how long your shipment will take, depending on whether you choose FCL or LCL:
Door-to-door transit time
FCL: A full container usually goes right from the origin dock to the port, and then from the destination port to the receiver.

LCL: The CFS needs time to receive and load cargo from all customers that have booked space in a single container. In the destination country, the warehouse needs time to deconsolidate the loads and give them to carriers for delivery to their final destinations. That extra handling at both ends can add about a week to the total transit time.

Lead time for booking a shipment
FCL: As of late 2021, it's not easy to secure a container or space on a vessel. Call a service provider today to book an FCL shipment and, unless you're willing to pay a hefty premium, it will probably take three weeks or more to get your cargo on a vessel.

LCL: Even in these difficult times, many LCL shippers can book cargo about a week ahead. That might not be true for high-demand services from China, but LCL bookings with a one-week lead time are available in many other lanes. Now and then, you might even find an LCL service provider with a little extra space on a container that's sailing even sooner. If you're lucky, that provider will squeeze you in.

The bottom line: In a race, LCL usually wins
If you need to ship 10 pallets and you call today to make an LCL booking, those pallets might get on the water two weeks sooner than if you booked a full container. Due to extra handling, the door-to-door LCL shipment will take about a week longer than a comparable FCL shipment. But if you measure from the day you request a booking to the day your cargo hits the receiver's dock, an LCL shipment often beats FCL by about a week.

Other factors that could influence your choice
Risk
Reliable service providers take good care of your freight. Still, the extra handling involved in an LCL shipment – consolidation and deconsolidation, movement around the warehouses, etc. – creates a slightly higher risk of damage.

An LCL shipment also runs a slightly higher risk of error and delay. Now and then, for example, a worker misplaces a pallet in the warehouse, so that cargo doesn't make it onto a container or truck as scheduled. Those mistakes are rare, but they do happen now and then.


Special cargo
If you're shipping refrigerated cargo, you'll probably need to send it FCL. Consider the varied needs of temperature-sensitive products. One has to stay chilled at 40o F, another must stay frozen at 20o F, and a third requires -10o F. How does a consolidator accommodate them all in one container?

Hazardous goods face a similar problem. By law, many hazardous materials are simply not allowed to travel in the same container with other hazardous materials or non-hazardous cargo.


The best decision on FCL vs LCL shipping
When it's not obvious whether to use FCL or LCL, many factors contribute to the ultimate decision. That's why the first decision you should make is to engage with a logistics partner that's an expert in containerized shipping.

An experienced non-vessel operating common carrier (NVOCC) with a broad portfolio of forwarding services will help you sort through the pros and cons of FCL vs LCL to arrive at the right solution. Then, working with its network of trusted service providers, such as drayage carriers and consolidators, your partner will deliver seamless, door-to-door service for a single price.

For expert help with the complexities of smaller-volume shipping, contact I.C.E. Transport.