If you're shipping a car or heavy machinery overseas – or even oversized cargo – roll-on/roll-off (RoRo) shipping is often your most efficient option for getting from Point A to Point B. The roll on and off process simplifies loading and unloading, reduces risk of damage, and often costs less than container shipping.
A few major ports in the U.S. are known for their RoRo capabilities, including the Port of New York and New Jersey, which has extensive RoRo services that connect to markets around the world. The Port has multiple terminals for loading and unloading vehicles, machinery and wheeled equipment.
Here's how to determine what you need and where to go for RoRo shipping in New Jersey.
What is RoRo Shipping?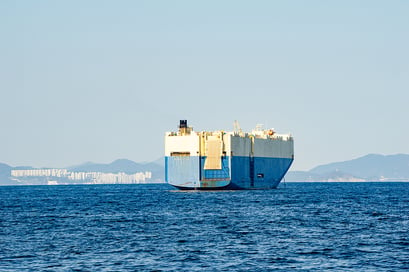 RoRo shipping involves loading vehicles and machinery directly onto specialized vessels using ramps, making it ideal for wheeled cargo such as cars, heavy machinery, construction equipment and other vehicles that can be self-driven or operated.
RoRo shipping in New Jersey can also be used for oversized static cargo (not on wheels) through the use of one or more MAFI trailers. At the port, cranes or forklifts load cargo onto these wheeled platforms that are then towed onto the vessel. MAFI trailers can be used for crated cargo or bulky oversized cargo such as boats or machinery.
With RoRo, the streamlined loading and unloading process reduces cargo handling and turnaround times compared to traditional container shipping. RoRo shipping can also be more cost effective than standard container shipping.
RoRo Shipping Versus Flat Rack
When shipping oversized, static cargo, RoRo shipping using a MAFI trailer could be more cost effective than a flat rack on a standard container ship. It all depends on how the carrier calculates the pricing. The fact is that most container carriers will put out-of-gauge (OOG) cargo at the top of the vessel's deck so as not to occupy extra slots, but their pricing formula for OOG may assume the cargo will limit their ability to stack another container next to or above the flat rack. In such cases, the MAFI trailer on a RoRo vessel could work out cheaper. It will all depend on the carrier, the trade lane and how aggressively the flat rack shipment is priced. Learn more in our article on out of gauge cargo shipping.
RoRo Shipping New Jersey: When Not to Choose RoRo
The decision to use RoRo shipping (in New Jersey or elsewhere) depends on the nature of your cargo, logistical needs, budget, and the availability of suitable facilities. Here are a few situations where RoRo shipping might not be the best fit:
Sailing schedules that are frequent or inflexible.

RoRo vessels make far fewer port calls than standard container vessels, so you may not be able to ship exactly when you want.

You have construction equipment that can be dismantled to fit into a closed container.

With bulldozer shipping, for instance, it may be possible to remove tires and other components and load them within the height and width limits of the container. This would be your cheapest option. Of course, if you dismantle the cargo, you'll need someone at the receiving end who knows how to put it back together.

Limited RoRo services.

If the route you need doesn't offer reliable RoRo services, you might need to explore alternative options.

Remote locations.

If your destination lacks suitable RoRo ports and requires additional overland transportation, RoRo might not be as efficient.
Finding the Right Solution for RoRo Shipping in New Jersey
A freight forwarder that specializes in out of gauge cargo shipping can help you consider every angle to find a solution that is safe, secure and cost-efficient. If you are shipping to or from the Port of New York and New Jersey, it helps to work with a local freight forwarder, like NJ-based I.C.E. Transport, that is intimately familiar with local RoRo providers and options. To start that conversation, get in touch with I.C.E. Transport.