Bulldozers are among the most popular types of construction equipment shipped internationally. Bulldozer shipping requires special expertise and transportation equipment to ensure safe, compliant delivery. This article provides tips to ship bulldozers safely and in full compliance with carrier and regulatory requirements.
Shipping bulldozers to the port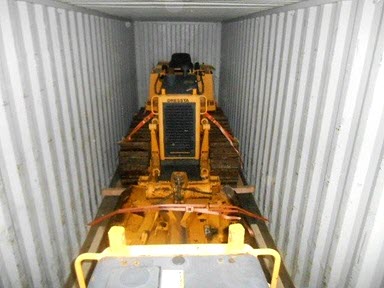 Most bulldozers being shipped overseas start with an overland trip on a flatbed or lowboy trailer. Mini-bulldozers may share space with other equipment, but full or oversized bulldozers will require a dedicated trailer.
Since they can be as wide as 8 feet or more, bulldozers often require oversized permits to move legally over the road. Each state has its own guidelines and rules. A freight forwarder that specializes in bulldozer shipping can make sure you have the proper permits and equipment. Don't entrust your construction equipment shipping to a company that doesn't do this regularly. The risks are too high, including cargo damage, delays, and accidents that may land you in court. The right partner will plan the route, obtain the proper permits, and manage all shipping details.
International bulldozer shipping
The first decision you and your transportation partner must make when shipping a bulldozer internationally is how to ship the equipment. Depending on the size of the bulldozer, it typically comes down to shipping on a flat rack container (which has only 2 sides) or using a Roll-On, Roll-Off (RoRo) vessel.
RoRo is the easiest and most common method. The bulldozer is simply driven onto the vessel and strapped to the deck to make sure it doesn't move during transport.
The other option is to ship in a regular or flat rack ocean container. Depending on the size of the equipment, it may be possible to disassemble the bulldozer and ship the vehicle, blades and other parts in a closed container. This can reduce shipping costs – especially if your team is handling disassembly in the US and reassembly overseas. More often, the width of the bulldozer will require the use of a flat rack container when shipping via ocean freight.
A knowledgeable freight forwarder can help you make the RoRo vs flatrack shipping decision and provide other tips on shipping heavy machinery overseas.
Special considerations for shipping bulldozers internationally
Here are some special considerations when shipping heavy machinery like bulldozers overseas.
Inspection and cleaning requirements
Some countries are quite strict on equipment cleanliness, particularly for used bulldozers. If these requirements are not met, your cargo may be held or rejected. Make sure that the equipment is pressure washed and free of soil and debris.
Marine cargo insurance
It's unlikely that a carrier's insurance policy will cover the full value of your bulldozer. To protect your balance sheet from a major loss, look into marine cargo insurance, which typically costs around 1.5% of the total value of the cargo.
Loading bulldozers onto a container
If you are not shipping RoRo, you may need special equipment such as a large forklift or an overhead crane to place the vehicle in or on a container. If you don't have that equipment on site, you might need to rent it or hire a rigging company. Of course, the right heavy equipment shipping company can handle all these details on your behalf.
Blocking and bracing
If your equipment does not fully fill the container, you will want to use a combination of lumber, straps and chains to prevent movement and ensure damage-free transit. Note: if you use a flat rack container, the cargo must pass an inspection at the port to make sure it's blocked and braced according to National Cargo Bureau (NCB) standards. If your team lacks the skills to block and brace, you or your forwarder can arrange to have this done by specialists at a warehouse near the port.
Protection against the elements
Construction equipment can stand up to salt water and spray, but control panels and other exposed electronics should be protected. Shrink-wrapping bulldozers is common in overseas shipping.
Customs paperwork
You don't want your bulldozer shipping project to get held up because of missing or incorrect paperwork. Partner with an experienced freight forwarder who can advise you on all the necessary paperwork required for the export and import process.
Bulldozer shipping costs
If you are paying the cost of shipping the bulldozer, you want to get it to your customer safely, on-time and at the lowest cost. The cost will depend on these factors:
Size/Dimensions. The larger the bulldozer, the more expensive it will be to ship. If the bulldozer qualifies as an oversize load, hiring escort cars and getting special permits will add significantly to the costs.
Blade type. The type and size of the bulldozer blade may affect the mode of transport and costs, as the blade is often much wider than the actual vehicle.
Weight. Lighter equipment and mini-bulldozers are easier to secure and ship. Heavier bulldozers may need to be disassembled to stay under the oversize load limit.
Delivery deadline. As with most cargo shipments, it's best to plan well in advance to secure the best rates.
Distance. Obviously, the longer the distance, the higher the cost. For ocean shipments, make sure to use ports closest to your origin and final destination points. Per-mile ocean rates are much lower than trucking rates, so you want to maximize your miles on the water.
Call in the experts for bulldozer shipping
If you don't regularly ship bulldozers overseas, your team might not have the requisite skills to do this correctly and efficiently. Contracting with a freight forwarder that specializes in shipping heavy machinery may be your best choice. Such an expert will bring:
Experience on how to manage bulldozer shipments based on hundreds of previous shipments of this kind
Blocking and bracing skills
Relationships with heavy-haul truckers
Knowledge of paperwork and other Customs requirements
Relationships at the destination country for final-mile delivery
I.C.E. Transport is a global freight forwarder that specializes in heavy machinery and out-of-gauge cargo shipping. We have decades of experience handling door-to-door shipping of bulldozers around the world

Need help with bulldozer shipping? Get started by contacting I.C.E. Transport.