Who out there remembers the Liner Conference System?
The system allowed two or more ocean shipping companies to provide scheduled cargo service on a particular trade route under uniform rates and common terms.
On 18 October 2008, European Commission's Directorate General for Competition (DG Comp) Regulation 4056 was repealed, effectively bringing an end to the 125-year conference history. In principle, that ended a system of collective rate-setting dating back to the first conference, the Calcutta Steam Traffic Conference, set up by British cargo lines in 1875.
This ban fixed one problem – potential price collusion – but created another. Namely, there is no longer an effective forum that brings ocean carriers together with shippers, NVOCCs (and, in essence, truckers, rail lines and government agencies) to "talk shop" and discuss ways to fix the many things that are broken in today's ocean shipping-dependent supply chains.
Since the abolition of liner conferences, we have had to deal with the impact of a global financial crisis, a global pandemic and lockdowns, the Ever Given Suez blockage, and now a global redistribution of fuel supply and escalation of costs due to the war in Ukraine. Service and cost predictability are out the window thanks to the resulting schedule disruption, port and rail ramp congestion, container and chassis imbalance, and compounded demand on ocean space and landside traction.
Shippers are exasperated. They want help. They want answers. But where do they go to talk about it? Ocean carriers aren't listening, that's for sure.
The liner conference model was problematic, but at least you had the carriers' attention. Everything associated with it was transparent and subject to scrutiny.
The answer is not to bring back the liner conference, but to create another type of industry council to take its place. An accountable forum is needed to address a confluence of shipping problems we haven't seen since World War II.
We're all in this together, aren't we? Let's solve it together.

Consolidation hasn't helped: 34 ocean lines have disappeared in 30 years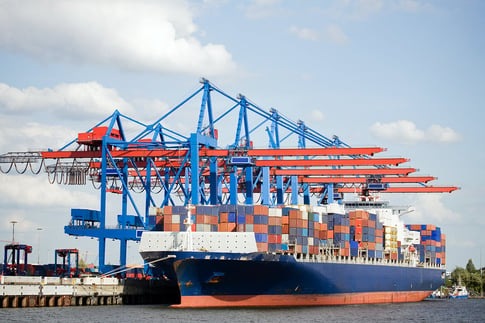 Consolidation of ocean shipping lines hasn't created the mess we're in; but it hasn't helped. Check out this list of 34 ocean shipping industry mergers in the last 30 years.
The many regional and national carriers that went away had things in common that are sorely missed. Each had a focus and a personality. And they had customer facing people that would talk to you. Shippers had personal relationships and could call and ask, "What are my options?"
Today, shippers choose from 3 or 4 major consortiums that all offer the same basic product. You have fewer choices, you're paying more, and operational and customer service are worse.
As logisticians, we've learned all our professional lives that efficiency and reliability result from good planning. Today, all we do is react and adapt. Even our best global shipping plans are rendered pointless by unexpected blank sailings that create havoc with every downstream partner and process.
What's the answer?
Shipping lines aren't really talking in this seller's market for ocean freight services. And why should they when they are able to book eye-popping profits, while blaming service shortfalls on events beyond their control? From their point of view, it's "take it or leave it" on rates and service.
Think Tanks like OECD's International Transport Forum and Industry groups like the World Shipper's Council and the various shipper/forwarder networks seem detached or powerless. If we are to overcome the silo mentality (across government, shippers, truckers, rail lines, ports and ocean carriers), perhaps we need to rekindle some of the fraternity that liner conferences partially provided.
The Liner Conference System, for all its faults, triggered frank discussions and pragmatic fixes. For instance, carrier A and shipper B would agree on a discounted rate if shipper B could help the carrier address a severe container imbalance at a particular port.
I have always viewed container shipping as so essential to the global economy that it could be regarded as a 5th utility (after water, energy, telecomm and waste management). But our 4 primary utilities, because of their importance and the limited-competition environment in which they operate, are very closely monitored at both a global and national level. Not so with ocean carriers.
My concern is that (from a shipper's perspective) carriers and ports work independently rather than together. If the pandemic had happened 20 years ago, there would have been more dialogue than what we've seen in the last 2 years between carriers, shippers and logistics providers. Lines would have had to explain to customers what they were doing and why.

We need to approach supply chain resiliency together, as an industry
Few phrases have gotten more air play in the last 2 years than "supply chain resiliency." CEOs have dictated that their companies come up with plans to cope with the unpredictable – the supply chain equivalent of disaster planning.
But today's ocean shipping problems are systemic, not individual.
90% of globally shipped goods moves in containers. We have got to get this right. And it's not going to happen without key stakeholders talking and promoting shared solutions.
Here at I.C.E. Transport, we're a relatively small NVOCC. Important to our customers, but inconsequential in the context of the global ocean shipping market. But we are a prime example of how a company can be impacted by a currently dysfunctional ocean shipping system.
Working daily with ocean carriers, the last two years have been like one continuous game of extreme bumper cars – without the bumpers!
We've gotten the job done, but like our customers we're searching for the light at the end of this deep, dark tunnel.
And it's out there. We just need to move toward it together – as an industry.
Liner Conferences were rightly abolished and deemed anti-competitive. However, we seem to have thrown the baby out with the bath water. We need to recapture the spirit of stability, cooperation and frank dialogue that characterized the Liner Conferences and recreate a current-day alternative.
Ideas anyone?
We'll rent the venue.