If you've done business mainly within the U.S., but now you're starting to import or export, get ready to be thrown some curveballs. International freight forwarding is a whole different game.
Moving containers to or from Europe? You'll face rules and situations that don't come up when you ship from state to state. It's important to work with service providers that understand all the subtleties.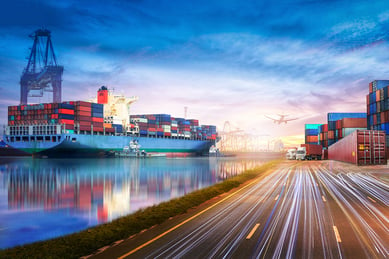 For those who are new to international shipping, here are some facts about shipping to or from Europe that you might not know:
You need to sanitize your wood. Pallets, crates, the two-by-fours you use to brace your cargo—any wood can harbor invasive species. Whether you're shipping into a European country or from overseas into the U.S., you must have all the wood in your container fumigated or heat treated, and then given a special marking to prove that you've taken this precaution. If a Customs inspector finds any wood that lacks these right markings, he or she could bar your container from entering the country.
---
Return to sender
A U.S. company was importing several containers of castings from Poland. While conducting an inspection on one of the containers at the rail ramp in Detroit, a Customs officer found several wooden pallets without markings to indicate that they had been fumigated or heat treated. There were also several dead insects on the container floor. The inspector flagged the whole shipment and denied it entry.
Years ago, when containers failed inspection at the destination port, it was possible to have them treated right there to earn entry into the country. Unfortunately, this is no longer true. Because the container had failed inspection, the shipper had to pay to send the cargo back to Poland, get it fumigated there, and then ship it back to the United States. This delayed the shipment by many weeks and created a good deal of extra expense.
---
Mud is a deal-breaker. Insects or other undesirable stowaways hide in mud, too. And, unlike wood, you can't fumigate mud to earn a clean bill of health. For global freight forwarding, if you're transporting used farm equipment, or anything else that might carry traces of mud or dirt, you need to pressure wash it before loading it into the container.
Weight matters. With the right truckers and the right permits, you can legally transport 55,000 pounds or more in a 40-foot ocean container through many states in the US. This is great, because the more weight you put in a container, the less you pay per pound for the ocean crossing. But the container that's legal on one side of the Atlantic isn't necessarily legal on the other side. Some countries set lower weight limits than others, and this could also vary further, based on the class of road being traveled. Depending on circumstances, you might be better off loading less into your containers, or performing heavy freight shipping for the ocean crossing and then transloading in Europe.
You might need to do an export declaration. Unless you're shipping a motor vehicle, you don't have export customs clearance formalities when you export from the U.S. But many countries, such as Poland and Lithuania, require goods to clear Customs when they leave, as well as when they come in. If you're shipping to the U.S. from any of those locations, expect to pay for that clearance process.
Not all infrastructure is created equal. When you move a container over the road within the European Union, the truck will probably travel on modern, well-kept highways. That's not always the case in non-EU countries. Your truck might have to jolt over miles of potholes, negotiate winding rural roads, squeeze under low bridges or deal with other challenges. Those conditions could complicate your move, especially if you're shipping oversized freight.
Your containers might be trans-shipped. There are quite a few ports in Europe that can't accommodate large container vessels. Say you're shipping six containers from New York to Gdynia, Poland. The ocean carrier might take your cargo to the Port of Antwerp or Hamburg, where it will transfer the containers to a feeder vessel. Trans-shipment itself doesn't cause any problems; it's a normal practice in global freight forwarding. But just as when you book a flight from San Francisco to Savannah with a connection in Atlanta, there's always some risk that a missed connection will cause a delay. You need to be prepared for that possibility.
You might pay more in the winter. Shipping lines impose a surcharge of about $75 per TEU on cargo moving to or from the port of St. Petersburg in Russia.


International freight forwarding demands global reach, local knowledge
The way to avoid rude surprises in overseas shipping is to work with a freight forwarder that manages moves like this every day. If your partner can handle every step of the door-to-door journey, you'll gain a seamless transit, and you'll have one number to call with any concern or request.
The ideal international freight forwarding partner has offices in the countries where you do business. In each of those offices, you'll find an agent who speaks the language and knows the rules. That agent has relationships with local service providers and knows which ones do the best job. He or she understands local challenges and can suggest workarounds if you run into problems.
For help with the variables that come into play when you ship cargo overseas, contact I.C.E. Transport.