Many builders and remodelers in the US look to Poland as an economical source of well-made windows and doors. Given the high cost of construction materials today, importing windows and doors from Poland can prove an especially smart strategy for some professionals and do-it-yourselfers.

Here are some shipping-related things to keep in mind when you buy windows and doors from vendors in Poland.
Examine the tradeoffs
US builders have seen costs for materials jump by 26.1% on average over the past year, says the National Association of Home Builders (NAHB).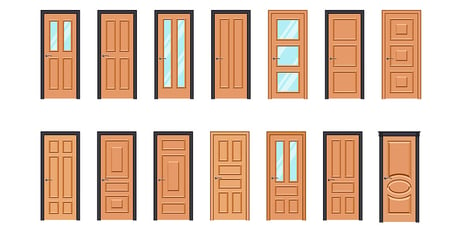 For builders trying to control those costs, Poland may offer an attractive alternative. According to one Polish distributor, Debesto, nearly all Polish windows and doors are made from German components, on German machinery, but sell for half the price of similar products made in Germany.

Unfortunately, however, when you buy from Polish vendors rather than vendors in the US, that strategy comes with a catch. While US builders do find some great bargains in Poland, right now container shipping rates are unusually high. Pay too much, and you could wipe out all the money you saved on the product.

So does it actually pay to buy from overseas? Apparently it does – or, at least, in certain cases.

As a freight forwarder that manages many shipments from Poland, I.C.E. Transport continues to see strong demand for Polish windows and doors. Having done the math, some importers determine that Polish products fit their needs.

Poland might be a good fit for you, too, especially if you understand the nuances of shipping from Poland to the US and take action to control your transportation costs.
Weigh cost against speed
Besides paying more for windows and doors in the US, builders here also struggle these days to get those products when they need them. Responding to a May 2021 survey conducted for the NAHB, 87% of builders reported that they faced a shortage of windows and doors.

In some cases, when production in the US is backed up, you might be able to get windows and doors from Poland faster than you could from a US supplier, even when you factor in transit time. That's not always true, of course. As you plan a purchase, consider how much lead time each prospective vendor needs to fill your order, consider the length of transit and the transportation costs, and then weigh those factors against your project's schedule and budget.

Fill the container
Since doors and windows are flat, you can fit a lot of them in a shipping container. That provides an opportunity to save money. It costs the same to ship a container on the ocean whether it's half-empty or stuffed to the gills. The smarter you get about container loading, the more product you can fit inside, and the lower your per-unit transportation cost.

That's great news if you're a big-time contractor buying windows and doors for a high-rise. But what if you're just planning a small remodeling job? How do you avoid paying to ship empty space in a container?

Some builders who are importing windows and doors from Poland take the opportunity to source other products there as well. Maybe you're in the market for roofing materials, or ceramic tile. You might get several vendors to deliver their products to one location for loading into a container. Or your freight forwarder might arrange to position the container at one vendor's site for loading and then take it to a second vendor, and maybe a third, to load more product.


What about LCL?
Smaller-volume shippers often choose less-than-containerload (LCL) service, which consolidates several shippers' loads in one container. While this can be a money-saving choice for many commodities, it poses an extra risk when you ship windows or glass doors.

That's because LCL involves more handling than full containerload shipping. Your product is transported from the vendor to a warehouse, where it might be moved several times before it's loaded in a container with other freight. A similar process occurs in reverse in the destination country. With every transfer, there's a chance of breakage.

If you're ready to accept that risk, LCL could be less expensive than shipping a whole container that you can't fill. But sometimes there's not much difference in cost between the two services, especially if you can add extra product to make better use of a full container.

Secure the freight
Even when your freight travels door to door in the same container, it's important to protect against breakage. You, your vendor or a third-party partner should make sure the doors and windows are packaged correctly, loaded properly and blocked and braced so they don't shift in transit.

Optimize your routing
No port in Poland offers direct service to the US. When you import from Poland, you might have the freight delivered to a Polish port, from which a feeder vessel transports it to a major port such as Hamburg or Bremerhaven. There, the shipping line transloads your container onto a trans-Atlantic vessel. Or you might have the container delivered by rail or truck directly to one of those big European ports.

You'll also have choices about which ocean carrier to use. When you request a booking, one steamship line might be able to offer space on a US-bound vessel in a week or two. Another line might make you wait a month or more but charge $1,500 less per container.

Each choice you make for transportation out of Poland – which port to use, how to get the cargo there, and how soon you need to sail – has implications for transit time and cost. You'll need to carefully analyze each alternative to pick the best solution for your timetable and budget.

Where to find help when importing windows and doors from Poland
If you've decided to source from Poland, the big question you face now is how to gain real financial benefit from that choice.

Luckily, you don't have to figure out the answer on your own. An experienced logistics company that specializes in shipping between the USA and Poland can help you evaluate the transportation options, make the best choice and then successfully execute that strategy.

A freight forwarder with an office in Poland, and native Polish speakers on staff, can arrange economical, hassle-free transportation to an ocean port. If you want to ship product from two or three vendors in one container, a forwarder can usually make those arrangements. It can also connect you with reliable customs brokerage services to handle export clearance in Poland and import clearance in the US.

Getting ready to source windows, doors or other construction materials, from Poland? To start shaping your strategy, contact I.C.E. Transport.