Nine of the top 20 countries that sell goods into Canada are in Europe, according to the United Nations COMTRADE database on international trade. If you want to learn how to make this trade route more profitable through efficient global transportation, here's a quick guide.
Booking the Freight
When planning a shipment from Europe to Canada, you first must decide how to book the door-to-door transportation. You have two main options: contact a steamship line that offers service to Canada, or work with a non-vessel operating common carrier (NVOCC).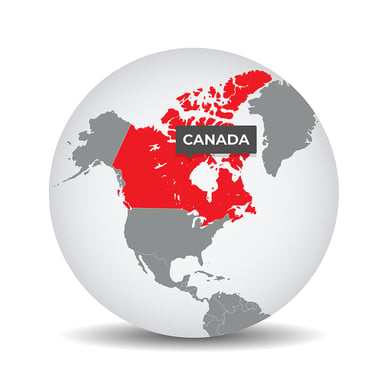 Your best choice is the NVOCC. Here's why.

Besides transporting cargo on the water, steamship lines offer extra services, such as sourcing dray capacity (engaging a carrier to transport containers to or from the port). Unfortunately, the lines don't always do a good job with land transportation. Especially today, with fierce competition for truck and rail capacity, they sometimes leave cargo stranded at the destination port for days or even weeks.

An NVOCC provides all the same services as a steamship line. The main difference is that it doesn't operate its own vessels. Instead, it books space with the steamship lines and resells that capacity to shippers. And when it comes to ground transportation, it tends to provide better service.

When an NVOCC's portfolio includes trucking services and rail transportation, it maintains strong relationships with a broad variety of service partners. That means it can find reliable transportation for every segment of your cargo's door-to-door journey. And because the NVOCC resells capacity from multiple steamship lines, it can offer a range of transportation and pricing options.

Europe-to-Canada Routes
Ocean shipments to Canada from Europe often originate from major Northern European ports such as Hamburg, Bremerhaven or Antwerp.

If your origin isn't near one of those cities, you might decide instead to use a smaller port. In that case, you load your containers on a feeder vessel, which takes them to a major port for transloading onto a trans-Atlantic vessel. For example, if the shipment originates in Portugal, you might ship it from Lisbon to one of the northern ports.

From some cities in Europe, rather than use a feeder vessel, you might ship containers overland to a trans-Atlantic port. This option usually costs more, but when time is of the essence it could be the best choice.

Shipments from Europe usually enter Canada through the Port of Montreal or the Port of Halifax. Port Saint John in New Brunswick also receives cargo from Europe, but not as much as the others. Of course, which Canadian port you use depends on your cargo's final destination. Rates from Europe to Montreal and Halifax are comparable, and both ports offer good rail service at competitive rates.

Depending on your needs, you might also ship to a US port such as New York and then transport the cargo into Canada by truck or rail.

How long does it take?
Steamship lines offer some remarkably fast service from Northern Europe to Eastern Canada. For example, under normal conditions, service from Hamburg to Montreal or Halifax takes only 8 to 10 days.

Of course, as fallout from the COVID-19 pandemic has disrupted transportation networks around the world, conditions today are anything but normal. As of late 2021, service from Hamburg to Montreal was taking about 15 to 20 days.

What does it cost?
Ocean rates for Europe-to-Canada shipping are similar to rates from Europe to the US East Coast. In normal times, shipping a 40-foot container from Europe to Montreal or Halifax costs about $3,000 to $4,000. These days, the rate is more likely to be $8,000 to $9,000.

Additional services
To clear your product through customs, you'll need to engage a company that's licensed to provide customs brokerage services in Canada.

You'll also need a logistics partner that maintains a global freight forwarder network, with experts on the ground in both Europe and Canada. An NVOCC with offices or partners on both continents can get you all the services you need, such as drayage, transloading and warehousing. With in-country expertise on local regulations, road networks and the business environment, the NVOCC will advise you on the most efficient and cost-effective way to transport your cargo and then monitor its progress along the way.

Heavyweight shipping and the spring thaw
Smart shippers save money on ocean transportation by taking advantage of heavy cargo shipping – loading as much weight as possible into their containers. While steamship lines may advise that you can load up to 44,000 lbs (19,958 kg) in a container, the actual legal limit is whatever local authorities let a trucker transport on the road, with the right equipment and overweight permits. Often, that's as much as 55,000 lbs (24,948 kg).

In Canada, regulations for overweight loads vary by province.

And – very important – these provincial regulations change in the spring. As frozen surfaces thaw, roadways become more vulnerable to damage. So provinces reduce the weight that truckers may transport over the road. Specific weight limits and timing vary from province to province, and from region to region within a province. For instance, in Ontario in 2021, spring thaw regulations started on March 1 everywhere but ended on April 30 in one zone, May 31 in a second zone and June 30 in a third.

When you ship to Canada, make sure you know which rules apply on any roadways your cargo will use. Then, if possible, use heavy loading to reduce your per-unit transportation cost.

Get expert help with Europe-to-Canada shipping
The success of an international shipment depends on good decisions about all sorts of details. Which door-to-door route will keep you on schedule and under budget? Where can you find qualified, reliable drayage carriers? What's the most efficient way to load the container? How should you classify your shipment for customs purposes?

A North America logistics services partner with offices or trusted agents on both sides of the Atlantic, strong knowledge of this lane and a full range of freight forwarding services can help you plan and execute a hassle-free, cost-effective shipment. To get things rolling, get in touch with I.C.E. Transport.