Ocean is the cheapest way to transport cargo from the US to Poland, or vice versa. But for some shipments, "cheap" won't do.
Say you're shipping a sensitive product that can't withstand three weeks on the ocean in summer or winter temperatures. Or say it's crucial to deliver that product in just a few days. That's when air freight provides the best solution.
Of course, just because you decide to pay extra for air transportation doesn't mean you want to sign a blank check. Like any other freight, an international air shipment comes with options to consider as you look for the best service at the best available price.
Cargo or passenger plane?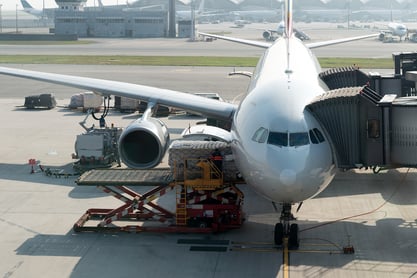 Air freight can travel in a plane that transports only cargo, or in the belly of a passenger plane. In general, passenger airlines charge less for freight than cargo airlines do. But at the time of this writing, in the era of COVID-19, airlines have slashed passenger service. With fewer planes in the air, they have much less cargo capacity. And, of course, you'll pay more for that scarce space.
Besides (in normal times) lower rates, passenger airlines also offer more routing options, since cargo planes don't serve as many airports.
In some cases, though, a cargo airline is your only choice. These are when:
Speed vs. cost
Rates for air freight services depend on the level of service you choose. For transportation between Poland and the US on a passenger flight, economy rate service might deliver the load in 7 to 9 days; standard service might take 5 to 6 days; and expedited service—the most expensive tier—might deliver in 3 to 5 days.
Cargo airlines also offer different service levels at different rates, but those rates don't necessarily fall into the same three tiers. And a cargo airline might not offer daily flights at every airport it serves. In some cases, it might offer only one or two flights a week. If you need to expedite and your shipping plans match the airline's schedule, that's great. If not, you'll want to explore other options.
Airports and routes
Cargo flying in or out of Poland generally uses one of three major airports, located in Warsaw, Gdansk and Katowice. You might also use an airport in Germany or another nearby country, depending on what makes the best sense in terms of cost, time and geography.
In the US, flights in or out of major cities such as New York or Chicago usually offer more competitive rates than flights to or from smaller airports.
If you book air freight directly with an airline, rather than through a freight forwarder, the city listed as the destination might not be where the flight actually lands. For example, cargo booked into Cleveland might land at O'Hare Airport in Chicago and then travel by truck to the final destination in Ohio. Sometimes this arrangement works out just fine. But sometimes when an airline arranges over-the-road transportation, you'll face problems such as misplaced pallets that arrive late. Thanks to its strong relationships with many reliable trucking companies, a provider of air freight forwarder services often does a better job of managing ground transportation.
Ultimately, you need to decide what service partner should handle what aspects of your shipment. Depending on your needs, an air freight forwarder can provide service door-to-door, airport-to-door, door-to-airport or airport-to-airport. Ideally, it can also help you manage your Customs clearance.
The best rates for air freight services
The International Air Transport Association (IATA) is a trade association that represents nearly 300 airlines around the world. A freight forwarder that is certified with IATA can book flights directly with the airlines, obtaining the lowest available rates for their cargo services. Since I.C.E. Transport's office in Gdynia, Poland is IATA-certified, it can book air cargo out of Poland without help from a middleman.
I.C.E. Transport's office in New Jersey can also offer very competitive rates from the US to Poland.
Land transportation
Finding a trucker to move cargo to the airport, or from the airport to the final destination, can take far more than a couple of phone calls. Not every trucking company handles air cargo. It's a specialized service, involving many challenges. For instance, agents that manage cargo for airlines are sometimes unreliable. An agent might tell you that your shipment is ready to pick up, but then when the driver arrives, that cargo is nowhere to be found. Many truckers refuse to deal with that kind of hassle.
An international forwarder that offers air freight services works with truckers that make airport runs every day. When you need ground transportation for your air cargo, that company will find you a reliable carrier at a competitive rate.
So many choices!
Because you pay a premium for air transportation, you expect a great deal from that service. Your freight needs to arrive as scheduled, in good condition, with no problems along the way.
When you book air freight to or from Poland, the options you choose will determine the success and cost of that shipment. An air freight forwarder that manages a high volume of shipping between the US and Poland, and also has an office in Poland, can help you make the right decisions to ensure a smooth transit at a competitive price.
To discuss your next air shipment to or from Poland, contact the experienced forwarders at I.C.E. Transport.