How much is fast transportation worth to you? Sometimes speed matters so much, you don't mind paying air freight rates. But what do those rates actually look like, and how do they compare with the cost of less-than-containerload (LCL) ocean service?
The numbers vary, of course, based on geography, urgency and market conditions. But let's take a look at what accounts for the cost differences between air freight and ocean LCL.
Shipping by ocean or air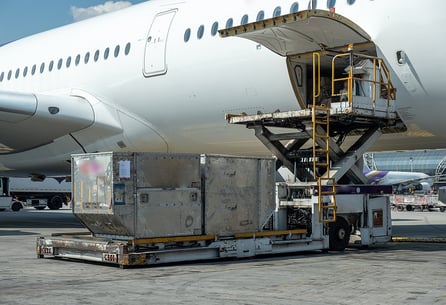 In ocean LCL service, smaller loads from several customers are consolidated at a Container Freight Station into a single container that the consolidator books on a vessel. Say you're shipping two pallets to Poland. Your cargo might share a container with other shipments going to receivers in Germany, Poland and the Czech Republic. If you work with a freight forwarder, that partner will choose a CFS that offers a service to meet your needs at the best possible price.
With air freight service, your shipment travels either in a cargo-only plane or in the belly of a passenger plane. Sometimes air cargo is your only choice. You can't use passenger service if your cargo exceeds 1.6 meters in height, if you're shipping hazardous goods or if your company isn't enrolled in the US Transportation Security Administration's Known Shipper program. On the other hand, cargo airlines give you fewer routing choices, since they don't serve as many airports as passenger airlines do.
Why choose air cargo?
One obvious reason to choose air cargo is that air shipments arrive faster than ocean LCL shipments. How much faster? That depends on the origin, the destination and the routes available. But as an example, shipping two pallets from a US East Coast port to Poland by LCL takes about 21 days. Flying the same pallets from a major East Coast airport to Poland, using standard service (not the cheaper economy or pricier expedited service) takes about seven days.
Shippers often choose air freight to get out of tight situations. Say you're filling an urgent order for an overseas customer and your production runs late. To save the sale, you might fly the order. Or, you might put most of the order on the ocean but ship two pallets by air – enough to tide your customer over for a couple of weeks.
Some shippers use air routinely because their product is too sensitive to survive three weeks on the ocean in extreme heat or cold. Or their product might have such a short shelf life that it's worthless if it's late. Think of companies that import fresh flowers, or high-end fashions for the upcoming season.
You might also be forced to use air freight if you're shipping hazardous cargo. Many LCL consolidators simply refuse to accept hazardous materials.
Computing ocean LCL and air freight rates
Ocean LCL rates rise and fall along with the rest of the ocean transportation market. To set a price for your shipment, the CFS multiplies the cargo's weight by its current rate per metric ton and multiplies the cargo's dimensions by its current rate per cubic meter. Whichever total is higher, that's what you pay.
An air carrier also uses weight and volume to calculate the cost of a shipment. But the rates are higher than what you'd pay for ocean LCL. How much higher varies greatly with market conditions.
As we publish this blog, in September 2020, air freight rates are unusually high. With fewer people flying due to COVID-19, airlines have cut back service drastically, reducing the number of flights available to carry cargo, and therefore driving up prices.
To complicate matters, it costs more to use an air cargo airline than a passenger airline. And both types of airline usually offer three tiers of service. The faster the service, the higher the rate.
More to consider
So far, if cost is your main criterion, it looks like ocean LCL is the mode to use. But it's not that simple. You also have to think about handling costs.
Say you're offered a rate of $150 per pallet for a shipment to Europe. The CFS will probably also charge you per pallet for additional services – a handling fee, a documentation fee, an unloading fee, a release fee. Suddenly, that $150 price tag has climbed to $400 or more. Also, CFSs tend to impose minimum charges. Even if your load doesn't come to quite 1 cubic meter or 1 metric ton, you'll be charged as though it did.
And you'll need more lead time for an LCL shipment than you would to ship a full container. If the steamship line's cutoff for receiving a container is this Friday, the CFS will need your cargo by at least Wednesday, giving it time to load cargo from different shippers on one container and get it to the port.
When you use an air carrier, you might also incur a handling fee at the destination airport. But it probably will come to much less than what you'd pay a CFS to handle the same cargo. And since you deliver the cargo right to the airport, you don't need to build in extra lead time.
Look at the big picture
It's true that air freight rates are higher than rates for ocean LCL. But when you take everything into account, including handling charges, ocean LCL isn't always the best choice. Sometimes the cost difference between the two modes is so small, it's worth paying a little extra for faster transportation. As you plan an upcoming shipment, it pays to get a quote for each mode.
A freight forwarder with expertise in both air freight services and containerized shipping can help you explore the full range of options and find a solution to meet all your requirements. To start the conversation, contact I.C.E. Transport.