For global shippers of oversized (e.g., machinery, construction equipment) and heavy freight (e.g., stone, tile, metal, forgings, castings and even bottled water), keeping freight costs low requires added expertise and, sometimes, a little creativity. Here are 15 ideas to reduce costs for oversized and heavy freight.
Ideas to Maximize Payload
Steamship lines charge the same rate to ship a container that's half full as one that's stuffed to capacity. The more you fit in the box, the less you pay per unit or per pound. If you're not maximizing ocean container payloads for heavy freight, your ocean spend could be inflated as much as 20 percent.
1. Ignore Steamship line guidance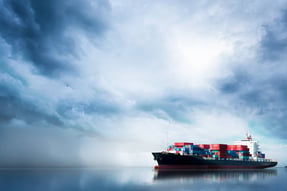 Many steamship lines say containers need to be 44,000 pounds or less to stay within "legal" limits. That creates problems for heavy cargo shippers since most dense freight won't fill a container at that weight. The actual limit on ocean container weight is the maximum gross cargo weight listed on the container door – typically 10,000 pounds or more above 44,000. The cost-effective solution for door-to-door international shipments is to maximize container capacity, then find trucking partners with the proper permits to safely and legally haul loads that are above local standard DOT weight limits.
2. Adjust your packaging
Can you make your cases longer, taller or wider? If so, you might be able to get more product into each case and fit that increased volume into a single container. How about pallets? If you make them a few inches narrower, that can free up room in the container. Example: one of I.C.E. Transport's customers was shipping metal castings in cases that were loaded onto pallets that were so wide the shipper could load only one row of them in a container. The supplier could not provide narrower pallets, so I.C.E. brought the pallets into a warehouse to cut a few inches from each one before shipping. That let the shipper fit two rows of loaded pallets in a container, rather than one—reducing the cost per unit for each shipment by 50 percent.
3. Change how you order
Placing larger, less frequent orders with overseas suppliers might result in better space utilization. If the product you plan to put on the water this week fills only one-third of a container, and you'll be shipping a similar order next week, can you wait a few days and ship them together? This won't work for time-sensitive shipments, of course. But, if your schedule makes it feasible to move one container instead of two, that will reduce your costs.
4. Squeeze the air out
Do whatever you can to minimize "air" in containers. For instance, you wouldn't ship inflated basketballs; you'd ship them flat and inflate them further downstream in the supply chain. Similarly, for heavy products like kitchen cabinets, you'll get more of them in a container if they ship as "ready-to-assemble" or "knock-down" furniture, which ships in dense, flat boxes.
5. Use load planning software
Fitting cargo into a container is both a science and an art. Today, forward-looking shippers—or their service partners—handle the science by investing in "load planning" or "stow planning" software. When it's time to build a load, you enter information about the cargo—the number of pieces, dimensions and weights. You also note special conditions, such as whether you can turn a pallet 90 degrees, or whether it's safe to stack one piece on top of another. Using this information, the software quickly produces a pallet loading plan that fits all the cargo into the container with the correct weight distribution. If you don't have software to achieve optimal container loads, work with a logistics partner, like I.C.E. Transport, that does.
Ideas for Shipping Oversized Loads
Oversized loads are more expensive to ship, and are subject to more regulations than standard cargo. To avoid problems when shipping out-of-gauge cargo, and to keep the costs as low as possible, try these strategies.
6. Turn oversized equipment into containerized cargo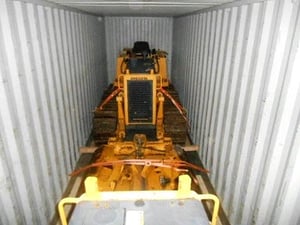 Believe it or not, it can sometimes be much less expensive to disassemble and reassemble equipment on either end of an international shipment than to use a non-standard ocean container or ship via RORO. Shipping a machine like this bulldozer in a standard container will save a shipper 50 percent or more on ocean transportation. There's a cost for disassembly and reassembly, of course, but the shipper still comes out way ahead.
7. Restrict load dimensions
If you can reconfigure your freight so that it fits into a container, that's the best solution of all. If not, you can still save money by restricting its dimensions. For example, in most of the U.S., you need a wide load permit only if your freight measures more than 102 inches from side to side. That's slightly more than the width of a container. If your freight doesn't fit in a container, but you can arrange to keep its width to 102 inches, you avoid the trouble and expense of getting a permit for width. You'll also have an easier time finding a trucker who will agree to haul your load.
8. Give your logistics partner accurate information
Say you've told your third-party logistics provider (3PL) that your load is 120 inches tall and 110 inches wide. But when the trucker arrives to pick it up, he finds that it's actually 128 inches tall and 120 inches wide. You might need to redo your permits, delaying the delivery and costing you extra money. This happens more often than you'd think! To ensure accuracy, measure carefully, and give your 3PL or trucking company photos or technical drawings of the load.
9. Leave the conveyance at the port
Over-sized ocean cargo often requires a special type of container. Unless the final destination is close to the port, arrange to transfer your oversized cargo from its open container, flat rack or platform to a truck chassis. Otherwise, the trucker will charge you for returning the empty conveyance to the port.
Ideas that Can Come from Working with a Smart Freight Forwarding Partner
If you're managing a busy logistics operation, and ocean shipping is just part of your job, you may not always have the time to identify and act on every opportunity to control costs. That's when it pays to work with a reliable, smart and proactive freight forwarding partner. Here are just some ideas for heavy freight shipping that a good partner might suggest.
10. Use a single-source partner for door-to-door global shipments
Every service provider who manages your transportation by vessel, rail or truck adds a handling fee to the carrier's rate. If you work with three logistics partners—say, one for land transportation in the US, one for the ocean crossing and one for transportation in Europe—you'll pay three handling charges. If you work with one partner for the whole door-to-door ocean freight move, you'll pay just one markup, and it's bound to be less than the sum of three separate charges.
11. Leverage transloading when it makes sense
Transloading means an extra stop between you and the port or the port and the consignee. More time, more money. But a good freight forwarder can advise when transloading does make sense for heavyweight containers. For instance:
DOT regulations in many states in the US let you transport 55,000 pounds or more in a 40' ocean container, as long as you use a specialized truck with an overweight permit. But in a few states, such as California, the maximum weight in a 40' container is limited to 47,000 pounds, with most truckers not willing to move more than 45,000 pounds. In such cases, transloading is necessary to make heavy container shipments "street legal."
Say you're shipping to a customer that doesn't have a loading dock. A container would cause a problem. But if you transload the cargo to a flatbed trailer, then the customer can use a forklift to unload product from the sides.
If you're exporting and don't want to be responsible for loading cargo into a container and securing it properly, you could send that shipment on a flatbed or in a conventional trailer to a warehouse near the port or rail terminal, where an experienced provider of transload services will transfer the product to an ocean container.
12. Expect higher rates at certain ports during the winter
Harsh winter weather incurs extra operational costs, due to things like convoy restrictions and icy conditions. It's the reason you might see a WSC, or Winter Surcharge, on your carrier invoice. This charge is per container and is assessed only during winter. For instance, shipping lines impose a surcharge of about $75 per TEU on cargo moving to or from the port of St. Petersburg in Russia during winter months.
13. Choose container types carefully
Sometimes, size matters a lot. For example, it costs significantly more to move a 40-ft. container on the rails than a 20-ft. container. In certain cases, the load that a company planned to ship in a lightweight 40-ft box would move more economically as a heavyweight 20-footer.
14. Route freight for the lowest total cost
Every time you route a shipment, you strike a balance between how soon you need the commodity to arrive and what you're willing to pay. If there's no big hurry, it's worth looking at slower, cheaper options. Let's say you're shipping a container from southern Poland to the US. There are actually four options for the initial land transportation on the Europe side, from fastest/costliest to slowest/cheapest.
Truck the container to the Port of Hamburg or Bremerhaven, Germany for loading onto a ship.
Truck the container a shorter distance, to the Port of Gdynia in Poland, for transportation by water to Hamburg or Bremerhaven.
Truck the container to a rail terminal in southern Poland and let a train take it to the Port of Hamburg or Bremerhaven.
Send the container by rail to the Port of Gdynia for transportation by water to Hamburg or Bremerhaven.
A good freight forwarder will understand all the options and make appropriate recommendations, when it makes sense.
15. Leverage freight forwarder volumes to reduce ocean shipping rates
Most small to mid-sized shippers of heavy freight don't have the negotiating power of a giant corporation. If you ship only one or two containers a month, a steamship line won't cut your basic freight rate. But there is a way to gain leverage. You can work with a forwarder that manages ocean freight for many smaller shippers, day after day and year after year. By aggregating the volume from all those shippers, and by cultivating long-term relationships with carriers, this forwarder can obtain excellent rates on your behalf. Further, for smaller companies it pays to work with a medium-sized freight forwarder—not one of the giants. You'll get a lot more personal attention that way.
For more and regular advice like this, follow I.C.E. Transport's heavy and oversized freight blog.