One of the best ways to save money on international shipping is to load containers with as much weight as the law allows. After you load them, of course, you need to get that heavy shipment to the port, and then from the destination port to the receiver.
Those over-the-road trips can be tricky. It takes a special kind of service provider – ideally a heavy haul freight broker – to move a heavy shipment safely, legally and economically.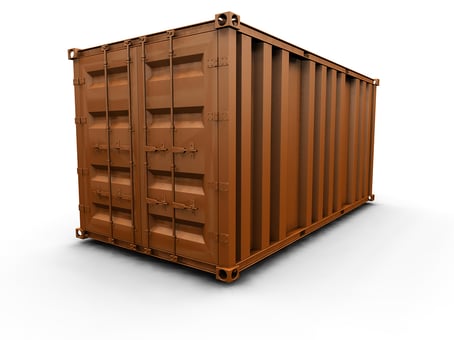 Steamship lines often tell shippers they can put no more than 44,000 lbs. of cargo in a container. That advice is misleading. With a specialized truck and the necessary overweight permits, you can load as much as 55,000 lbs. or more in a container. Heavyweight shipping could reduce the number of containers you transport, saving you a good deal of money on ocean freight.
But you can't just load a heavy container and send it down the road.
It's not that simple. First of all, truckers that haul heavyweight cargo—the ones that have the right equipment and experience and understand the regulations—are harder to find than ordinary truckers. There are fewer of them, and when business is strong they have more shippers competing for their services. If you haven't worked with one of these truckers before, you might have to wait a long time for an appointment. And you won't necessarily get a competitive rate.
You also need to watch out for shady operators.
Some truckers say they can move heavy loads, and they offer attractive prices, but then they show up without the proper equipment or permits. They drive at off-hours or take circuitous routes to avoid weigh station scales.
If you use one of these carriers and you're lucky, your driver won't be pulled over by a trooper with a portable scale. But what if that rogue trucker gets into an accident while hauling your cargo? If that accident lands the trucker in court, your company will land there, too. And that will cost you far more money than the few hundred dollars you might save when you don't go by the book.
What do you gain when you work with a heavy haul freight broker?
A broker that specializes in heavy freight spends years developing a network of qualified over-the-road carriers. When you need an experienced trucker with the right equipment and overweight permits, this broker knows where to find one. Even when there's tough competition for capacity, you can rely on this broker's close relationships to secure the trucks you need.
And, thanks to the volume a heavy haul freight broker gives to the truckers in its network, you'll most likely get better rates than you could get if you shopped for capacity on your own.
In addition, you won't have to worry about truckers operating outside the law. A heavy haul freight broker carefully vets its carriers. It connects you only with truckers that follow the rules in the states where they operate. As your partner, this broker will always ask you the right questions, collecting all the information your trucker needs to obtain accurate overweight permits.
What can go wrong if you go it alone?
Let's say you need to move three containers to the port, each loaded with roughly 54,000 lbs. You've never shipped this much weight before, but you tender loads to truckers all the time. What could be so hard?
You find a carrier to take the shipment. The price sounds fair, and the person on the phone assures you that the company has everything it needs to guarantee smooth transport.
For the most part, things go well. But, 50 miles from the port, a state trooper pulls over one of the drivers. Using a portable scale, the officer determines that the cargo weighs 53,952 lbs. That's heavy enough to require a permit—but the driver doesn't have one.
That violation puts the truck out of service. Your load is stuck at the side of the road until you find a solution to remove some of the cargo from the container or secure a permit. The container might miss its sailing. And you'll be on the hook for extra money.
Even worse, what if that not-so-trustworthy trucker doesn't maintain the chassis correctly, and the equipment can't handle the weight you're shipping? What if the chassis breaks down on the Interstate? Will that failure damage your cargo? Will it trigger a multi-car pileup, leading to a costly lawsuit?
How to find the best heavy haul freight broker
When evaluating brokers to help with heavy freight, look for a company that's been managing this kind of cargo week after week for many years. An experienced broker has a long list of honest, qualified carriers to call on when you need a truck. Its employees know which truckers are the best match for which loads and lanes. And they'll collect all the necessary details about your load, ensuring that the trucker arrives with the right equipment and paperwork to haul your shipment successfully.
Need to connect with an experienced heavy freight specialist? I.C.E. Transport can help. Let's start a conversation.