Hazmat cargo.
The phrase can conjure images of skull & crossbones stickers on steel drums with contents that can melt through just about anything. But when it comes to shipping, even some common items in your house are considered hazmat – like paint, perfume, deodorant, glue, and glass cleaners.
From manufactures to consumers, we're dependent on hazmat products, which are categorized based on the nature of the hazard they pose, like flammables, explosives, and poisons. In the US alone, more than 3 billion tons of hazmat cargo are shipped each year. A lot of these products wind up on container ships. This article provides background on shipping hazmat cargo in ocean containers.
The Regulators
Hazmat shipping is heavily regulated for good reason. These products can pose a serious risk to health, safety, property, and the environment – particularly if they're shifting in containers because of high winds and 20-foot swells. Regulators want to keep the public safe; keep vessel crewmembers safe; protect other shippers' cargo; and protect the vessel. They also want to avoid disasters that can stop the flow of commerce.
While at sea, ocean shipments are regulated by the International Maritime Organization – specifically, the International Maritime Dangerous Goods (IMDG) Code. The IMO uses the IMDG Code as the basis for international enforcement of dangerous goods transportation by vessel.
On the road, the regulator is country dependent. In the US, it's the DOT – specifically the Code of Federal Regulations 49 (49 CFR), also known as the Hazardous Materials Regulations. The HMR spells out your requirements, as a hazmat shipper, for product handling, certifications, labeling, training, and other details.
Shipper Responsibilities
If you ship hazmat cargo, you are responsible for 5 critical areas to minimize risk.
CLASSIFICATION
Vessel operators need to know what they're shipping, so you must classify the category of the cargo per the specific maritime code. This should include the Proper Shipping Name (PSN), details on the Hazardous Substance (RQ), the product's flash point, and the category of the Marine Pollutant.
DOCUMENTATION
Depending on the nature of the hazmat cargo, you may require different documentation to be cleared. The most common documents include:
Safety Data Sheet, or SDS (formerly known as MSDS).

It includes technical information such as the properties of each chemical; the physical, health, and environmental health hazards; protective measures; and safety precautions for handling, storing, and transporting the chemical.
IMO Dangerous Goods Declaration.

This document from the consignor states that the particular dangerous goods declared are identified, classified, packaged, marked, labeled and placarded correctly.

Container Packing Certificate

.

A declaration from the person packing the container that the packing has been done correctly. This can be combined with the dangerous goods declaration into one document.
When hazmat cargo is carried in a container, you must provide the Container Packing Certificate along with other documents to the Master/ Chief officer of the vessel, stipulating that packing has been done in accordance with the IMDG Code and that products have been inspected and are in good condition. The shipper must also note any segregation requirements for the product since some products don't mix well. For instance, oxidizers exposed to flammable solvents could trigger a fire.
If documents are incomplete or inaccurate, you'll face delays. A freight forwarder experienced in shipping hazmat cargo in containers can check to ensure all necessary documents are in order.
PACKAGING
Dangerous cargo must be packed in such a way that it remains secure during a potentially turbulent ocean voyage. This applies to both inner packaging, such as cartons, as well as outer packaging, like crates built to secure drums of chemicals.
LABELING
Proper labeling of hazmat cargo is critical. The correct labels identifying the exact type of product must be visible on both the inner and outer packaging. You'll also want to include the IMDG code that shows the cargo's risk and danger level. Some shippers list a visible contact number in case of emergencies.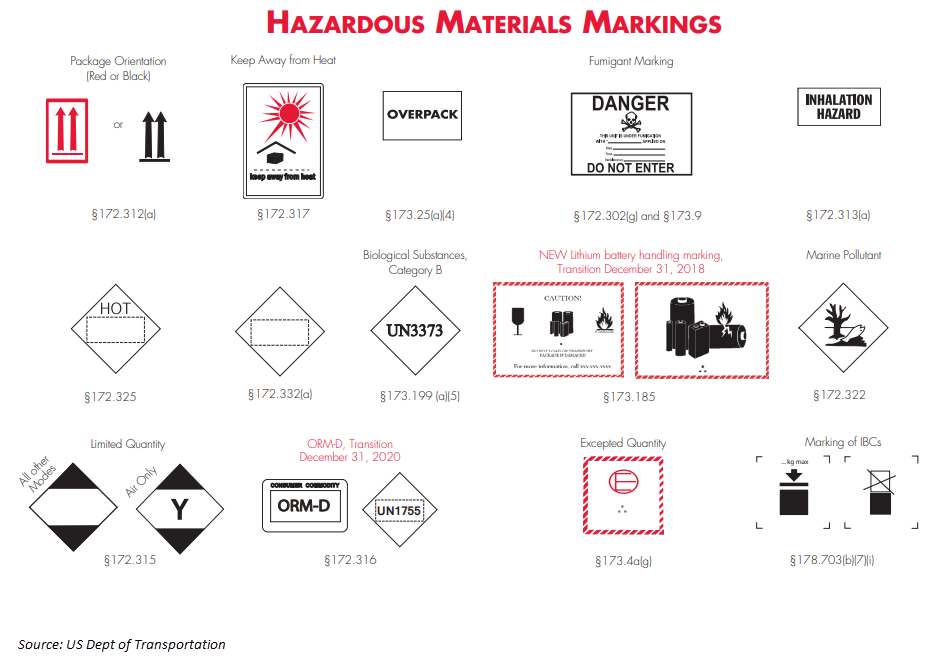 CERTIFIED PERSONNEL
Shippers sending hazmat cargo must attend training sessions and become certified before the US DOT allows you to ship. Training covers packaging, labeling, documentation, and other hazmat shipping details. It's not enough if your forwarder or other logistic partner is certified; you must have a certified person on staff to ship hazmat.
Shipping Hazmat Cargo: A Few Tips
Start early. You'll need extra time to get the paperwork completed and processed. But the bigger threat to hitting your shipping deadline is securing a hazmat trucking partner. Steamship lines may take your cargo, but you still must get it to and from the port. There is a limited pool of truckers that can carry hazmat cargo. In the current tight capacity freight market, some of those hazmat specialists may turn down your load since there is so much other, "easier" freight available.
Sweat the details. Hazardous cargo is more susceptible to inspections, so take your time preparing the shipment and documents. Go through your checklist with the help of a freight forwarding partner and be comfortable that it is inspection ready. At I.C.E. we saw one recent hazmat shipping situation where the paperwork was in order and the cargo was accepted by the steamship line, but authorities in Germany (called the "water police" there) questioned the labeling on inner and outer packaging. The cargo had to be reworked and relabeled, adding cost and delaying final delivery.
Get insurance. Given the risk associated with shipping hazmat cargo, it's wise to invest in all risk cargo insurance to cover liabilities related to accidents in transit. For the most part, hazmat cargo is excluded from general cargo policies. And it's unlikely your company's blanket coverage would match what is offered under all risk cargo insurance. Your freight forwarder can advise you on insurance options.
Can a Freight Forwarder Help When Shipping Hazmat Cargo?
The shipper bears full responsibility for proper shipment of hazmat cargo, but freight forwarders can play a valuable role in checking and double-checking paperwork to avoid cargo delays or even rejection by the steamship line. Forwarders like I.C.E. Transport, which has hazmat-certified professionals on staff, are familiar with the types of documentation required and can often spot missing or incorrect data. This kind of support can ensure smooth, delay-free sailings.
Shipping hazardous materials is inherently more complicated and comes with more risk than general cargo. If you're looking for an NVOCC with hazmat shipping experience, talk to the specialist at I.C.E. Transport.
***
NOTE: This Blog is for educational purposes only to provide general information on smarter global shipping strategies. It is not meant to substitute for trained hazmat personnel on a shipper's staff.