When you need a load to arrive overseas in several days rather than several weeks, you'll pay top dollar to send it by air. But what about less urgent cargo? If expedited shipping doesn't fit your business model, do you simply have to accept that when your load moves by ocean, the transit will be super slow?
Not really.
In international shipments, several variables determine how long it takes to move a container from origin to destination. Here are some ways to use those factors to keep sea freight transit times as short as possible.
Truck vs. rail
The fastest way to move a container from origin to port, or from the port to the final destination, is over the road. Of course, unless the distance is very short, drayage by truck costs more than if you put the container on the rail for most of the trip. If time is of the essence, though, truck is your best choice.
Choosing the departure and arrival port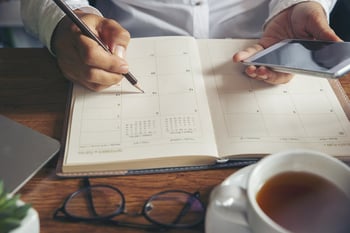 If you load your container on a vessel that will later call two more ports before it starts across the ocean, that decision adds days to your total transit time. If possible, load your container at the last port of call on the continent.
You can also reduce total transit time by choosing your arrival port strategically. For instance, when you ship from Germany to North America, you get the fastest ocean crossing when your container lands in Montreal. From there, you'll transport the container by truck and/or rail to the final destination.
Of course, that strategy makes more sense if the destination is near Buffalo or Boston than if it's near Atlanta or Jacksonville. You need to consider both the time the container spends on the ocean and the distance from port to the final destination.
---
Nearly as fast as air
Some years ago, a large company was using air freight to transport machine parts from various locations in Germany and Austria to the US. Then I.C.E Transport showed the shipper how to move its cargo by ocean almost as fast as it could by air. Under the new strategy, I.C.E. trucked the containers to a German port for loading onto a ship that made a quick crossing to Montreal. Then a truck hauled the container to its final destination in the Northeastern US.
While this solution wasn't as cheap as some other intermodal options would have been, it cost so much less than air freight, no one minded that the trip took an extra few days.
---
Choosing the service and vessel
Of course, different vessels take different routes. One steamship line might use London as its last port of call on a westbound trans-Atlantic service; another might sail from Le Havre to Rotterdam and Hamburg before starting for the US. One line might offer direct service from Bremerhaven to New York, while another provides a quick sailing from Antwerp to Charleston before going on to Norfolk and New York.
To find the fastest service, you must weigh all factors, starting with the date on which you'll be ready to load the container on a ship. If you can't reach Hamburg in time for the next sailing to Montreal, maybe you should wait a week for another vessel that sails that route. Or maybe you should find a different service that will get your cargo on the water sooner, even though the crossing will be a couple of days longer.
Check with more than one carrier
Steamship lines in recent years have formed carrier alliances—agreements among several companies to pool their vessel fleets. When a vessel crosses the ocean, three or four lines might actually have cargo booked on that ship.
So, say you want to get your container on a Bremerhaven-to-New York route next week. Carrier A offers that service, but it's completely booked for the sailing you want. Before you start looking at other routes, check around. Carrier A probably shares that vessel headed to New York with Carriers B, C and D. Maybe one of them can take your container.
The carrier that owns the ship gets the largest allocation of container space. But don't assume that the allocation is the same from one sailing to the next. Carriers A, B, C and D might share a vessel owned by Carrier A this week, but next week they might share a vessel owned by Carrier C—which will then have the most container slots available.
Keep an eye on terminal congestion
You don't get to choose the terminal where your container gets loaded or unloaded. That's under the control of the steamship line. But when a terminal gets really busy, congestion might leave your cargo sitting for as long as a week. How do you avoid that delay?
If you know that a particular terminal currently faces really bad congestion, you might steer clear of that port, or avoid using the carriers at that terminal. If you don't have access to that kind of information, it often pays to work with a third-party partner with intimate knowledge of ocean transport.
Government inspections and sea freight transit times
If a Customs agent or other government official picks your container for inspection, that could add as much as a week to your door-to-door transit time. Unfortunately, you can't avoid inspections. They come at random, and sometimes it's simply your turn. How long it takes to release your cargo depends in part on how many shipments are in line ahead of yours.
To keep delays to a minimum, make sure you have everything in order. Complete your paperwork correctly and have it available. Don't put anything in the container that would alarm an inspector.
How does it all add up?
There's no simple formula for reducing sea freight transit times. You need to understand all the options and have a good sense of how one choice affects another—for example, how your planned departure date might affect your choice of a port or ocean service. You also need to consider what's going on in real time—which ports are seeing unusual volume this week, which ones are tight on trucking capacity, which steamship lines have cut back their sailings for the winter.
You could build a spreadsheet to work out all the possibilities—assuming you have staff with the knowledge, time and technical ability to make sense of all the data. Or you could work with a partner that's been helping shippers move containerized, heavyweight and oversized loads on the ocean for years, one with the experience to make the right decisions on your behalf.
To learn more about fast and efficient shipping by ocean, contact the experts at I.C.E. Transport.