I.C.E. Transport coordinates a lot of international shipments, but it's not often we get a chance to be part of maritime history. That's what happened when a noted Polish kayaker needed help completing shipment of a specially outfitted kayak for his 3rd Transatlantic solo crossing.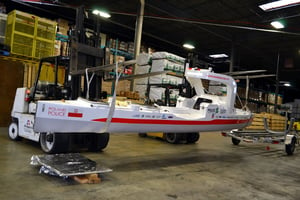 Aleksander Doba was planning a solo, trans-Atlantic sailing journey to celebrate his 70th birthday. He arranged transport of his high-tech kayak from Poland to New Jersey, where the trip would start. When the Polish forwarder could not handle the complete door-to-door move, I.C.E. was brought in to handle customs clearance, pick up at the port in New Jersey, container stripping and delivery of the specially outfitted kayak to the race start point.
Glad to help!
Learn more about Mr. Doba here — www.aleksanderdoba.pl.