If you're moving to Eastern Europe from the US, get ready for an education. Shipping personal items overseas is much more complicated than sending them, say, from Boston to Arizona in a moving van. You'll need to get up to speed on what you can and can't ship in an ocean container, assemble the necessary paperwork and prepare to clear Customs while avoiding costly duties and delays.
Here's some advice on how to ship Eastern Europe-bound personal freight, with help from an international freight forwarder. We'll use Poland as an example, but most of this information also applies to Hungary, the Czech Republic and other Eastern European nations in the European Union.
What can you ship in a container?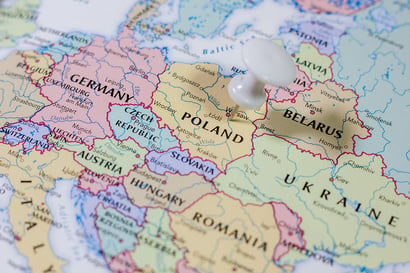 You're allowed to ship almost anything. But only personal effects—things you've actually been using in your life—can enter Poland without duties or taxes. Five boxes filled with your winter wardrobe? Fine. One bottle of vodka? No problem. But if you ship 30 pairs of unworn blue jeans, or six cartons of your favorite shampoo, the Customs agent in Poland will probably deem those commercial imports, and that will cost you money.
Also, Customs considers an item personal property only if you've owned it for more than six months. If you ship a large screen TV, or any other major item, make sure you can present a receipt to prove when you bought it. This is especially important if you ship the item in its original box.
Don't load firearms in your container. Take them on the plane as checked luggage. Before you do, check with the authorities in Poland to make sure you're allowed to bring those particular firearms into the country. Also, bring documentation to prove you owned them legally in the US.
Jewelry and other small, high-value items can travel in a container, but why take the chance? Keep them close and safe in your carry-on bag when you fly.
Paperwork for freight to Eastern Europe
Prepare three copies of a packing list. The first copy, in English, goes to your freight forwarder, which will use it to produce a Bill of Lading, a Shipper's Export Declaration and any other necessary documents. You'll hand the second copy, in Polish, to the agent at the Polish Customs office where you clear your shipment. The third copy, in any language you like, stays with you.
This list should name categories, not individual items: "8 boxes of clothing, 6 boxes of dishes, 4 boxes of children's toys," etc. Label and number each box, with matching labels on your copy of the list. That way, for example, if the Customs agent wants to inspect the boxes filled with kitchen appliances, you can find them fast.
When shipping Eastern Europe freight, you'll also need to show Customs a document from a Polish government office to prove that you have registered a permanent address in the country or have applied to do so.
Shipping vehicles
You may ship one or more motor vehicles in your container. To avoid duties, you must prove that you've owned the vehicle for more than six months, and you've kept it registered during that time. The six-month rule establishes that this is a vehicle you actually use—not a car or motorcycle you bought just to bring to Poland.
Many countries have rules about the age of the vehicles you can bring in. For up-to-date details, check with the Customs office that will receive your shipment, or have your forwarder's office in Poland do that for you.


For more information on how to load an ocean container with personal effects, ship vehicles correctly and avoid damage in transit, see our earlier blog, "Global Shipping of Personal Items: A Checklist."
Avoid Customs delays
The destination port will hold your container free of charge for several business days. But if Customs holds up your container, you might rack up storage charges. So, whenever your forwarder asks for paperwork or other information, provide it as soon as possible. A good forwarder will then make sure Customs in Poland gets the documents it needs before it gets your container, reducing the risk of delay.
When once isn't enough
Maybe you can't fit all your personal possessions in one container, and maybe there's no time to fill two or more containers before moving day. Luckily, you're allowed to return to the US any number of times to load and ship more containers to your new home. The catch is, you must do this within one year of your first shipment. After that, Polish Customs will treat your container as commercial freight and charge you duties and taxes.
Let an expert sweat the details
If you're like most people getting ready to send a containerload of personal effects to Eastern Europe, there's probably a lot more you want to know before you get started. Ask your freight forwarder for a list of Frequently Asked Questions. A good set of FAQs will help you avoid mistakes that could cost you time and money.
Those questions and answers are just the start. A freight forwarder with strong experience shipping personal effects overseas and shipping freight to Eastern Europe will guide you through every step of the process, door to door. This partner will manage many of the details for you, and give you instructions for handling the rest on your own.
To learn more about how to give your personal effects smooth sailing to Eastern Europe, contact I.C.E. Transport.