The coronavirus outbreak in China is first and foremost a massive human health crisis. But the epidemic has also caused big problems for supply chains and logistics networks.
Whether or not the coronavirus has impacted you, this disaster offers important lessons about how unexpected supply chain disruptions can undermine operations, and how to minimize that risk.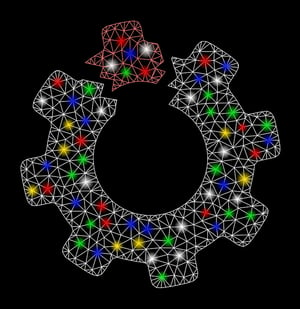 You don't have to be a logistics expert to understand the impact of coronavirus on global shipping and supply chains. We hear it on the news every day. For instance:
When factories in China stopped building iPhones, that prompted Apple to lower its quarterly revenue expectations.
Vietnam restricted the flow of trucks from China, forcing Samsung to fly parts for its Galaxy phones to Vietnamese assembly plants.
Nissan, Hyundai and Fiat Chrysler halted auto production in various parts of the world for lack of components sourced from China.
Coronavirus and logistics
As of mid-February 2020, with the flow of goods from China largely on hold, transportation networks are also feeling the effects of the coronavirus. For instance, steamship lines have cut the number of sailings to and from Chinese ports. Of course, companies that can't get goods from Chinese factories don't need that capacity. But the cutbacks could cause problems for shipments to and from other Asian countries, which rely on the same vessels that serve China.
The coronavirus could also create container shortages around the world. With traffic from China reduced to a trickle, thousands of empty ocean containers remain stranded on Chinese docks.
And companies that ship perishables to China might face another problem. The epidemic has taken many Chinese drayage drivers off the road, leaving inbound refrigerated containers stuck in port. As those ports run out of electrical plugs to run refrigeration units, food in some of those containers could spoil.
Shipping lines are imposing congestion surcharges of $1,000 to $2,500 a day on reefer containers. In some cases, they're rerouting reefers to less-congested ports where plugs are still available. That leaves shippers to arrange longer-than-expected drayage hauls to their final destinations.
If you're shipping product within the US, though, the coronavirus cloud offers a silver lining. Trucking companies that normally haul inbound containers from China now have lots of capacity up for grabs. When you need a truck, you can probably find one.
Then comes the surge
Of course, we all hope the coronavirus spread will soon subside, Chinese factories will start producing again and global trade will return to normal. When that happens, though, get ready to fight for capacity.
Just about everyone who sources from China will want to replenish inventories, spurring a surge in trans-Pacific shipments. With demand high, you'll pay more to move goods by ocean, and then by truck or rail. Competition for air freight capacity could also heat up, as companies expedite product to rebuild their inventories.
Lessons for future
The coronavirus epidemic offers an especially grievous example of logistics and supply chain disruption. But it's far from the only one we've seen in recent years. Think of the SARS epidemic of 2003, the earthquake and tsunami in northern Japan in 2011, or the labor disputes that shut US West Coast ports in 2015. All of those left companies scrambling to get product they needed.
You never know when the next big disruption will hit. So it's wise to minimize your risk before an unforeseen event ties your supply chain in knots. Some best practices:
Diversify your sourcing. Not every company can find the materials, components or products it needs in an alternative region of the world. But if you can split purchases among two or more suppliers in different geographies, you'll gain a valuable hedge against future risk. Product from the second supplier might cost more, but the promise of business continuity could be well worth the extra expense. If you decide to follow this strategy, consider working with a forwarder that understands the transportation network in the new geography and has agents on the ground who can help you.
Bulk up your inventory. Again, this doesn't work for everyone. If you value a lean operation, you hold as little inventory as possible. But when a crucial vendor suddenly can't deliver the materials, components or products you need to stay in business, a little buffer stock could buy you time to ride things out until the supply chain disruption ends.
Consider alternative routing. This could be especially important when transportation bottlenecks clear up and everyone starts trying to book freight at once. Need your cargo in a hurry? Maybe it's worth using air freight, or splitting your shipment between air and ocean. If you usually ship via the Panama Canal to an East Coast port, a change of strategy—maybe shipping to the West Coast and then putting the containers on truck or rail—could get cargo to you faster. An international freight forwarder with expertise in multiple modes can help you choose the best option and execute the move.
It pays to prepare
At the time of this writing, it's impossible to say when Chinese factories will come fully back on line. But there's one thing we can predict: if you start planning now for future supply chain disruptions, you will suffer less harm when the next emergency strikes.
As you work to reduce your supply chain risk, remember that a solid Plan B includes well-thought-out transportation arrangements. To discuss the best options for your needs, contact the international shipping experts at I.C.E. Transport.