It's possible to ship lithium batteries – and equipment containing them – but the restrictions are getting tighter.
From toothbrushes to Teslas, lithium batteries have come to power countless items that support everyday life – and that power is growing. The global lithium-ion battery market is expected to surpass $135 billion in the next 10 years.
Unlike standard alkaline batteries, most lithium batteries manufactured today contain a chemical cocktail with incredibly high energy density that makes them hazardous to ship. And while all modes of transport remain possible, improper packaging or handling can cause lithium batteries to overheat and ignite – potentially resulting in large scale thermal events with severe consequences.
Whether shipping a single battery, a palletized load of batteries, or a battery-powered device, the safety of the package – and those who handle it along the supply chain – depends on compliance with a stack of government regulations and carrier requirements.
Lithium Ion vs. Lithium Metal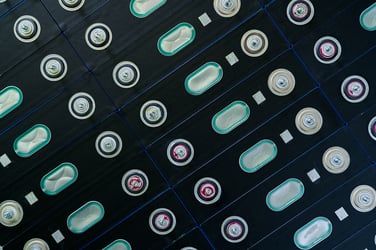 There are a number of "recipes" for lithium cells and batteries, but for transportation purposes, they all fall into one of two families: lithium ion or lithium metal. Both battery types are characterized by a higher concentration of energy than alkaline, nickel cadmium and nickel metal hydride chemistries.
Lithium-ion batteries are generally rechargeable and found in devices like smartphones, tablets and electric vehicles.
Lithium metal batteries are generally non-rechargeable and one-time use, but have a longer life than standard alkaline batteries. They're commonly used in hearing aids, wristwatches, smoke detectors and key fobs.
Both lithium-ion and lithium metal cells and batteries are hazardous to ship, and they're subjected to roughly the same regulatory requirements depending on mode of transport (i.e., ocean vs. air).
Proper Packaging of Lithium Batteries in an Ocean Container
All lithium cells and batteries are considered Class 9 Dangerous Goods by the U.S. Department of Transportation, regardless of size or quantity. However, stand-alone batteries are of course packaged differently than smartphones or heavy machinery.
There are three key packaging categories, each with their own set of requirements from the DOT's Pipeline and Hazardous Materials Safety Administration (PHMSA):
Stand-alone. Packages containing only lithium cells/batteries must be:
Protected against short circuiting.

Placed in non-metallic inner packaging that completely encloses the cell or battery and separates them from contact with electrically conductive materials (e.g., metal).

Packed to prevent shifting that could cause damage to the cells or batteries.



Packed with/contained in. Batteries shipped with or inside other equipment must adhere to all of the above, plus:
Outer packaging must be made of a strong material like wood, fiberboard or rigid plastic that can endure a 1.2 meter drop without damage or shifting that might allow battery-to-battery contact.

Equipment must be secured to prevent damage caused by shifting within the outer packaging, and be packed to prevent accidental operation during transport.
Vehicles. Lithium batteries contained in vehicles, engines or mechanical equipment must be securely fastened in the battery holder and protected against short circuits. Additionally:
Other hazardous materials within the vehicle (e.g., compressed gas accumulators) must be securely installed.

If the vehicle can be handled in a non-upright position, it must be secured in strong, rigid outer packaging.



For many carriers, certain lithium batteries are totally off limits. Container shipping giant MSC recently reminded its customers that it won't ship lithium batteries in an ocean container if they've been used or damaged. Meanwhile, CMA CGM has banned shipment of electric and hybrid vehicles older than seven years.
Labeling
Shippers are responsible for ensuring that lithium cells and batteries are clearly identified and correctly labeled, or risk their freight being rejected.
On the outer packaging, carriers are looking for:
Proper shipping name mark (e.g., "Lithium-ion batteries")

Class 9 Lithium Battery label

UN identification number

Consignee (shipper) or consignor (recipient) name and address
Shippers must also provide:
Dangerous Goods Declaration (DGD)

Material Safety Data Sheet (SDS)

3 Battery Test Summary (see more on this below)
Battery Test Summaries
Before leaving the factory, lithium batteries are subjected to a series of tests that measure transportation impacts like heat, altitude, vibration and more. But until 2022, downstream shippers and consumers often struggled to confirm if or how these tests actually took place.
To address this issue, the DOT now requires manufacturers and distributors to provide "test summaries" to carriers using a standardized set of elements from the United Nations Manual of Tests and Criteria.
The requirement applies globally, and has been mandated by the International Maritime Organization since 2020. Formatting can vary by manufacturer, but the documentation must provide:
Name of cell, battery or product manufacturer

Manufacturer's address, telephone number, email address and website

Test laboratory's name and contact information

Unique test report identification number

Date of test report

Description of cell or battery containing:

Lithium-ion vs. lithium metal specification

Mass

Watt-hour rating

Physical description

List of tests conducted and results (i.e., pass/fail)

Reference to assembled battery testing requirements

Reference to the edition of UN Manual of Tests and Criteria used

Signature as an indication of the validity of information provided.
It's always a good idea for shippers to consult their transportation partner for additional requirements. Air freight, for instance, is wrapped in far more red tape.
Experienced providers, like I.C.E. Transport will understand the latest protocols for handling lithium batteries – and protect shippers from short-circuiting their efforts.
Whether you're wondering about shipping lithium batteries in an ocean container or just want to make sure you're following carrier and regulator rules, feel free contact the shipping experts at I.C.E. Transport for answers.