Shipping personal effects from USA to UK can seem like a daunting task, but with proper planning and knowledge of the process, it can be a smooth and hassle-free experience.
Whether you are relocating, sending gifts or returning home, let this be your guide from packing to delivery.
What You Can and Can't Ship
You can ship almost anything you want in a shipping container. But only personal effects – things you've actually been using in your life – can enter the UK without duties or taxes. Five boxes filled with household linens? Fine. A few pantry items? No problem.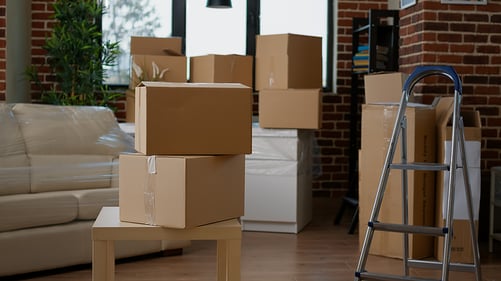 But be careful about quantities. Sure, it's been eight months since you bought those two cases of your favorite household cleanser at Costco. It's a great product, and you want plenty on hand to keep your new home clean. To Customs, though, it looks like you're bringing in supplies for a janitorial business – a commercial import. Officials might let a couple of bottles slide, but you'll pay duty on the rest.
In the UK, duties also apply to alcoholic beverages, tobacco products, commercial vehicles and non-portable instruments, regardless of quantity.
Jewelry and other small, high-value items can travel in a container, but why take the chance? Keep them close and safe in your carry-on bag when you fly. If you own firearms, you need a special license to bring them into the UK.
Packing and Paperwork
To avoid paying duties on your personal belongings, you'll need to apply for what's called "transfer of residence (ToR)" relief when shipping personal effects from USA to UK
You can claim relief on as many shipments as you want, as long as you satisfy all of these criteria:
You've lived outside the UK for at least 12 consecutive months prior to the date of moving

You're importing your goods within 12 months of coming to live in the UK

You intend to use the goods for the same purpose they were used for prior to moving
Before you start the ToR form, you'll need to write a packing list of all the items you're bringing into the UK.
Don't worry about listing individual items in a group – such as the names of each book, or each piece of clothing. You can estimate numbers such as kitchen items, for example: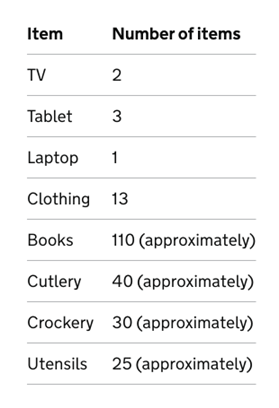 You also don't need to include the original costs of items, current values, or brands. In addition to your packing list, you'll need to provide proof of your UK address and former USA address.
If you're successful in getting ToR relief, you'll get a letter giving you a unique reference number.
Loading the Container
When shipping household goods overseas, your shipping company will make an appointment to bring a container to your home. Your cheapest option is to keep the container for two or three hours before a truck driver takes it away. But if you need more time, you can pay to keep it for an extra hour or two, or even for a couple of days.
Before you make these arrangements, check with your local municipality for any regulations that might prohibit trucks of a certain size from entering your street. In a dense urban area, you might need a permit – especially if you plan to keep the container overnight.
To keep loading time to a minimum, it's best to pack everything you plan to move and seal it up before the container arrives. Stage as much as you can near the front door or in the garage so you can carry everything out easily and fast.
You – not the shipping company, not the truck driver – are responsible for loading the container. Line up enough helpers to get the job done. As you load, note on your list where in the container you put each item. That way, if Customs wants to inspect certain boxes, you can find them quickly.
Unlike a moving van, a shipping container doesn't come with a ramp. If you use dollies or hand carts to roll items onto the container, you'll need to build or rent your own ramp.
Use ratcheting straps to keep items from sliding around and breaking in transit. Wrap the straps around the hooks installed along the container's floor and roof. Some creative shippers erect a wooden structure with a plywood floor inside the container, to create a second level for safer loading and securing.
Despite your precautions, there's always some risk of damage during a move. Ask your insurance company about coverage to protect your property.
When your container is ready, the driver shuts the door, puts a seal on the container, records the seal number and then hauls the container to a rail terminal or directly to the seaport.
Check out this handy checklist on the steps involved in shipping personal items overseas.
Unloading in the UK
When shipping personal effects from USA to UK, here is some advice on what to do once the container hits the UK. After your container clears Customs, your shipping company will have it trucked to your new location, where you are responsible for unloading. Once again, it's important to check local regulations before you bring a shipping container to your new home, especially in urban areas like London. The same goes for regulations that might keep your trucker from parking a container on the street.
Shipping Personal Vehicles
Unlike other international moves, it's less common to ship your car to the UK, unless you're comfortable maneuvering it on the opposite side of the road.
If you do need to ship a car overseas – or a motorcycle, pleasure craft or other personal vehicle – you have to complete these steps (or you can pay an importer or shipping company to do them for you):
Tell HM Revenue and Customs (HMRC) within 14 days that the vehicle has arrived in the UK

Pay tax/duty if HMRC tells you to

Get vehicle approval to show it meets safety and environmental standards

Register and tax the vehicle with the Driver and Vehicle Licensing Agency (DVLA)

Insure your vehicle before you drive it on UK roads
For some carriers, certain limits apply to transporting electric vehicles. The shipping company CMA CGM, for example, has banned shipment of electric and hybrid vehicles older than seven years.
Finding a Helping Hand
Moving possessions across the ocean is a complex enterprise, and working with an expert can offer peace of mind. The key is to work with a company, like I.C.E. Transport, that has been managing door-to-door, international moves for many years.
A freight forwarder with strong experience shipping personal effects from USA to UK will guide you through every step of the process, and help you avoid mistakes that could cost time and money. They'll manage many of the details for you, and give you instructions for handling the rest on your own.
To learn more and start planning, contact the international moving experts at I.C.E. Transport.