The Rise of Poland as a Manufacturing Center
---
It's helpful to start with a little context.
Poland wasn't always a popular country from which to source goods. In fact, in the 1990s and into the early 2000s, it was still seen by many as an Eastern Bloc country and risky to do business with. Not many steamship lines or importers wanted to go to Poland – "If I send a container there, will I get it back?"
A poor road infrastructure made it even more difficult to move cargo out of Poland. Modern highways were few and far between, and trucks would regularly need to reroute to avoid low bridges.
That began to change when Poland was admitted to the European Union in 2004. Since then, the EU has poured billions of dollars into road and rail infrastructure improvements throughout the country. These days, it's just easier to move cargo in Poland.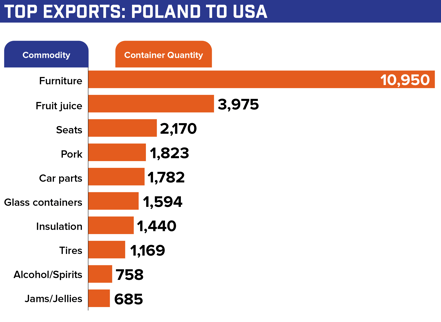 In addition to an improved infrastructure, several other benefits have fueled the rise of the Polish manufacturing industry and the increased interest in Poland as a source of supply for furniture, auto parts and other commodities (see inset for top Polish exports to the USA by container volume, and check out our Poland-to-US infographic for additional information):
More reliable products. As a member of the EU, Poland accepted EU quality, technology and regulatory standards, which bolstered the perception of Poland as a reliable manufacturing country. As a result, countries from around the world – including many American, German and UK manufacturers – have invested in new plants there.
Faster transit times. It takes about 20 days to ship containers from Poland to the US East Coast compared to a 30-day range for cargo originating in the Far East. That means less inventory and a faster cash cycle for companies that shift sourcing from the Far East to Poland – a huge supply chain advantage.
Reduce sourcing costs. In addition to the cost advantages of getting high-quality products delivered faster, importers are also finding that Poland's lower cost structure allows them to source goods for less than the cost of similar goods in Western Europe.
Since its entry into the EU, Poland has undoubtedly become a more powerful force on the world manufacturing scene.
Identifying a Shipping Partner
---
Once you've decided to import from Poland, you'll need to identify a shipping company. In our experience, about 70% of the time that decision is made in the US by the purchasing company, in accordance with Incoterms.
The first thing you need to understand is that there is no direct ocean service from Poland to the US. You have two options:
Load containers onto feeder vessels in the Polish port cities of Gdansk or Gdynia for shipping to a major Western European seaport, where goods are transloaded onto a container vessel bound for the US
Truck containers directly to a major Western European seaport
This adds a level of complexity that underscores the need for a reliable freight partner to ensure containers are not delayed as they move from port to port in different transport modes.
Busy importers seeking a turnkey solution for international freight may be tempted to contract with a steamship line for door-to-door service. But that would be like booking your entire Hawaii vacation package – including hotel, local transportation and daily activities – with an airline. Steamship lines are not known for careful monitoring of door-to-door shipments, such as making sure a container does not sit for days at a transload point. For that, you need either a freight forwarder or an NVOCC that will monitor the entire move, from pick-up to final delivery.
NVO's offer more flexibility than forwarders for international moves. Unlike a freight forwarder, an NVO can issue its own bill of lading (BOL) for door-to-door service that is just as legal and recognized as the steamship line's BOL. While an NVO can rely on the line for port-to-port service, it can independently manage all other aspects of the shipment, including landside transport and customs clearance. The freight forwarder, on the other hand, can only book with steamship lines on a door-to-door basis and the cargo will travel on the line's BOL. The forwarder can monitor the shipment, but it's basically relying on the line to manage the entire move which, as we said, comes with service risks.
Bottom line: choosing an NVO as your shipping partner will give you more flexibility to select the right solution for each aspect of the Poland-to-US shipment.
One other consideration is whether your US provider has an owned office, versus an agent, in Poland. An agent may have 30 or 40 other customers vying for his attention on any given day and may be working with dozens of US forwarders to handle the transport and paperwork requirements at destination. In contrast, a logistics partner with owned offices in both the US and Poland will have a more integrated process and be far more focused on your freight and your total satisfaction.
Moving Freight from Factory to Port
---
When moving freight from a Polish factory to the origin port, you'll need to decide whether the ocean shipment will originate in Poland (Gdansk or Gdynia) or from a major port in Germany (Hamburg, Bremerhaven), Belgium (Antwerp), or Netherlands (Rotterdam). The decision will be driven by your preference for the lowest cost or the shortest transit time to the US from Poland.
You'll save about a week to the Eastern US if you truck your goods direct to a Western Europe port. The closer your factory is to Poland's western border with Germany, the cheaper it becomes to do this. If you ship from Poland via a feeder vessel, you'll save $450–$675 per container when compared to the direct truck to Germany. We find that most importers choose the lower-cost option, but there are times when speed trumps cost.
When moving freight to ports, you'll have the choice of shipping via rail or truck. Like anywhere else in the world, rail will be cheaper in Poland, but also slower and less flexible. If your freight originates in Northern Poland nearer the ports, rail doesn't make sense. But if freight originates in Southern Poland, home to most of Poland's manufacturing activity, rail is available directly to Gdynia or even direct to German ports.
Trucking is often the better option to keep freight moving, particularly since a reduced rate is often available – providing you have a local logistics partner that can identify cost-saving freight opportunities. Because Poland is a smaller country, you often have truckers running southbound with a container from the port that needs to get back north. The large volume of one-way freight looking for backhauls keeps trucking more economical.
Any shipment leaving Poland must go through export customs clearance. The rules for this are the same throughout the EU. The process is fully digitized and freight can be cleared anywhere, including inland customs offices, which are not used in the US. While such inland offices sound convenient, they can actually add time and distance to the journey when clearance can happen just as easily at the port.
Managing US Customs and Paperwork
---
Nothing can derail an international freight shipment faster than mismanagement of US Customs-related processes and paperwork.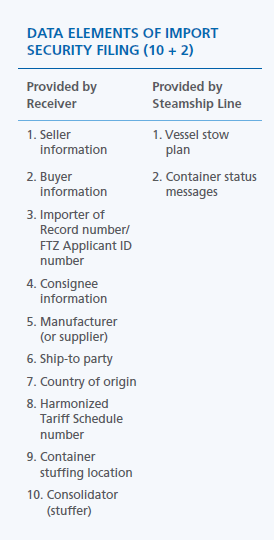 It starts with submission of the Import Security Filing (ISF) by the customs broker on behalf of the importer of record – typically the US party responsible for filing the ISF and arranging customs clearance in the US, unless the purchase terms are Delivered Duty Paid (DDP). The ISF, also known as "10 +2," contains important details on the shipment (see the inset on ISF data required). US Customs and Border Protection (CBP) must receive the filing at least 24 hours before the container leaves the main shipping port bound for the US. Failure to file on time results in a $5,000 fine to the importer of record. A proactive shipping partner will monitor this closely and may even submit the data to the customs broker on your behalf.
When clearing Polish imports on the US side, you want a reliable customs broker that sees to all the details in a timely manner. Typically, the broker is only as good as the information it receives from the importer. Knowledgeable and proactive brokers can work with you to gather the necessary data.
Things get slightly more complicated if goods are purchased under DDP terms and the shipper is the importer of record. That leaves the Polish supplier with the uncomfortable task of finding a reliable customs broker in the US. In these situations – and even for all Poland-to-US freight – it can be easier to find an NVOCC that also offers customs brokerage services in both Poland and the US. Such logistics providers have influence on how customs clearances can be done on both sides and, as a result, can remove time and headaches from the import process.
The right customs broker can also help manage issues related to tariff schedules. The Harmonized Tariff Schedule (HTS), administered by the World Customs Organization in Brussels, is supposed to be universal, but that's not always the case. When a number used in Poland does not have a corresponding US tariff number, it helps to have an experienced broker that will find a number that is not only accurate, but could reduce duty charges.
Managing Landside Delivery
---
When it comes to landside delivery of Polish imports in the US, your choice of shipping partner will be very important. Unless you are a large-volume shipper, ocean carriers often do a poor job of managing the details associated with port pick-ups and final deliveries. Their strength is managing the ocean move.
A good example is heavyweight freight. Ocean carriers regularly advise customers to limit container weights to 44,000 pounds, even though the legal limit is around 10,000 pounds above that. For shippers of dense freight, this means shipping up to 25% more containers than necessary – a six-figure hit to the profit line for many businesses.
Why do ocean carriers provide this advice?
Because heavy containers require specialized trucking partners for final port-to-consignee shipments – relationships that most ocean carriers lack. It's simply more efficient for them when standard tractor-trailers can be used and no special arrangements are required. But those special arrangement can be the key to 5- and 6-figure savings, as the example shows.
---
Increased container weight the key ingredient for savings for importer of Polish flour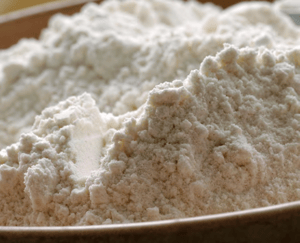 A small, US importer of Polish flour was working directly with a steamship line to move about 24 containers a year – 509 bags per container – at a gross weight of 45,000 pounds per container. After consultation with a heavy freight shipping specialist, I.C.E. Transport, this bakery supply business worked with its supplier in Poland to reconfigure the bags and pallets to ship 940 bags in a single container weighing 53,400 pounds. By using I.C.E. to arrange door-to-door transport of these overweight containers, the importer began shipping the same volume of freight in four fewer containers per year, saving $13,600 – a significant profit increase for this small business.
---
5 Common Shipping Mistakes Made by Importers of Polish Goods
---
Having Polish suppliers arrange transport. When suppliers control the freight, you are reliant on that company's forwarder agreement. They make all decisions on transport type, speed and cost. What often happens is that, if you have questions or issues after the cargo sails, the shipper's standard response is "call the steamship line." But if you buy under "Ex works (EXW)" purchase terms, you are always in control. Working with your freight forwarder, you decide how fast you ship, what you pay and what line to use. And you're never in the dark about your shipment
Poor understanding of free time allowances. In recent years, we've seen steamship lines set free time terms that are different than those set by the terminal receiving the container. For example, Maher Terminal at the Port of NY/NJ may allow containers to stay on port for 5 days, but under its contract with you the steamship line may charge a fee if you don't pick up the container within 3 days. Meanwhile, the line's agreement with the terminal is 5 days, so the they pocket the payment difference. Make sure you work with a forwarder that stays on top of this issue or your demurrage charges could skyrocket.
Relying on steamship line published transit times. These times are approximations only. Don't make important sourcing decisions that rely on these published times. Many factors can contribute to delays, including a missed connection between the feeder vessel and the main trans-Atlantic sailing.
Working with freight agents. If you are working with a US-based NVOCC that uses a freight agent in Poland, that agent is not going to care as much about your cargo as a company-owned office would. Typically, they book door-to-door moves with a steamship line and list the receiver in the US as the contact. So your customs broker is stuck dealing with the lines, which traditionally offer poor customer service. If service is important to your freight operation, you are better off working with a forwarder that operates owned offices in both the US and Poland and will be accountable for all requirements and communications on both sides of the Atlantic.
Not getting UL approval for electrical appliances. The importer, not the manufacturer, is responsible for ensuring that imported products comply with US standards for consumer safety. In Europe, the CE marking confirms that products meet the EU standard, but this is not recognized in the US. So, to avoid possible problems when entering the US, it's best to get certified to the most common electrical standard from Underwriters Laboratories (UL).
Speaking Straight from the Bridge
---
There are reasons why Poland is among the top 10 fastest-growing US trade partners. Among these:
An excellent workforce that turns out high-quality products

A lower cost structure that gives Polish manufacturers a price advantage over competitors in Western Europe

Inbound transit times to the Eastern US that are at least 10 days faster than Asian imports
But in order to fully capitalize on these advantages, importers must have an effective and efficient inbound shipping solution – one that solves for transport and customs challenges commonly seen on Poland-to-US container freight. We hope this short guide helps you navigate some of these challenges.
We'll end with some frank advice, with no sugar coating. Or, as they say in Poland, "mówić prosto z mostu" (speaking straight from the bridge). The answer for you could simply be a matter of finding a partner to do it for you – a logistics provider that manages a large volume of Poland-to-US freight and has seen and solved any of the Poland-related shipping challenges you are likely to face.
How many of these Poland shipping experts does it take to give you a competitive advantage?
Just one.